Clean Laminate Flooring: Best Tips and Tricks
Want to clean laminate flooring and don't know how to start? The following guide provides several simple ways to clean and maintain your laminate flooring.
Laminate floors are easy to clean if you follow a few practical advises. The general cleaning procedure of laminate floors include vacuum it periodically and wipe the floor surface with a dry cloth. If deemed necessary, you can clean the floor with a damp cloth every two weeks.
The good news is that laminate flooring is easy to clean and you don't have to worry if you find one or more of the marks listed above on the floor.
For liquids spilled on the floor, you will need to intervene promptly with a cloth or sponge.
You will then make sure that the surface dries quickly because moisture is not a very welcome friend.
Stains or the long presence of moisture can affect the top layer of laminate flooring. So, after you have cleaned the dirt, remove the moisture using a dry cloth.
In this article you will find the best tips and tricks and exactly how you should clean your laminate floors
So let's begin!
About Laminate Flooring
Laminate floors gives your floor that overall look of wood that can be enjoyed for years to come. The best thing about laminate flooring is the ease in clean that you have.
There is an increase number of homeowners which are opting to have laminate floor covering in their homes.
These laminate floors are easy to clean,maintain and look like real wood without carrying the price tag of authentic wood.
Laminate flooring will look like wood, and also will feel like wood but often times is a bi product of wood.
To keep the floor shiny real wood require waxing and cleaning every year. Also real wood flooring requires to be sanded down and varnished again as the shine is worn off the flooring.
Laminate flooring don't require waxing, or sanding and the wear and tear on the flooring is something that is not going to happen in the manner that other coating on other wood flooring will have.
Homeowners with this material on their floors need to understand that in order to get the best value out of laminate, they need to maintain its appearance with laminate floor cleaner.
How to Clean Laminate Wood Flooring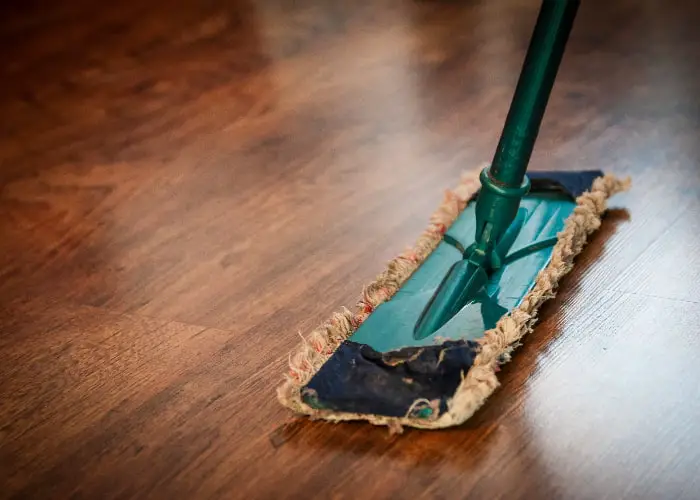 Everybody loves laminated flooring. They're really easy to take care of (so easy to clean that is) and that they always look and feel fresh until scratches and wears appear.
Cleaning laminate flooring is obligation. It needs periodical maintenance but thankfully maintenance is really easy.
With proper care and cleaning most well maintained laminated floors do last for several years.
Also, cleaning the laminate flooring is the next step if there are traces of heels, wax, chewing gum, grease of any kind on the floor, marker, ink or clear evidence that an animal was present in the room.
You should always inquire and read about the laminate properties of your floor installation.
Most cleaning laminate flooring tips are generally applicable but other applications require unique caring distinctive to its properties.
Cleaning the stains can be done with the right hot water (the steam must not come out of the container that contains it, but it must not be a stain).
For cleaning laminate flooring, you can also use products specially created for this purpose, from solutions to cleaning objects.
The general cleaning procedure will include at some point the cleaning of the laminate flooring in its entirety.
Later, the laminate floor will be wiped from one side of the room to another and not from the extremities to the center.
So without further ado here are some trouble free course of actions on how to clean and care for laminate flooring.
Want to remove laminate from wood? This is the best guide how to remove laminate from wood with step by step instructions!
Tips to Clean Laminate Flooring
Always have a handy vacuum cleaner nearby. Or maybe, have a hand broom where you will be able to easily reach for it and sweep rough grits that may potentially scratch your floor.
Laminate flooring have scratch resistant glaze but some steps on this pebble can provide a huge indention to your otherwise shiny surface.
You should mop with a damp cloth and never wet mop because puddles can accumulate on uneven areas.
If your solution has chemicals it might damage the gloss, as chemicals build up in puddles and liquid may seep in between planks or beneath baseboards and damage it.
Spot cleaning is very important to liquid spills that have high potential in staining. Clean with a moist cloth.
If you have stains like cigarette burs or nail polish spills, you should not use immediately chemicals your normally use.
Always use stain removal products that are recommended by the flooring manufacturer.
For example, mineral spirits are recommended by flooring manufacturer for stains like tar and grease.
Acetone is an efficient solution for removing paint without destroying the luster of the floor.
First you should harden the candle wax and chewing gum before removing it. When you try to remove, always use a plastic scraper not a metal one.
How to easily clean laminate flooring?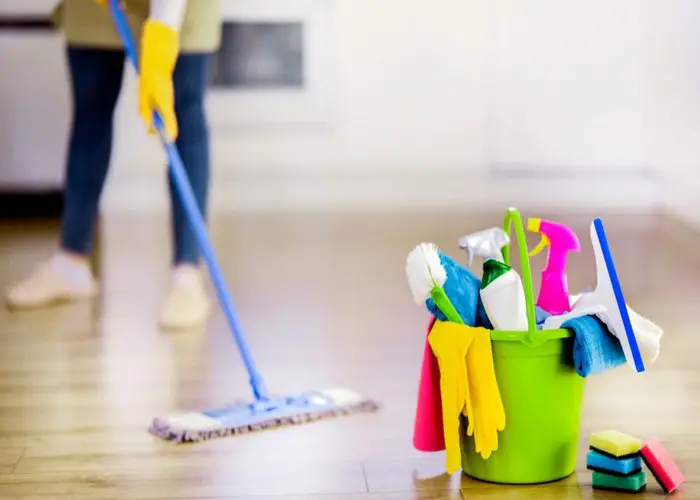 Cleaning Laminate flooring is much easier and faster, and some practical tips can help you figure out how to turn this boring chore into a fun activity.
Before you get down to business, you need a few basic things:
a vacuum cleaner or a microfiber dust mop
a simple mop
a bucket of hot water.
You don't have to worry about buying a special cleaning fluid. There are much simpler and more handy solutions that you can put into practice.
Start by vacuuming the laminate flooring with a soft brush or cleaning with a microfiber mop to remove dirt and hair.
It is advisable to vacuum or sweep in the direction in which the floor is arranged to collect all the dirt between the grooves of the parquet.
If the laminate flooring imitates solid wood flooring, being provided with bevels and channels between each board, then the dirt will be impregnated much easier, so it requires more attention.
For a complete cleaning it is also necessary to wash the laminate flooring. Add a few caps of parquet cleaner to a bucket of warm water or use only warm water.
Then, with the help of a mop, which must be squeezed very well, wipe the parquet. And that's it!
At the end, we will tell you a secret, tested recipe, which acts as a cleaning treatment on laminate flooring, giving it shine and leaving it without any stains:
1/3 cup vinegar
2 caps of liquid dishwashing detergent
a bucket of hot water
Wipe laminate flooring with this solution and you will get great results! In addition, it saves you from buying expensive cleaning solutions.
---
5 WAYS to Clean Laminate Flooring
Laminate flooring offers a affordable and attractive alternative to traditional hardwood flooring and tiles. While laminate flooring can replicate the design of hardwood or ceramic tiles, it can become stained or discolored over time.
Cleaning laminate floors:
#1. How to clean up Loose Dirt and Debris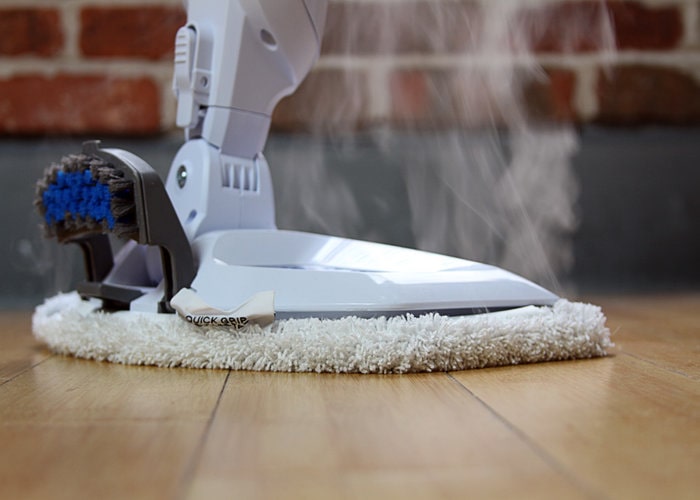 Never use a vacuum cleaner on laminate flooring.
The roller wheels on a vacuum can can damage the flooring, leaving rubber marks that are hard to get rid of .
In addition, the brush roller on a vacuum can create small scratches, allowing dirt and debris to embed itself within the floor.
However if you must use the vacuum cleaner, then clean these surfaces using brush attachments.
This method works well if the user uses the right brushes. The wrong brush can slide the dirt along the surface of the flooring and scratch up the finish.
#2. Use a soft broom to clean the laminate floor.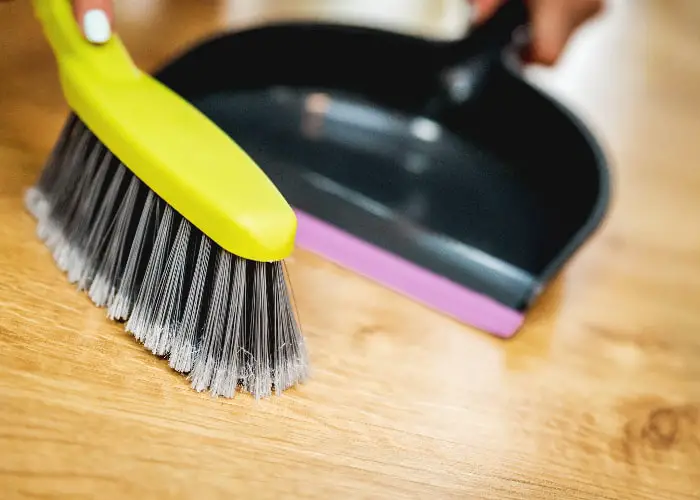 A swiffer-style cleaner are often an excellent way to pick up dust and other debris.
A swiffer-style cleaner uses an electrostatic cloth to draw in dust, preventing it from spreading around a room.
#3. Clean laminate floors with Baking Soda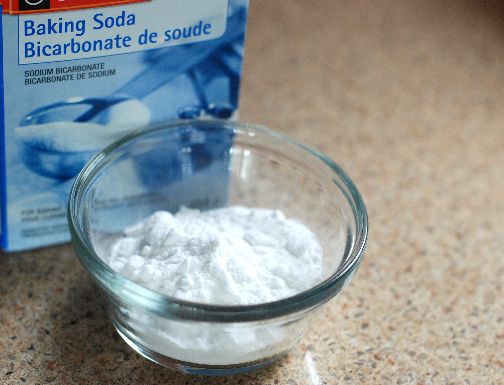 Many cleaning products can leave stains on laminate floors, creating the looks of streaks when the floor dries.
In addition, some cleaning solvents can eat away the surface of a laminate floor, ruining the looks and increasing the prospect of staining.
Never use any cleaning product not designed for laminate flooring.
For tough stains, a 5-1 mixture of baking soda can provide powerful cleaning for your laminate flooring.
Mix 1 part baking soda to five parts warm water, and stir.
Apply the mixture on to the stained area, and permit to the answer to take a seat for 10 minutes.
Using a rag, mop up the bicarbonate of soda mixture.
The stain should be lifted out of the ground , leaving a clean surface underneath.
It may be necessary to rinse the world with water afterwards, as bicarbonate of soda can leave a fine residue on the ground .
#4. Clean laminate floors with Vinegar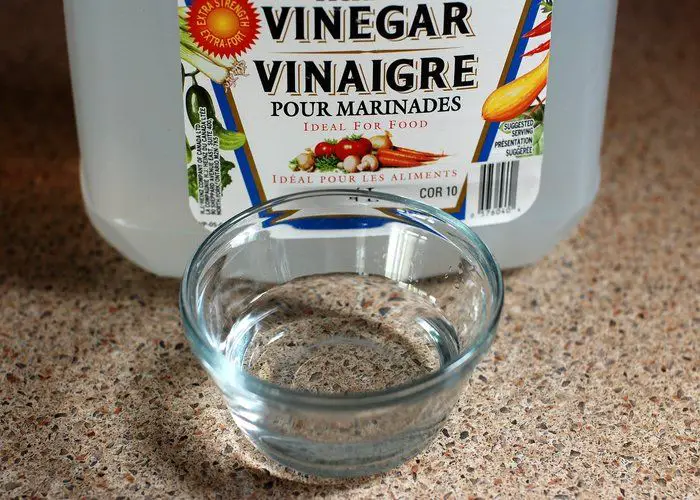 There are multiple ways that this laminate floor can be cleaned and maintained. Making a vinegar solution is the cheapest and most effective.
Vinegar is a safe and effective way to remove and clean many stains on a laminate floor.
Mix 1 part distilled vinegar to 2 parts water.
Using a soft-headed mop, clean the floor in a circular pattern.
Make sure to use distilled vinegar with none odor because vinegar can impart a sour smell in a room.
All you need to do is spray the floor and wipe it with a clean cloth. The remaining moisture should evaporate immediately.

#5. Clean laminate flooring with Ammonia-Based Solutions
For tough stains, an ammonia-based cleaner are often effective on many sorts of laminate flooring.
Ammonia is a common ingredient in many cleaner solutions. Ammonia is effective at preventing streaking on windows, it's also effective at preventing streaking on floors.
Before using any ammonia-based cleaning solution, test the agent in a very small area of flooring.
It's best to use flooring that isn't visible, as some cleaning agents can damage the floor.
If the ammonia-based cleaning solution is effective at cleaning a little area, it's usually safe to use on a large section of the laminate flooring.
Mix 1 part cleaner to 1 part water, and add to a mop bucket.
Clean the flooring employing a soft-headed mop, and give it time to dry.
Ammonia may have a powerful smell, so it's important to provide ventilation in an area where ammonia is being used.
Never mix any ammonia product with bleach, because it can create a dangerous gas.
And there you have it, 5 simple ways to clean laminate flooring and ensure, whether the most expensive or even cheap laminate flooring  will never look dirty again!
How often to clean laminate floors

It is recommended to clean once a week, to maintain a laminate flooring. No effort is required for a clean laminate flooring.
A quick daily vacuuming or a surface sweep will ensure a clean and beautiful laminate floor.
Once a week, you can use a slightly damp mop with a little detergent.
Laminate flooring are often cleaned by using a dry dust mop on the floor for every day cleaning.
During those times once you feel that you just need a decent deeper clean, you'll use a wet mop, one that's not really all that wet, to clean up sticky messes or to clean up mud from the floor.
You don't want to use that much water on the floor so you don't have the water seeping down into the laminate flooring then the laminate flooring is going to warp over time.
Do not pour detergent directly on the parquet and do not use wood parquet detergent on laminate surfaces.
To remove stains, use a dry cloth, on which you put a little cleaning solution. Do not spray these solutions directly on the floor.
If you have traces of rubber, plastic or heels to remove from laminate flooring, you can use a dry cloth and a little acetone.
It takes a lot of care when cleaning laminate flooring.
Thus, in the case of traces of shoe cream, paint or ink, it is advisable to use a cloth soaked in acetone or paint thinner or vinegar.
For candle wax or chewing gum that has stuck to the laminate flooring, use a soft plastic scraper.
Homeowners should not neglect cleaning their laminate floors as this action maintains the floors in good condition.
Cleaning at regular intervals with the proper laminate floor cleaner will ensure that the floor will last for many more years to come.
Things to consider when cleaning the laminate floors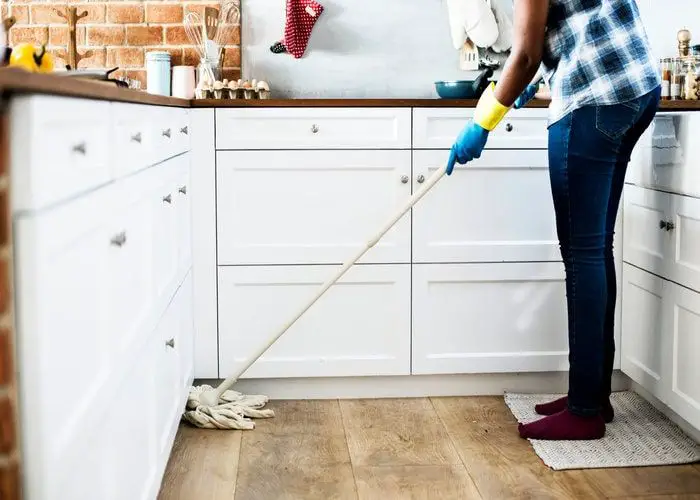 Many people can't wait to replace their carpets with laminate flooring because they find it much easier to clean the floor. To some extent, they are right.
Here are some things to consider when you start cleaning laminate floors:
1.Sweeping and vacuuming
Once you put your parquet, you should not have problems with dust or other solid debris (lint, crumbs, etc.).
They are easily removed with a soft bristle brush or a special wooden floor vacuum cleaner.
Choose these cleaning tools carefully so that they do not scratch the surface of the wood.
And if you want to keep a wooden floor always clean and shiny, it is recommended to vacuum or at least sweep daily.
2.Washing the parquet
When it comes to washing, parquet maintenance begins to become a little more difficult.
The main cause is one of the biggest enemies of wood is water, which is obviously an essential ingredient for any wash.
From the beginning, you must remember that you must not use too much water to wash the wooden floor.
You will need to buy a special solution for cleaning parquet and mix it with water, according to the instructions on the label.
Under no circumstances should you apply the solution directly to the floor.
It is not good to use any mop for washing. It is better to buy a microfiber mop, which will be much softer with a wooden floor.
But many believe that the best solution for parquet is to use a microfiber or cotton cloth.
Even if the work becomes more tiring, you will have more control over washing and you will be able to give your floor more gloss.
Whether you use a mop or a cloth, don't forget to squeeze them very well before you start to clean the floor.
3. About wax and varnish for parquet
Even before you bought the first square meter of laminate flooring, I had probably heard of wax and varnish treatments.
What exactly are these products and how should you use them to treat the floors of your home?
4, Wax treatment
If you want to constantly maintain that typical parquet shine, it is recommended to treat your floor with a special wax.
It is recommended to do this operation once a month, after sweeping and washing the floor carefully.
Caring for Laminate Flooring when You have Furniture
In Japan, it's customary to remove one's shoes before entering any abode. It should be more on mores than for sanitary reasons.
Other places can cope with doormats at doorways. These can help immensely in trapping grit and pebbles.
Furniture has the most potential in ruining laminate floor. Put rags beneath or protector pads on furniture feet.
And when moving furniture around, lift it rather than dragging it. It also helps having less furniture, or if not, furniture without an actual feet, like feet-less couch or floor pillows.
Caring and cleaning laminate flooring is often hassle-free, as long as you act once you see a possible in ruining. 
You'll still hold parties over a laminated floor, but you'll be able to minimize ruin if you place big sized carpets on areas that have considerable traffic.
---
Clean Laminate Floors with Vinegar
Given that specialists prohibit the use of soap-based products when it comes to laminate flooring, there is a method by which we can create a cleaning solution that does not affect the parquet and at the same time have an effect.
The safest and preferred method of cleaning and maintaining laminate flooring is to use a solution made out of water and vinegar.
Pour 60 ml of vinegar into a container equipped with a spray spray with a capacity of 900-1000 ml.
Then add water until the container is full. Tighten the lid tightly and then shake the container so that the two ingredients mix properly.
Diluted vinegar is used especially when stains have created a dull appearance on the parquet.
How to apply: spray the solution on a portion of about 30 cm. Clean the surface immediately to avoid damaging the protective coating of the laminate flooring.
Apply the solution in small portions so that you can quickly wipe the surface.
Use a mop or a dry cloth (it can also be with microfiber, for a complete absorption), the surface must remain dry behind you.
In no case is it recommended to use abrasive products on laminate flooring.
The chewing gum can be removed using a plastic knife. You will then remove the debris using a slightly damp cloth.
Stains of juice, wine, traces of marker or reed can usually be removed with a microfiber cloth.
For stains that stubbornly remain on the floor a little solution of cleaning the laminated package.
Afterwards you will have to clean the surface with a little water and dry it immediately.
Nail polish stains or shoe cream can be removed using acetone. Add some acetone to a microfiber cloth and rub it until it comes out.
Then clean the surface with a slightly damp cloth in water. The eraser removes the rubber traces left on the laminate flooring.
How to care for your new laminate floor
If you've decided to choose laminate flooring you must know this kind of floor is usually sturdier and will last longer than some of the other flooring options.
It is also more cost-effective than tile, and far easier to install. There are some things that you simply should keep in mind though .
Although laminate flooring is easier to care and clean for than other kinds of flooring, you should make sure that you take care of it properly so you get the most out of it.
The most important thing to remember when it comes to how to care for laminate flooring is that you should just never wet mop it.
It is fine to use a damp mop to clean up spills, but a wet mop will cause damage. 
The secret's just to make sure that there aren't any puddles of water after you mop, because the standing water will cause damage, either to the laminate itself, or to the walls and furniture around it that the water comes into contact with.
If water soaks in under the laminate, then it'll start to cause bubbling and cracking of the laminate.
You should make sure that you cover the feet of anything that might slide around on the laminate floor. 
For instance, if you have got chairs, you should get easy glide buttons and attach those to the bottoms of the legs.
This will allow you to drag or push the chair in, more easily and you'll protect the laminate from scratches.
Additionally, you should always make sure to put down something protective while you're moving large pieces of furniture so those don't scratch the floor either.
You should also always remember that your laminate floor isn't a wood floor, and you should not use the same methods to take care of it.
For instance, using wax or any type of acrylic finish on the laminate flooring may be a bad idea. These substances will simply cause damage to the laminate.
 The most effective way to ensure that you are taking care of your laminate flooring properly is to read the instruction that the flooring manufacturer provided.
---
Avoid These Laminate Floor Cleaning Mistakes
Here are some tips to avoid making some Laminate Floor Cleaning Mistakes:
To clean a dirty floor, you need water.
The problem with laminate flooring is that too much water leaks into the cracks between the boards, which can cause swelling and irreversible damage to the flooring.
You can use a little water.
For most areas of laminate flooring in your home, a dry mop or a dust mop can be all that is needed for regular cleaning.
Sticky or dirty sections can be cleaned with a cloth and spray bottle, without having to mop all over the house.
A traditional broom is not the best friend of laminate flooring. You need a dry dust mop or a vacuum cleaner to do all the work.
Traditional brooms will leave too many particles behind. Then the particles mix with the wet mop and spread everywhere.
It is tempting to buy a detergent in a beautiful bottle, which promises to clean laminate flooring and make it look fabulous.
However, many cleaning agents only spoil the appearance of the parquet.
And this is true, especially when you use detergent too often. If you use a solution that you like, then make sure you always follow the instructions for use. It is wrong to believe that more soap means the floor is cleaner.
But this is not true. Often, a laminate floor needs only a light mop and water.
Laminate flooring must be swept or vacuumed often to keep it clean.
Dirt is an enemy of laminate flooring because it scratches and destroys the floor finish.
However, improper sweeping and vacuuming can do more damage to the floor.
If you use a vacuum cleaner, make sure that the roller with the brush is not arranged to avoid scratching the floor surface.
For sweeping, a clean microfiber material can be softer with the floor.
Despite your efforts to clean laminate flooring, you will have to mop the floor.
Because water is an enemy of parquet, you will need to choose a type of mop that does not retain water on the floor.
Make sure you choose a mop that is moist and does not retain water.
Don't Drag Furniture across Laminate Floors
Laminate floor care is identical as the one for wood or any type of flooring when it involves moving furniture across the flooring.
You shouldn't drag the furniture across the flooring.
If your laminate flooring has marks or cuts, it will need a bit of effort to get that mark out.
Sometimes if the cut is too deep you wouldn't be able to get it out regardless of how much buffing you were to try to to on this area.
The same goes for wood flooring, if the cut is just too deep or the scratch is just too deep, you're not going to be able to cover it up.
Laminate flooring is often scratched, dented and may be marked up when you don't seem to be careful in moving those pieces of heavy furniture in your home.
To prevent and take care of your flooring, you need to pick up the furniture and move it from one location to another.
CONCLUSION
Cleaning your laminate flooring is quite easy.
Remember that the manufacturer specify what types of cleaning products can be used on the laminate floor, and using something different my make any warranty invalid.
Your floors should be swept a few times a week (more if needed) with a broom.
Should they be dusty or dirtier than can be helped with a broom, you can mop with a damp (never wet) mop and water.
If your floors are not very dirty or do not see a lot of traffic, spot cleaning with a soft cloth may be all that is needed for most cleaning jobs.