How to Stain Wood [Easy Beginner's Guide]
To transform raw wood and give it a different color, it is possible to stain it. No need to buy expensive DIY products or special stains because we will show you several techniques how to stain wood.
The staining is the process of dyeing natural wood without previous hands, with special paints for this type of material. In this way, a different color from the original is given, but without covering the texture and natural grain of the wood.
Staining is usually done to:
Homogenize the colors of the wood
Imitate another type of wood in lighter ones
Change the color according to the decoration.
Stain emphasizes the wood grain most strongly and colors the wood, depending on your requirements, colored. 
The staining of the wood is only used for coloring, but not for protection against moisture and dirt. 
We will show you step by step how to stain wood correctly and how you have to treat your piece of wood furniture afterwards so that it remains resistant and beautiful for a long time.
How to Stain Wood Step by Step
To stain the wood you will need simple and inexpensive materials, which you can get easily and at low cost, even things that you surely have at home.
Materials:
Wood staining paint in a color of your choice
Brush, wrist pin , tow or cotton cloth
White spirit or the appropriate solvent for the paint
Preparation container
Helpful TIP!
The application of these stains is done with a brush or with a cloth (for Wood Stain) which will always be used in the direction of the wood fibers . Do not hesitate to do a test in an isolated area of ​​your furniture to verify that the chosen color meets your expectations.
Step 1: Surface Preparation
As I always say, the wooden surface must be clean, dry, free of dust, grease and any other material that prevents the correct adhesion of the material. 
If not, remove grease with a solvent, let it dry, sand smoothly and clean without leaving traces of dust.
Before staining the wood with water-based paint or any other material of your choice, prepare the surface. 
This will ensure the durability and quality of the coating. Surface preparation before staining wood with paint consists in performing the following basic work.
Sometimes you need to remove stains
Cleaning
The surface can be rinsed and dried to remove dirt. Use sandpaper to clean old paintwork from wood. 
Another way is to warm up with a hair dryer (construction) and scrape off with a spatula. 
Before painting the wood grease is removed with gasoline or nitro solvents.
Knot processing
In such places, resin often appears, which can destroy the paint layer. 
Gently clean the knotted areas with a trowel and sandpaper. 
For final treatment, wipe the area with a sponge soaked in gasoline.
Sealing cracks
To do this, use wood fillers. After embedding, sand the surface with sandpaper, remove dust.
Antiseptic impregnation
It is especially relevant for timber structures used outdoors or in high humidity. For impregnation, specialized primers are used. 
They protect the structure from rotting, insect damage, and the appearance of mold. 
There are also fire retardant impregnations that increase the fireproof performance of wooden products.
Speaking of mold, here is the best guide how to remove mold from wood with easy step by step instructions!
Step 2. Choose the Type of Wood Stain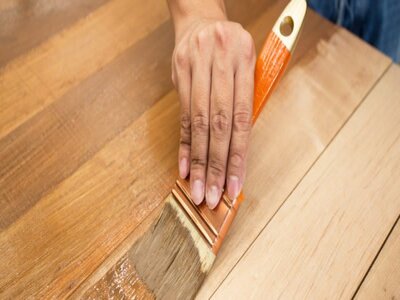 You can use the following criteria to determine whether you should use a wood smoothing treatment, oil or water-based stain for each of your projects:
Oil Based Stain
Water Based Stain
Provide you with a longer working time, allowing you to stain floors, closets, paneling or doors without worrying about dried brush strokes.
Have a faint odor.
Does not elevate grain, eliminating the need for additional sanding.
Dries faster, allowing you to stain and apply the finish in a day.
Are applied with a brush with natural bristles, while products with water are applied with a synthetic brush.
Easy to clean with soap and water.
Are available in a wider range of bright stain colors.
Do you need to remove oil based stain from wood? Here is an amazing tutorial how you can remove oil-based stain from wood!
Wood conditioner or not?
With age we have come to accept the wisdom of conditioning wood before staining. As it turns out, it's a pretty good thing.
The wood conditioner is only used for softwood such as fir, pine, hemlock and so on.
Staining without properly conditioned wood is possible, and it can look decent, unless you get a much more even color when you condition.
Stains on highly porous coniferous wood will run into the porous grain before you can smooth it out properly.
Step 3: Dilute the Stain
The amount of solvent you add to the stain will determine the intensity of the color, so you may want to test a piece of wood for the correct solution. 
According to the manufacturer of the product, it may change, so I recommend that you read the specifications of the container. 
And always use the same brand for the same piece, sector or furniture
As the solvent evaporates and dries, the color may lighten slightly. If to finish you apply some protective material, such as varnish, the color revives again.
If you want to treat wood and don't know how to start here is an amazing article on this topic!
Step 4: Applying the Stain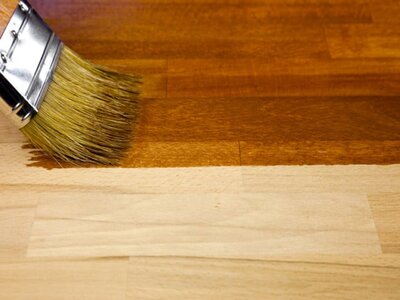 Dampen the brush in the container and spread the stain on the wooden board. Take care that there are no drips, if you exceed the amount of stain clean it with a dry cloth evenly. 
It is convenient that you stain a wood portion or board before starting another, so that there are no marks.
 Apply the well-stirred or shaken stain solution with a wide brush evenly and generously along the grain. 
Then brush across and finally back to the grain. After all it takes about a quarter of an hour to dry.
If you use a brush for this step, you may notice the bristle marks, and it is very likely that the wood shows a slight scratch, which does not happen if you use a cotton or tow cloth. 
But if you are staining a large surface with little care (for example outdoors) there would be no problems.
Step 5. Clean up the Excess Stain
If you use latex gloves you can do a nice trick by holding the stained rag, you can wrap your glove around the rag to form a mini trash bag.
Try to remove the excess stain from wood with a cloth.
I have written an in-depth article how you can remove stains from wood. You will get to see the best methods which professionals woodworkers use!
Step 6. Finishing
Helpful TIP!
Important: The wood is only colored during staining. In order to protect it against moisture and mold, it is therefore advisable to additionally treat the wood with varnish, wood oil or wax .
 The stain must dry about 6 to 8 hours after application. The surface can then be used again. 
With all of the staining methods mentioned, except for painting, the wood surface is still breathable and water-permeable.
 In order to achieve the longest possible shelf life, it should always be sealed with clear lacquer, hard oil or wax at the end.
Wood can lose its color over time, due to friction and other factors. It is important to apply a finishing material for protection from staining. 
Two or three coats of glossy colorless varnish would suffice. I recommend you read how to varnish the wood step by step.
Staining wood always involves some work. The pretreatment of the wood, the choice of the staining method, the staining and the sealing appear complex at first glance, but with a little practice can also be done by hobby do-it-yourselfers. 
So everyone can beautify their home and garden with wooden elements in the right color.
Type of Wood
How to Stain Wood
Oak
Apply a generous amount of stain to the wood, then work it into the pores with a cloth that you apply in a circular motion
Alder And Tremble Poplar
They absorb stains unevenly. 
To help reduce the spotty look when staining, first apply a liberal coat of pre-stain wood primer
Ash And Chestnut
These hardwoods share many characteristics of oak and should be stained the same way as described above for oak.
Birch
 Like hard maple, however, it does not absorb stain evenly and should not be stained with dark stains. 
When staining, apply a pre-stain wood primer first, then choose a stain that is a lighter color.
Cherry Tree
Unlike oak and ash, cherry has a subtle grain pattern and small pores that don't absorb as much stain.
Mahogany/Rosewood
In most cases, additional staining is not necessary. 
When necessary, always use an oil stain, such as 
Wood Finish to ensure compatibility with the natural oils in these woods.
Maple
To reduce any speckled appearance, first apply a coat Prestain Wood Conditioner. 
Even then, it is advisable to stain maple only with light to medium colored stains.
Pine/Fir/Cedar
These three popular coniferous woods look beautiful naturally or with just a light application of stain.
Poplar
Stained it with a Stain Product with Cherry, Mahogany Red, or other colors that contain red stain and pigments, less expensive poplar can really look like cherry.
Check here the list with the top hardest woods in the world and their amazing characteristics!
How to Stain Wood with Coffee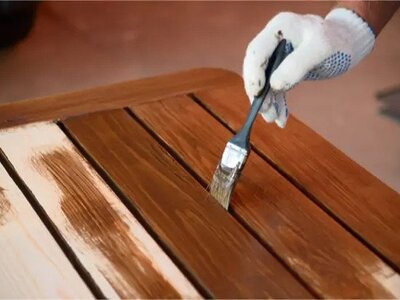 Do you want to stain the wood with coffee? Today I propose one more idea, to give a certain color to our wooden furniture.
 If you work with pallets it is also an extraordinary solution to beautify the material and thus be able to use it to decorate. Staining with instant coffee is very simple and the results are amazing.
One idea is to buy wood stain, there are many brands and different shades. You can apply as many layers as you want, but remember that the wood will darken each time you add one more.
But if you like natural solutions or have leftover instant coffee that you never use, you can do little things with them. 
We will have the materials at home and they are not very expensive. With a brush, brushes or a roller in hand and a little instant coffee you can stain the wooden surfaces you want.
To stain wood with coffee you have to do the following steps:
First, try not to add too much water, the more concentrated the better. 
Choose the surface you want to dye and clean very well so that the dye penetrates better. 
With a brush or a roller, dip in the coffee stain and then apply on the wood
Let it dry and reapply another coat of stain if you want. 
You will see the results at the moment, it is a great solution to take advantage of wood that we have at home or to renew the furniture a bit by giving it some shine.
Painting with coffee is very simple, you can also do it on cardboard or paper. But for this mixture you will have to add a little glue to the coffee, so it will be better. Try staining the wood with this formula, it's great and fast.
I have a tutorial how you can stain with coffee! To see the complete step by step guide how to stain wood with coffee click here!
What is the best way to apply the stain?
Wood staining is done with the following tools: a brush, a foam or fabric swab, a roller and a spray gun.
When tinting the surface with an alcohol-based stain and nitro stain, use an airbrush. These liquids dry quickly and the brushes will stain the surface. The spray gun is also convenient for large areas.
For other types of stain, use a rag and a brush. Choose a brush with strong bristles so that no hairs remain on the painted wood. 
Rags should also be of good quality, as the lint and thread remaining on the surface will create an unattractive appearance of the paint.
Oil stains are used to paint wood with brushes with natural bristles, and water-based stains can also be synthetic.
Do you find it difficult to remove wood stain from clothes? Don't panic because I have created the best guide how you can remove wood stain from wood in the easiest way possible!
Why stain wood?
Staining wood can both beautify it and sometimes protect it. Adding a stain to natural raw wood, containing dyes and pigments , will change the color but also enhance the nature and grain of the wood.
It is advisable to lightly sand the raw or stripped wood with sandpaper in order to open the pores: open pores are necessary for better absorption of the stain.
When you stain wood, the stain penetrates deep into the early and late wood, this creates wood images with the following effects:
 The fibers are only colored without covering the structure.
 The natural color is underlined or highlighted .
 The grain is emphasized.
 The contrast in softwoods is emphasized and the positive structure is retained.
 Wood differences are covered.
How to Make Natural Wood Stain
Although we can find wood stain in our favorite DIY store, the truth is that there is also the possibility of making homemade wood stain. In its day we already talked about how to stain wood with coffee and today we give you more ideas to get different colors and finishes:
How to stain wood with tea: there are several formulas, you can use the tea without further ado or mix it with apple cider vinegar and steel wool. Depending on the type of wood and the combination used, you will get different finishes.
Onion or walnut peel for brown tones: both foods have natural stains with which you will be able to change the tone of your furniture. Of course, for the temptation to work well, it is recommended to mix it with water and ammonia.
Indigo bush leaves or red corn husk for violet tones: although you have to remember that the finish will be natural, you can get really different tones like violet. Also use water and ammonia to get better penetration of the dye.
How to stain wood with Linseed oil: as we have already told you before, it is an ideal product, not only for staining wood, but also to improve its resistance. Our recommendation is that you make a homogeneous mixture of linseed oil, judean bitumen and turpentine oil.
Sometimes Linseed Oil needs to be removed from wood. Check this easy step by step tutorial how you can do it.
How to Stain Pine Wood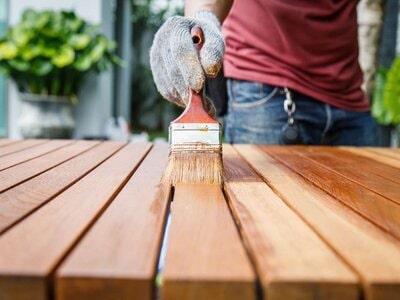 The most important thing to start staining pine wood is that the surface is in perfect condition.
In all these cases, staining pine wood is simple:
Apply the mixture with a broad brush in the direction of the grain of the wood. 
Let dry, then apply a second coat. 
Depending on the intensity of the tone you want, you can apply more layers, but always letting them dry between one and the other. 
The tone will change once dry, so pay attention to the evolution of the tone to achieve the desired one. 
Finally apply wax or varnish depending on the finish you want to have.
Is pine a good wood? Where can it be used ? Check this useful comparison between pine and poplar and see which one is the best type of wood!
Does the wood have to be pretreated before staining?
Before you give the wood a new color, the old paint or other treatments and dirt must be removed. 
In some cases it is advisable to prime the wood in order to achieve the desired result.
Can I stain untreated wood?
Untreated wood can be colored darker by natural stains such as coffee or tea. 
This also makes the grain appear more clearly, which emphasizes the natural look of the wood even more. 
In order to maintain the color result for a long time, treatment with a wax-based wood care product should be carried out after staining.
Can I also stain wood with natural stain?
If the treated wood is only to be used inside and should look particularly natural, environmentally friendly staining methods can be used with natural stains. 
The wood grain is emphasized more strongly and 
the colors look very natural. 
However, if you want a strong red, yellow, blue, green or even black, you should use chemical wood stains.