What is Laminate Flooring
An important aspect in renovating a home is the floor. One of the most practical solutions is laminate flooring. But what is laminate flooring?
The laminate flooring or parquet is generally made from three layers. The base layer is an impermeable layer, which improves the structural stability. The thick, middle layer is a composite wood base.The highest layer is the wear surface and the decorative layer.
Most people in the United States don't have any idea what laminate flooring is, although they're often aware of Pergo flooring.
Well, Pergo is to laminate floorings what Wal-Mart is to hypermarkets.
As the first company to make this kind of flooring and sell it within the U.S, their name has become synonymous with laminate flooring within the minds of the many consumers.
That being said, there are over 30 other brands of this type of flooring available also .
What is Laminate Flooring Made Of?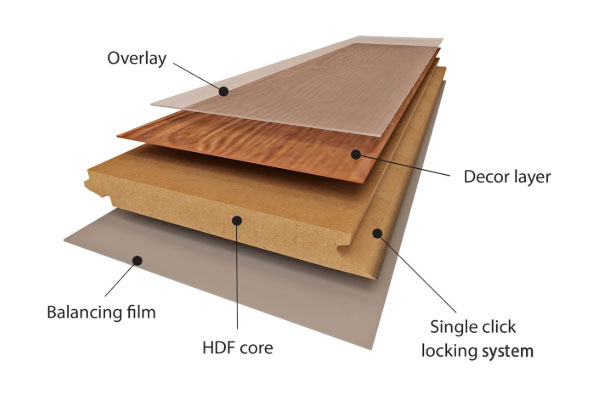 Laminate flooring is generally made from there separate layers:
First layer is a hard aluminum oxide wear layer with a photograph of wood, stone, or brick adhered to the underside of it.
A second layer named core layer made from Medium Density Fiberboard (MDF) which is processed wood that is moist resistant
The third and final layer made from plastic laminate backing to seal the whole piece against moisture and potential pests.
Depending the on laminate wood producer, it can have an additional fourth layer! Let's dive and describe each one of them!
Laminate flooring or parquet is usually made up of four layers:
This layer, also called a coating, is made of heat-melamine melamine resin. This material is resistant to abrasion and protects the decorative paper from wear.
This layer also uses UV varnish to make the laminate flooring resistant to UV light and not change its color.
This wear layer is very similar to the top wear layer on counter or kitchen work tops but is usually around 40% stronger.
This overlay makes the laminate flooring very resistant to scratches, burns, dent's, stains, etc.
The decorative layer DPL (Decorative Paper) or HPL ( High Strength Paper)
The decoration represents the visible part of the laminate flooring. The decorative layer is made of paper, printed with patterns (usually with wood look) reproduced by expensive photo technology and using organic colors.
Through this production process, laminate flooring comes with an enormous diversity of colors and decors.
In order to give the floor a more attractive and natural look, when choosing a laminate flooring model, you must take into account the differences in color and constructions, similar to those of the corresponding natural materials.
The base of the laminate flooring is formed by the wooden support plate. Wood represents 90% of the material used.
In the case of laminate flooring, the backing plate is made up of either chipboard, MDF (Medium Density Fiber = medium density fiberboard) or HDF (High Density Fiber = high density fiberboard) plate.
The quality of the substrate is decisive for the strength of the laminate flooring.
The bottom layer (stabilizing layer)
The bottom layer or the back side of the laminate flooring resists moisture and equalizes the stresses generated by the laminate structure.
This layers gives the laminate floor its stability. Usually, this layer is made of moisture resistant resins.
The correct interaction between the individual layers is decisive for the total quality of the laminate flooring. Optional types with integrated sound insulation are also available.
Where is Laminate Wood origin ?
It was developed in 1977, in Sweden, but reached the market only in 1980, spreading rapidly in other European countries.
Although in the first years, the laminate flooring did not meet the quality standards that it has reached today, until the late 1980s visible improvements were achieved.
Nowadays, laminate flooring is one of the most popular types of flooring in the world, due to the fact that it is practical, easy to install and maintain.
In addition, laminate flooring is much cheaper than that made of solid wood.
The structure of the laminate flooring is still the original one, created in the 80's from three layers.
The base layer is an impermeable layer, which improves the structural stability and acts as a barrier against humidity.
The thick, middle layer is a composite wood base.
The highest layer is the wear surface and the decorative layer which, depending on the production process, can be composed, in turn, of several layers.
Laminate flooring is a synthetic product that has a high resolution image printed representing the wood, on an HDF support.
It is created from a special resin cellulose cellulose, treated, which gives the laminate flooring resistance, durability and an attractive visual appearance.
What are the pros and cons of laminate flooring?
They have textures similar to those of natural wood, due to a deeper engraving of the textures in the composition.
Laminate flooring advantages
Laminate flooring may be a cost-effective and simple to care for alternative to genuine wood or stone surfaces.
Being more tolerant to moisture, it can be utilized in bathrooms or other areas where moisture may pose problems for other flooring materials.
Due to its simple tongue and groove attachment pattern, is almost utilized in any room of the house, as long as there's a concrete, plywood, or other firm floor surface below it.
Laminate floors don't stain, fade, dent, or warp like real hardwood floors, although they have the same cost.
Usually laminate wood have included a lifetime warranties against most problems and defects.
Most laminate floors today fit along side a click system with the foremost common being the UNICLIC system as utilized by Quick-Step.
This is often extremely easy and fast to fit. The ingenious UNICLIC-system features a special shape of tongue and groove.
You just place the tongue of 1 plank into the grove of another at an angle and press down.
Their sophisticated and extremely accurate milled shape makes it possible to form a really tight connection during the installation. After that you can walk on floor almost right away.
If your home has significant pedestrian traffic (including children and/or pets) then a laminate floor will hold up far better than a comparable wood or perhaps tile floor, and be considerably less costly than stone flooring materials.
Having tons of traffic in your home and if you decide to stay there for some time, laminate flooring may prove to be the best value for your money due to its long life, durability and excellent warranty coverage.
If you would like the design of hardwood but have a sub-floor that is incompatible with real hardwood floors, laminate flooring may be the selection for you!
The 12 mm premium laminate also convinced buyers to try the product against the laminate.
The sales value of the laminate tends to be moderate for the time being, but sometimes it happens to exceed the price of a laminate flooring.
Laminate flooring disadvantages
Hard to recycle, burns very hard, no decomposition is not a problem
High resolution photography is repetitive, the same image on each slat of the floor, tiring and monotonous
Cannot be reconditioned
Defective floating mounting, on the traffic areas the sheet is pressed, even the extruded polystyrene
It is not the least expensive flooring option, so it is always important to weigh the costs and features against your needs.
---
What does Laminate Flooring look like?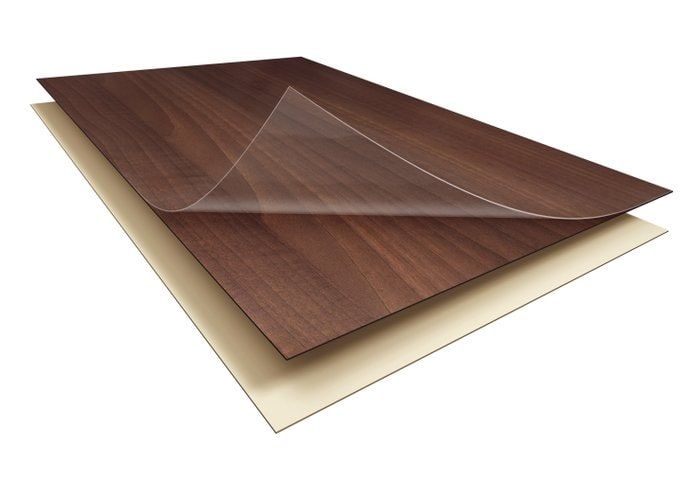 Laminate flooring mimics the design look of traditional woods while offering easy installation and lasting durability.
At first glance, it will be difficult to identify the difference between hardwoods and laminate flooring.
Laminate flooring manufacturers have responded to the challenge of parquet competition, and now parquet floor looks even better than wood.
They have textures similar to those of natural wood, due to a deeper engraving of the textures in the composition.
What appears to be a natural wood grain pattern is basically a skinny layer of decor paper (a photographic image) under a tough-as-nails protective film that's glued and pressed to a high-density backing board.
Laminate Flooring comes in an array of wood effects also as stone and ceramic effects.
Is Laminate Flooring easy to install?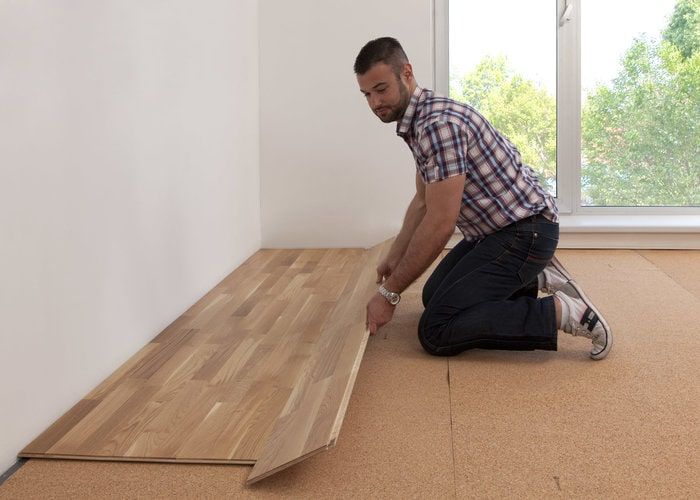 Laminate flooring's main advantages are that it is easy to install, is very hard wearing and relatively inexpensive compared to real hardwood flooring.
Laminate flooring is a floating floor, which means it does not fasten directly to the sub-floor. Instead the planks are clicked together. This enables the floor to be fitted fast and with no real mess.
Their sophisticated and extremely accurate milled shape makes it possible to form a really tight connection during the installation.
After that you can walk on floor almost right away.
If you are laying laminate flooring over a concrete sub-floor then you will fist need to lay down a damp proof membrane (DPM).
This is basically a sheet of plastic usually around 5mm which helps protect the Laminate from moisture.
On top of this goes the foam underlay this acts as sound absorption and also helps even out minor irregularities in the sub-floor.
Most manufactories now offer a combined DPM and underlay along with several underlay's that have better sound absorbing qualities
Most of the leading laminate floor manufactures now also have ranges of flooring that also include built in underlay.
This underlay is pre-fitted to the bottom of the flooring and is usually of sound absorbing quality.
You do not need to install this type of floor a secondary but if you are laying over a concrete sub-floor you still have to lay down a D.P.M. (Damp Proof Membrane) first.
Parquet has been around in Europe for around 15 years and has seen massive growth in the past few years.
In 2004 over 750 million square meters of parquet flooring was sold worldwide this was an increase of 13% on the previous year.
The biggest growth market is in the US with an impressive growth rate of 25%.
Types of laminate flooring
Despite the fact that the market has been invaded by this type of laminte flooring, great attention must be paid to its quality.
A very important aspect is the thickness of the parquet.
The thickness must be chosen according to the type of traffic of the area in which it is mounted: domestic, medium or intense.
Another feature of laminate flooring or parquet is its installation system: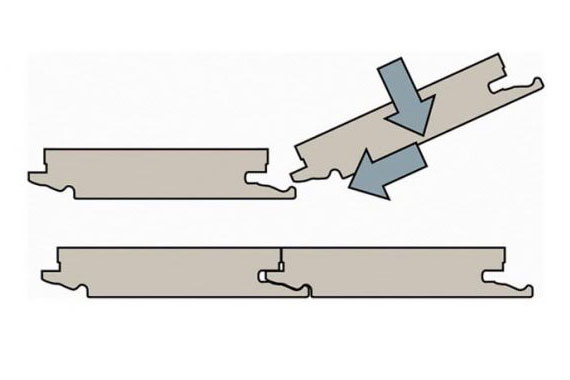 Last but not least, a good laminate flooring offers comfort and has the most natural look.
How is Laminate Flooring Produced
Laminate Flooring is produced in the following way:
Within the DPL (Direct-pressure laminate process) the decorative covering layer and stabilizing layer are pressed together onto the core layer.
While the HPL (High-pressure laminate process), on the opposite hand, the decorative paper and overlay are pressed onto special high-strength paper first.
Only after a second stage this so-called high-pressure laminate, glued to the core layer. This makes the flooring more harder and scratch resistant etc.
How is Laminate Flooring Graded
Besides from the warranties that manufactures offer and also the difference between DPL & HPL there's another thing to take into account when you purchase parquet.
And this thing is industry standard load and traffic categories. These are broken into two different categories and are as follows.
Residential
Class 21 – Moderate Loads. Ideal for bedrooms etc.
Class 22 – Normal Loads, Ideal for living rooms etc.
Class 23 – Heavy Loads. Ideal for anywhere in the house (except bathrooms)
Commercial
Class 31 – Moderate Loads. Hotel Rooms, meeting rooms, etc.
Class 32 – Normal Loads. Offices, waiting rooms, etc.
Class 33 – Heavy Loads. Large offices, shops, public buildings.
---
How to choose Laminate Flooring
Choosing laminate (parquet) is always a difficult decision, because you should consider both the quality of the parquet and the integration of this finishing element in the aesthetics of the decor originally thought for arranging a certain room.
The color is, most of the times, the main landmark after which the laminate flooring model is chosen.
Indeed, it is quite important that the texture and color palette of the flooring be in line with the design imagined for the room in which it is to be fitted.
In choosing the best laminate flooring, it is recommended to take into account its thickness, traffic and shade.
The parquet must offer comfort and be easy to maintain and clean.
The parquet does not become obsolete over time is an additional reason why laminate flooring can be the best choice for the arrangement of your home, be it bedroom, living room, children's room, hallway or kitchen.
To make the best choice, the flooring is selected according to its thickness, but especially according to its AC abrasion class.
This parameter is the most important, with its help is the durability and durability of the parquet.
Each type of laminate flooring is evaluated for durability through abrasion tests, impact resistance, burn resistance, stain resistance and swelling in humidity conditions.
The evaluation of the CA is done to measure durability.
The traffic class that appears on the parquet indicates the resistance of the protective layer and of the decorative film to wear, rubbing, shock, impact, abrasion.
The AC traffic class is determined by the Taber Abraser test.
The AC class will show us the durability and the resistance of the parquet. As the flooring is more abrasion resistant, it will have a higher AC grade and will be more durable over time.
Experts recommend:
➤ For the bedroom – AC1 / 21 parquet with low abrasion resistance, for living space with low traffic. This parquet has a shorter lifespan.
➤ For living room or living room, bedrooms and guest rooms – parquet AC2 / 22 for living space with medium traffic. AC2 parquet flooring is not very abrasion resistant, which is why it is good for rooms that do not circulate shoes, such as the bedrooms.
➤ For residential use – AC3 / 23 parquet flooring for living space with heavy traffic. This type of parquet has good abrasion resistance and can be used in living rooms, offices and kitchens.
➤ For offices, hotel rooms and boarding houses – AC3 / 31 parquet flooring for commercial space with low traffic.
➤ For offices, cafes, residential blocks – AC4 / 32 parquet flooring for commercial space with medium traffic.
The AC4 parquet has high resistance to abrasion, it is good for areas with shoes, such as: offices, corridors, hallways in public buildings.
➤ For shops, public buildings, residential and commercial buildings – parquet flooring AC5 / 33 for commercial space with heavy traffic, compatible with underfloor heating. This parquet flooring has very good abrasion resistance, it is durable over time even in case of intensive use.