What is Wood Composite? Why Is The Best Material?
In an effort to preserve all the advantages of wood and nullify all its disadvantages, manufacturers have created an innovative building material: wood composite. Let's consider what is wood composite, what properties and characteristics are inherent in this material, and what is the scope of its application.
Wood Composite is durable, antiseptic, eco-friendly and 100% recyclable. What other good reasons are there to use it?
What is Wood Composite?
Wood composite, or WPC is an artificial material that is obtained by combining natural wood fibers, chopped or ground, to a polymer-based resin. It is mostly used to make very resistant planks , both to atmospheric agents and to impacts, especially suitable for outdoor use.
The wood composite, also known as wood plastic composite (WPC), is an artificial material produced by hot extrusion combining natural fibers of wood chips or pulverized in a special resin composed of polymers and additives.
How is wood composite made?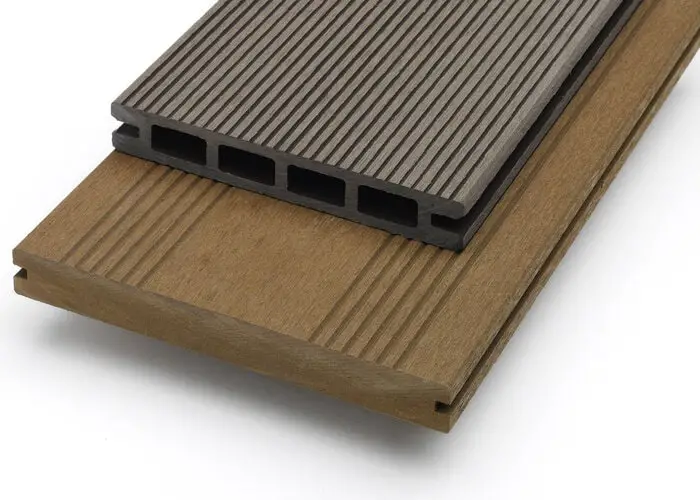 The main components for wood composite are wood waste (fraction 0.5–5 mm) and one of the polymers:
polyethylene ;
polypropylene;
polystyrene ;
PVA.
Do you know what PVA is? I have written an article about what is PVA and it's amazing properties!
Any wood waste is used to make the filler, including slabs or knots. Most often it is converted into wood flour, that is, ground wood with a fraction size of no more than 0.5 mm , but other types of waste are also used, that is:
sawdust ;
shavings ;
fibers.
Wood Plastic Composite parts are obtained by extrusion or by injection molding, from mainly recycled materials: wood fibers and plastic resins sometimes from recycling such as Polypropylene, Polyethylene or Polyvinyl chloride. 
The proportions of wood fibers and resins fluctuate depending on the manufacturing process and the desired characteristics.
Liquid wood is a semi-synthetic material. It is produced from wood waste, which is ground to a fine dust fraction, and artificial / natural monomers. WPC is made by extrusion , in which a wood-polymer mass is formed. 
The role of binders in this case is played by polymers. In addition, the composition contains the appropriate chemical additives that improve certain properties of the material. 
WPC can contain 70-80% wood, which gives the bulk of finished products. The rest falls on the share of polymers and various special additives.
What is Wood Composite used for?
Wood Composite use is therefore particularly suitable for outdoor applications in areas subject to extreme conditions , such as:
proximity to water and perhaps salt, such as the edges of swimming pools ;
outdoor areas subject to particularly harsh climates and therefore to frosts , as occurs in mountain areas;
edges of lawns subjected to pest control treatments , and therefore to the aggression of chemical substances. 
this material is now used in various fields of construction and furniture and the fact that it significantly reduces the amount of wood needed for its applications
an environmentally friendly product because of course fewer trees need to be felled and it is also recyclable . 
The use of both flooring and coating products and other uses is also more economically advantageous compared to that of natural wood, because both production and storage costs are lower.
This material is now used for the construction of terraces , siding , fences , gates.
 It can also be used for pontoons, swimming pool decks, railings, street furniture in public places, etc.
Is Composite Wood Strong?
It is also very resistant to loads , up to 500 kg / m2 required by law for public environments, however these characteristics are not currently such as to be used for structural uses.
Is Composite better than wood?
Wood Composite is an ultra-modern material. 
WPC has all the best natural properties of wood, but is devoid of such disadvantages as susceptibility to rotting and mold, flammability, surface defects, does not absorb moisture, etc.
Important to know!
Natural wood must be processed regularly. Otherwise, it will lose its attractive appearance, tree bark beetles will start in the wood, fungus, mold will appear and the board will start to rot.
This material is more resistant to the external environment, low temperatures, more durable in comparison with wood and wood-based panels. This is very important in the harsh climate.
| | | |
| --- | --- | --- |
| Specifications | Natural Wood(Larch) | Wood Composite |
| Strength | high strength material | high strength material |
| Appearance | beautiful woody texture | beautiful smooth surface, beautiful woody structure |
| Moisture and lightfastness | only for special processing | no special treatment high |
| Fire resistance | unstable, ignites | incombustible |
| Eco-safety | environmentally friendly material | environmentally friendly material |
| Mounting | installation skills required | no special skills needed |
| Coloration | necessary | not necessary |
| Care | need special care | not needed |
| Maintenance costs | Every year | every 20-25 years |
| The cost | region-dependent, average | quite high |
Is Wood Composite Eco-Friendly?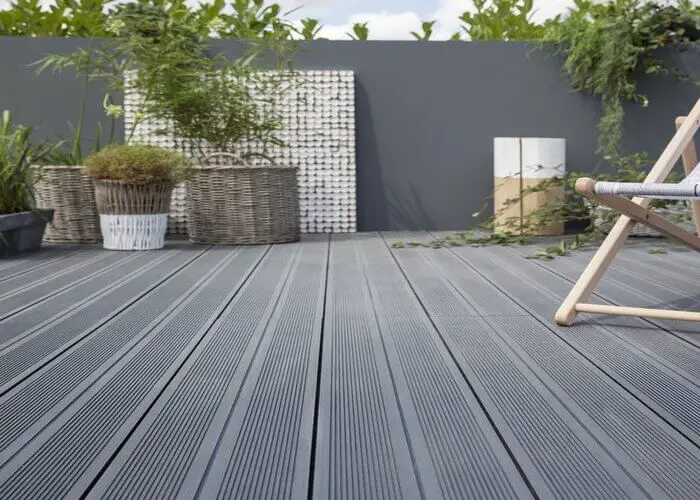 Wood Composite is often considered eco-friendly, not only because it recycles shavings, but also because of the materials it uses. 
Manufacturers look to use adhesives and resins that are free of petroleum-based aggregates and other dangerous chemicals like formaldehyde. 
Wood also doesn't require the stain that regular lumber does, triggering greener building practices when creating sheds.
Finally, let's analyze the environmental factor, we can define this eco-friendly material, in fact it reduces the use of the wood itself, so it allows to cut down fewer trees, its manufacturing process does not release polluting substances into the environment.
 The fact that it does not require maintenance treatments with oils or paints further contributes to respect for the environment and above all it is a 100% recyclable material, in fact it can be extruded again at the end of its life cycle or used as a fuel in waste-to-energy plants. .
Is Composite Wood Waterproof?
To stay outside the house and not get damaged, even when it rains heavily, the wood must be able to withstand the attack of water and humidity. 
The WPC is waterproof thanks to the presence, in its compound, a water-repellent polymer. Furthermore, it is precisely its particular composition that manages to keep away the formation of molds to be eliminated, fungi and any other microorganism, to the point that composite wood is defined as an antiseptic .
 If used by the pool, molds can still form, but they can be easily eliminated.
Composite wood is made impermeable to water thanks to a water-repellent composition given by the polymer contained within it. 
Like any other construction material, composite wood also has a wetting index, so it is preferable to always lay it maintaining an air gap avoiding direct contact with the support surface.
Advantages of Wood Composite
Using Wood Plastic Composite offers you various advantages. The most important are:
it does not discolour
it does not twist (i.e. it does not deform)
it is impermeable to water by virtue of a water-repellent composition given by the polymer contained within it
resistant to abrasion and mechanical stresses (trampling, dragging, rolling
it is antiseptic
it is not attacked by molds and microorganisms
is 100% recyclable , in fact it can be extruded again at the end of its life cycle up to 20 times or used as a fuel in waste-to-energy plants.
equipped with anti-fading protection, it is insensitive to sunlight.
it has a perfect finish thanks to an invisible clips installation.
with its anti-fouling surface, it is protected against stains.
The fact that wood composite does not discolor makes it a product that you can use with complete peace of mind in outdoor environments, without having to fear that it will be damaged, from an aesthetic point of view. 
It is in fact resistant to UV rays , which do not cause aging, as it is also resistant to high temperatures and extremely harsh climates. 
It is this resistance to high temperatures that allows it to be worked easily, managing to make even the most difficult shapes to obtain.
| Property name | Wood | WPC |
| --- | --- | --- |
| Durability | Up to 10 years | Under 25 |
| Flexural strength | Up to 100 MPa | Up to 60 MPa |
| Resistance to mechanical damage | Up to 10 MPa | High |
| Density | Up to 0.66 kg / dm³ | 1-1.5 kg / dm³ |
| Permissible minimum temperature | -70 C | -70 C |
| Moisture resistance | Average | High |
| Insect exposure | Average | Is absent |
Comparison of the properties of a wooden board and a WPC board
Disadvantages of Wood Composite
While wood composite has many advantages over wood, it still has some disadvantages:
 The rendering of a composite terrace, especially if it is made with so-called old-generation boards, will not be as beautiful as that of a natural wood terrace, although great improvements have been made to this problem of aspect. 
Composite materials tend to be more expensive than the cheaper traditional woods.
Composite fencing and deck boards cannot be discolored or repainted like traditional wood, so make sure you make the right choice of color or shade to start.
Finally, be aware that because of its share of plastic, the composite wood terrace can heat up more than solid wood. 
In the event of strong exposure to the sun, composite wood can therefore be a little too hot to walk around barefoot. Better to be warned!
Types of wood composite
The most common types of wood composites are:
Chipboard – sheet material obtained by hot pressing of wood chips and binders of non-mineral origin. 
The material was created in the late 40s of the twentieth century, after the end of the Second World War, when there was not enough natural wood to create furniture. 
Scope of chipboard application – the manufacture of cabinet furniture, flooring, interior partitions. 
Medium Density Fibreboard (MDF) is made from finely dispersed wood chips and a binder – lignin. MDF is distinguished by its high strength (stronger than wood), resistance to temperature fluctuations and high humidity. 
Scope of MDF: installation of suspended ceilings, manufacturing of furniture, doors, creating lathing for roofs of houses.
I have wrote an in depth comparison between MDF and Particle Board which you need to see!
Oriented chip boards (OSB boards) were developed in the 80s of the XX century. OSB board composition: wood chips and waterproof adhesives. 
The material has a high resistance to bending in all directions and has good manufacturability – amenable to various treatments. OSB boards are used in the furniture industry, in construction (roof lathing, attic floors). 
Wood-polymer composite (WPC, wood-plastic, "liquid wood") combines the practical properties of plastic and the advantages of wood. 
WPC is a modern, improved material that has found wide application in construction, interior and exterior decoration of houses, cars, yachts, etc. 
Having trouble bending wood? Here is an easy step by step guide to help you!
How Much Does Composite Wood Cost? What Is The Price Difference Between Wpc And Plain Wood?
The price of composite wood is given above all by the quality of the raw materials contained within. 
It is therefore more expensive than soft wood, even if treated, but it has a price very similar to precious exotic wood (Teak or similar), that is the type of wood that can be used outdoors for decades without deteriorating. 
It is also good to specify that the price of wpc is generated half by the additives present in the compound which, despite covering a small percentage of the mixture, account for about 50% of the total sale price.
Is Composite Wood Fire Resistant?
Composite wood has excellent fire resistance, responds to the fire resistance class 
Cfl-S1 determined in the Ministerial Decree of March 15, 2005 (GU n.73 of 30-3-2005): Fire reaction requirements for products to construction installed in activities governed by specific technical fire prevention provisions based on the European classification system
Is Composite Wood Available In Different Colors?
Wood Composite is available in standard colors: Wood, Copper Brown, Dark Gray and White.
Other colors are available for confirmed quantities over 500 square meters.