10 Types Of Wood Veneer [You Should Know]
There are different types of wood veneer and qualities depending on the production method used, the subsequent handling and the color of the veneer. Find out in this article the best types of veneer and their unique characteristics.
Veneer is an essential part of the layout of kitchens, bathrooms, shelving and shop windows. The veneer is available in several types to ensure a charming decoration. 
When you hear about veneer, you usually think of a mere coating of various furniture and furnishings, made with thin sheets of wood of various types.
What is veneer?
Veneer is obtained by unrolling the wood from a trunk to obtain a sheet of real wood which will then be cut to the desired dimensions. Wood veneer therefore has all the qualities of wood, but it is easier to handle and cut.
Veneers can be classified according to production method and appearance (drawing). According to the production method, veneer is divided into natural (sliced ​​and peeled) veneer and fine-line veneer (reconstituted).
Wood veneers are defined as thin sheets (from 0.3 to 3 mm) obtained by cutting the logs horizontally. The veneers must be applied to substrates of less noble materials such as chipboard, MDF, blockboard, honeycomb, to produce components for the manufacture of furniture or furnishings that have a similar appearance to solid wood, but with lower costs and excellent quality.
Want to know more about wood veneer? In this article you will find all the information you need like : how wood veneer is made, it's advantage's and disadvantages, etc!
There are several types of veneers, differing in the manufacturing method, characteristics and appearance which are presented in the list below:
Types Of Wood Veneer
1. Natural Veneer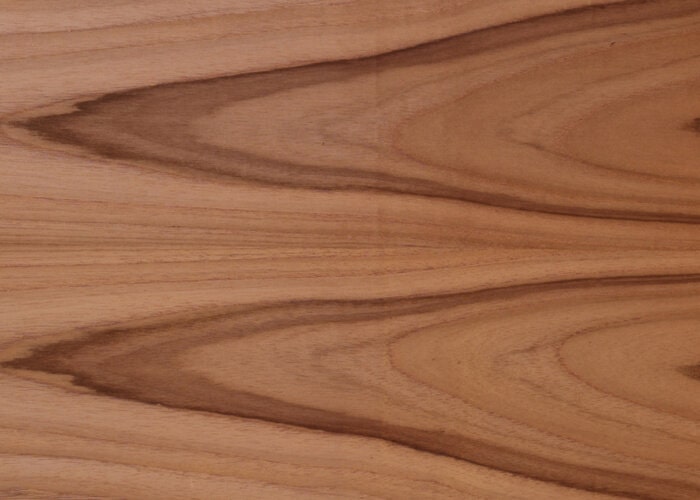 Natural veneer is a thin sheet that is removed from solid wood by sawing, peeling, chipping or planing. This type of veneer is called natural because the unique texture of the wood is completely preserved during the production process.
 Such material occupies an intermediate price position: it is cheaper than natural solid wood, but more expensive than chipboard. 
At the same time, natural veneer has such qualities as environmental friendliness, sophistication and uniqueness of the pattern.
An elegant substitute for natural wood, featuring the finest cuts of common and valuable species. 
This type of veneer perfectly conveys the structure of a natural pattern and, when glued onto a chipboard, it becomes in appearance almost indistinguishable from furniture made from solid wood. 
Use its original texture and unique patterns to give your furniture products a classic natural wood design.
Natural veneer is one of the most popular types of wood veneer and is very often used in modern furniture production.
Peeled veneer usually has the lowest price. It has a standard texture, which does not make it unique. This type of veneer is obtained by cutting a solid and thin layer of wood from the outer edge of the log during its rotation. 
2. Fine-line Veneer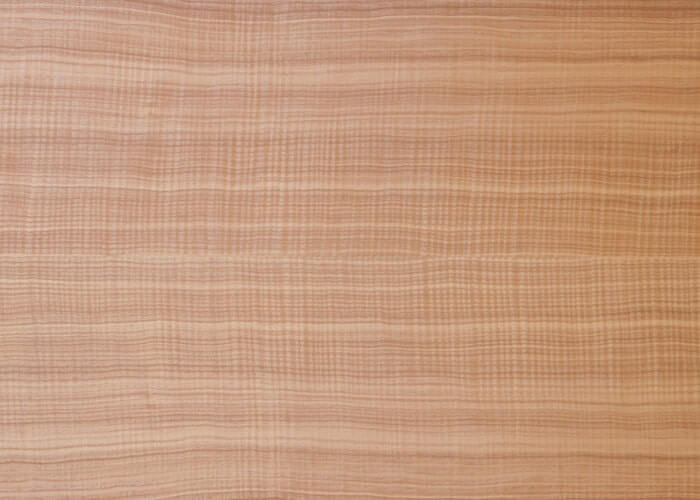 Fine-line is a type of veneer that is reconstructed from softwood rotary cut veneer by gluing veneer sheets together and forming them into blocks, from which veneers are then obtained in various sizes, colors and textures.
Fine Line veneer type capable of imitating the structure of any wood species with a uniform shade. It has no defects typical for an array: knots, cavities, knots. 
The rotary cut veneer is cut into sheets of the required size, the elements are sorted, painted and dried, the finished sheets are glued and pressed to form the desired pattern, after which the blocks are cut crosswise. A great way to get the right canvas textures at an affordable price.
Fine-line veneer is produced from peeled softwood veneer, by forming it into blocks, from which veneer is then obtained in various colors, patterns and sizes. 
Those peeled veneer is glued together, creating a pattern along the end of the block, and then this block is cut into thin sheets. Usually these are sheets 60 centimeters wide. 
Compared to traditional natural veneer, fine-line veneer is more porous and brittle. Because it consists of tens or hundreds of narrow veneer strips glued together. 
But on the other hand, the possibilities of imitating various breeds and the color range of such veneers are truly endless. An example of application of fine-line veneer "bird's eye maple" can be found in the project "Maple Symphony" .
Fine-line veneer is a reconstructed veneer made using a special technology from natural wood with the ability to imitate various types of wood with certain dimensions and different shades. Wood of fast-growing tree species is used as the main raw material in the manufacture of veneer using fine-line technology. 
"Fine-line" veneer is produced from peeled veneer, by forming it into blocks, from which veneer is then obtained in various colors, patterns and sizes. 
The technology for manufacturing this type of veneer was developed in accordance with modern environmental requirements and the need to obtain a new texture. 
Fine-line veneer does not repeat any of the existing wood species and has a unique, clearly defined structure, pattern and color that meet modern trends in the production of slopes, arches.
3. Rotary Cut Veneer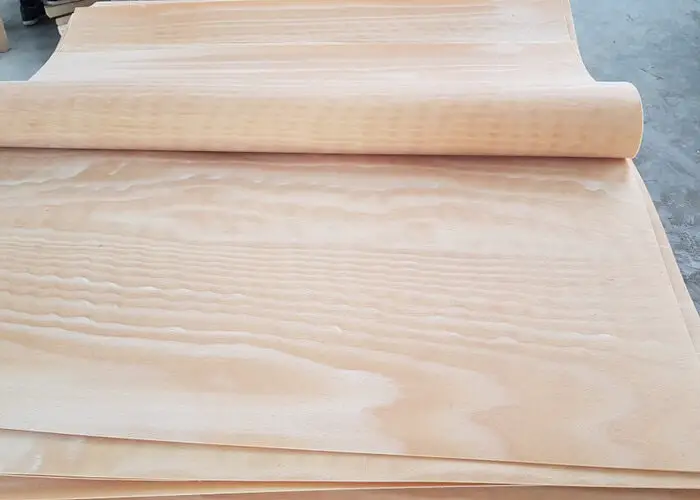 Rotary cut veneer is considered the most common type of veneer, made from oak, pine, birch, alder. It has a low cost, it is produced using the technology of thin "lust", which is removed round from the log. 
This technology is economical, it allows you to remove the maximum amount of wood suitable for further use from one log.
Rotary cut is a type of veneer made by mechanically cutting a thin layer of wood directly from a solid rotating log. For this, special woodworking machines are used. 
After cutting, the veneer is cut into sheets of a certain size and glued in several layers. This type of veneer is one of the cheapest and may not always please with a complete match of the wood grain structure and pattern. As a rule, it is most often used for cladding wooden doors.
Rotary cut natural veneer does not have special textural qualities, but at the same time retains high strength. 
Rotary cut veneer (thickness 0.1 – 10 mm) is the most widespread, cheapest and most affordable type of veneer for the consumer. 
Manufactured on peeling machines. For the production of rotary cut veneer, mainly used wood species such as alder, birch, pine, and oak. 
The technology of its manufacture is simple: rounded short logs, the blocks are cut in a spiral, forming thin shavings veneer of a given thickness.
Do you find difficult to decide between solid wood and wood veneer? I have made a helpful comparison between veneer and solid wood to help you choose the best product for your furniture!
4. Sliced Wood ​​Veneer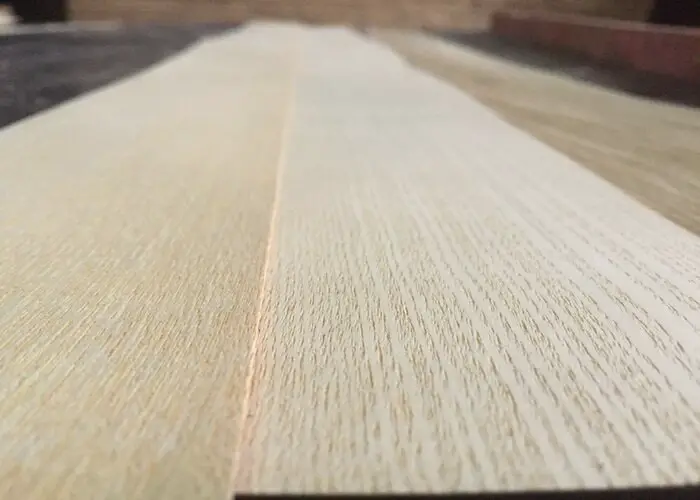 Sliced ​​veneer is another type of veneer made from valuable wood species (elm, ash, mahogany, beech, oak). Taking into account the pattern in a particular type of wood, the direction of planing is chosen when producing this type of wood veneer.
Unlike peeled veneer, sliced ​​veneer has a unique texture, which is achieved by changing the angles in the process of cutting and changing the workpiece planes. 
Natural sliced ​​veneer is produced by machine cutting wood strips from the trunk in accordance with the width of the workpiece. Thanks to this, it is possible to achieve a solid wood grain pattern, which is very much loved by fans of natural wood.
Sliced ​​veneer (thickness from 0.2 to 5 mm) is made on veneer planing machines. Such veneer is produced mainly from valuable wood species with a beautiful texture. These are oak, beech, acacia, walnut, mahogany, Karelian birch, ash, elm, yew and others. 
For different types of wood, a different direction of planing is chosen, depending on the showiness of the natural wood pattern. The result is tangential, radial-tangential, tangential-face and radial veneer.
In the production of sliced ​​veneer, the running knife slices the pre-fixed log (while when receiving the sliced ​​veneer, the log rotates around the fixed knife). 
Thus, veneer sheets with a thickness of 0.2 to 3 mm are obtained, which are folded into bundles. Sliced ​​veneer is used in the furniture industry, mainly with a thickness of 0.6, 1.5 and 3 mm. 
The width of the wood bundles can vary from about 10 to 30 centimeters. 
Do you know what are the hardest woods in the world. I wrote a list with the top 20 hardest woods in the world!
5. Shop-Sawn Veneer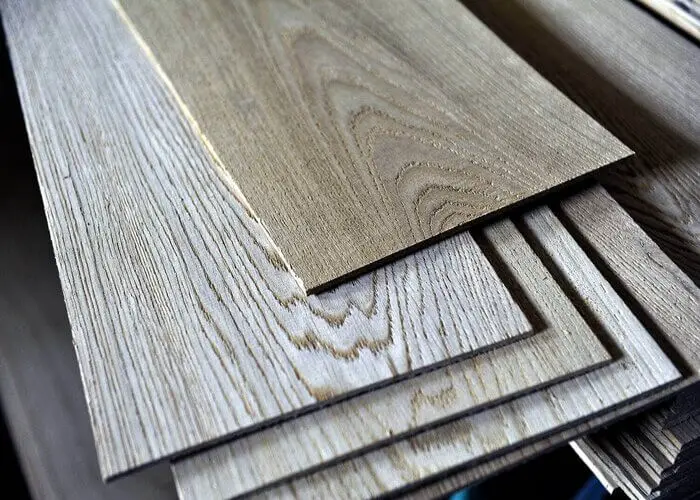 The most expensive type of natural veneer is shop-sawn veneer. The manufacture of such a material is almost entirely a job that involves sawing the workpiece into planks of the required thickness. 
Sawn veneer is used for all kinds of inlays, often giving the products the status of a real work of art.
Shop-Sawn veneer has been known for more than one hundred years, and is considered a real reproduction of art. The thickness of the shop-sawn veneer is from 1 to 10 mm, it is most often produced from conifers: spruce, fir, cedar.
 Sawn veneer is made on veneer saws or horizontal sawmills. This type of veneer has unique high properties. It is used for musical instruments as well as luxury decorative finishes.
 This veneer is of a particularly high quality and can be used, in particular, for the production of violin decks and other stringed musical instruments. 
Sawn veneer is one of the expensive types of veneer, since during its manufacture a large amount of wood is spent on sawdust.
6. Roll Veneer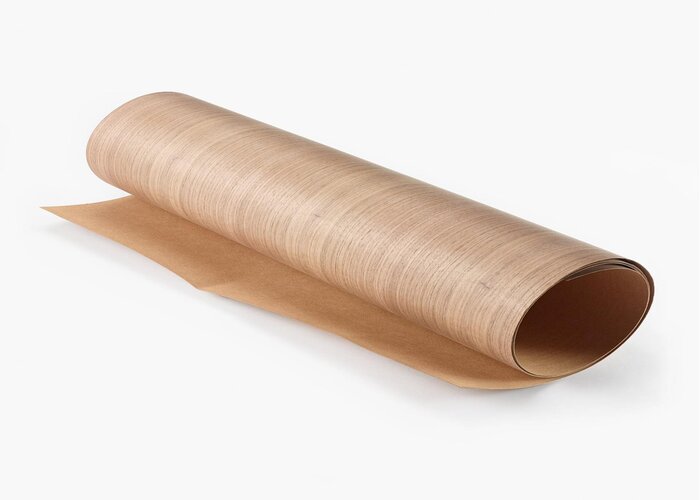 Very thin planed sheets of high quality wood spliced ​​to the required size using a special technology that makes the joints completely invisible. 
It is used as a durable and flexible decorative coating for products with complex profiles and furniture edges.
Have you heard of rubber wood? Do you know what is? Check this guide on what is rubber wood and why is one of the most used woods in the world!
7. Design/Decorative Veneer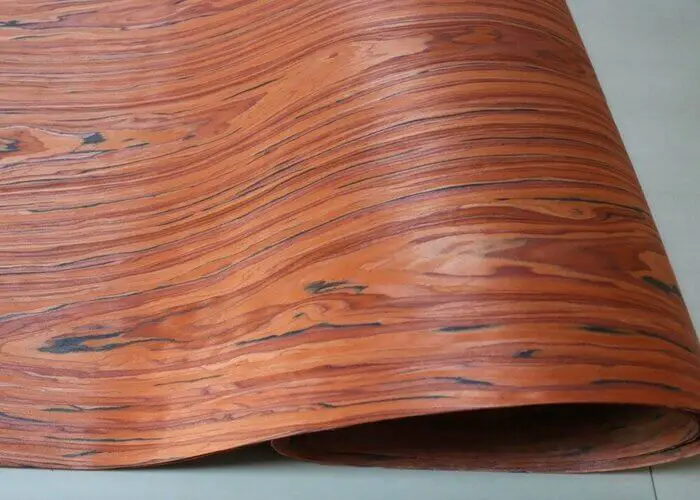 Natural textures and shades of wood are very diverse, but the decorative possibilities of this segment are limited. Design veneer allows you to expand the scope and possibilities. 
Designed or Decorative Veneer is made from natural wood and painted in different shades over the entire surface, preserving all the important characteristics of wood. 
This type of veneer allows you to create sets of furniture in any palette with a single texture and even combine different colors with the same pattern.
8. Multi-Layer Veneer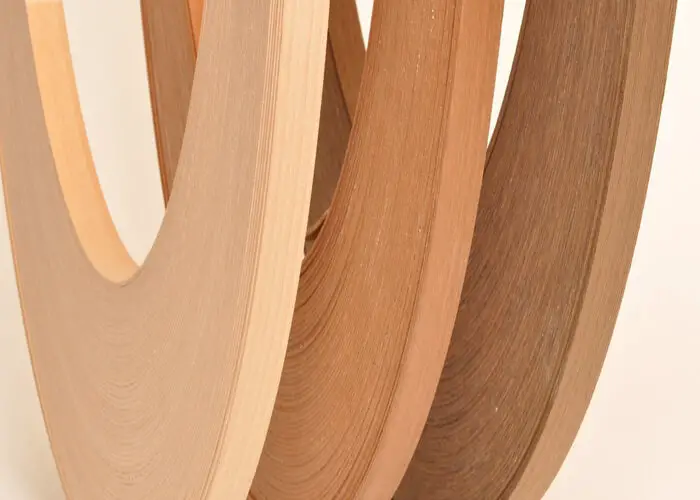 New technologies have made it possible to obtain facing materials with an even more unique pattern. This type of veneer is made from wood chips and is a multi-layer material glued onto a strong and elastic base.
 Its advantage is a huge range of exclusive geometric and abstract designs, combined with uniform dimensions that ordinary veneer cannot provide.
Multi-veneer is a specially type of reconstructed veneer made of natural wood. This type of veneer can be called the most "decorative", because its appearance is often the least reminiscent of patterns of natural wood. 
The main color motifs of multi-veneer are geometric patterns, often combining different color shades. Products made from this type of veneer look modern and fit perfectly into any Art Nouveau interior.
9. 3D Veneer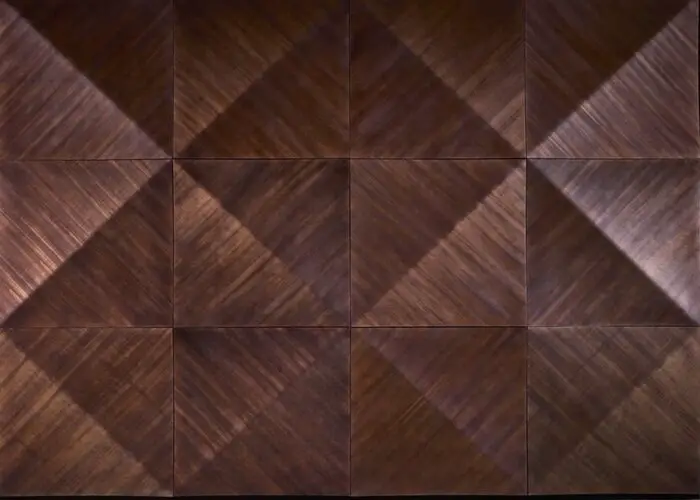 Three-dimensional decorative coatings are one of the new popular design techniques. 
3D Veneer is a type of veneer with a 3D effect which combines ultra-modern features and natural wood texture, elegant volumetric patterns with small details are created by joining two thin veneer sheets that take the shape of different textures during the pressing process.
 Use it in your production and discover new artistic possibilities for creating exclusive design solutions.
10. Spliced ​​Veneer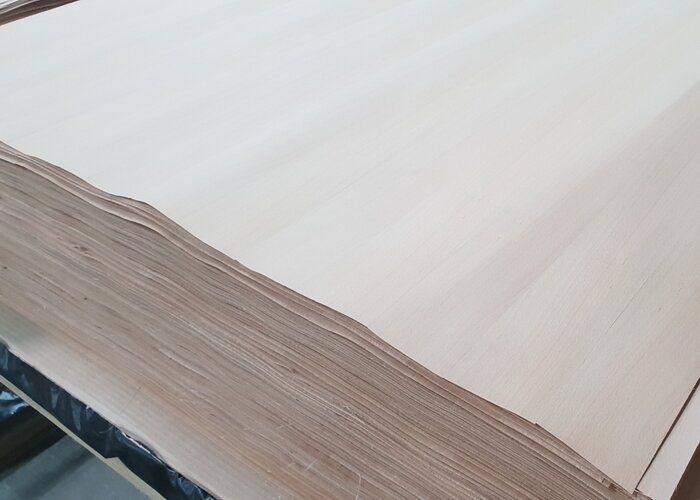 The splicing technology allows the production of large-area facing sheets, forming a symmetrical pattern into ready-made "shirts". 
This type of veneer is most often made in the form of a burl of valuable wood species fixed on a fleece base from fragments of root veneer, which allows you not only to obtain new and unique patterns, but also to save on waste in the process of cropping suitable fragments, working with separate sheets.
Types of wood of natural veneer
In the production of natural veneer, more than 300 types of wood are used, but the most popular and available are presented in the following table:
| Wood species | Veneer color | Veneer properties | Veneer application |
| --- | --- | --- | --- |
| Birch | Light yellow to light brown | Perfectly painted and tinted; Weak resistance to moisture; Annual properties are poorly expressed | Interior doors, furniture industry |
| Karelian birch | Beige with dark brown dots and patterns | Rare and expensive material | Mosaics, ornamental material, inlays |
| Cherry | Reddish brown | Perfectly lends itself to any processing, including polishing | Furniture industry, manufacturing of exclusive products |
| Nut | Light or dark brown | Amenable to any processing | Furniture industry |
| White oak | Light brown to sandy | High level of strength; Good handling | Furniture industry, parquet and stair tiling |
| Pine | Light with a homogeneous structure | Resistance to fungi; Low wear resistance | Used in furniture finishing (economy class) |
| American maple | Light to dark brown | High level of wear resistance | Used in floor decoration |
| Anegri | From white-brown to sandy-brown with a pronounced sheen | Excellent dyeing and polishing properties | Used in the manufacture of furniture and musical instruments |
| Bubingo | Purple red to brown | High strength | Manufacturing of luxury furniture |
| Makore | Red | High strength | Furniture production and door cladding |
| Wenge | Dark brown with light base | Resistant to pressure and stress | It is used in home decoration and furniture (elite class) |
Why is Wood Veneer used?
Here we give specific uses of wood veneer:
They are mainly used for interior decoration.
They are used where high-quality surfaces are required and where touch and feeling are important for the user, such as in executive offices, conference rooms, receptions and home offices.
Wood veneer is also used to decorate furniture for residential projects, hotel projects and offices.
Also processed to create a wide variety of products such as veneer parquet, flexible veneer sheets, wood veneer panels, wood veneer wallpapers, etc.
They are used to make bespoke luxury products such as wine boxes, chocolate boxes, tags, luxury soap boxes, spice jars, etc.
CONCLUSION
Veneer gives furniture a decorative surface made of real wood that resembles a small work of art. Because the color nuances and patterns in the veneer do not exist a second time. 
Each type of wood veneer has its advantages and disadvantages. Currently, there is a wide type of wood veneers that can meet all your expectations in the market. You just need to identify your needs and find the type of veneer that suits your requirements.
The use of any of the above types of veneer always saves money. In conditions when the natural volumes of valuable wood species inevitably decrease and become more expensive in price, the use of veneer from valuable wood species saves natural resources and reduces the cost of products made from them.