Veneer vs. Solid Wood (Which Is The Best? | Pros & Cons)
When we have to look for furniture for our home we always ask ourselves the same question: solid wood vs. wood veneer ? 
Wood is a timeless material for furniture and is more popular than ever. However, in most cases solid wood furniture is not cheap and needs maintenance. Furniture with foil in a wood look and real wood veneer are two alternatives.
These two options each have very different advantages and disadvantages, which we explain to you here. Find out which type suits you and your household best!
What is wood veneer?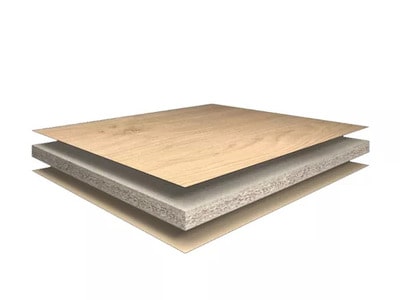 Wood veneers are thin sheets of wood, usually a few millimeters long, which are mainly used glued and adhesively bonded to other woods or boards for a clearly aesthetic purpose. It is a way to achieve a wood with a superior appearance at a significantly lower cost. It is usually used as support other cheaper woods, chipboard, MDF or even other veneers (plywood) that have not passed the filter from an aesthetic point of view.
The steps to create wood veneer are:
1.Stripping and carving:
This is the first woodworking operation, in which the trunk is deprived of the bark and of any irregularities. The block thus obtained is divided into smaller blocks and subjected to a first coarse trimming. Subsequently, the wood undergoes a steaming operation to loosen the fibers and guarantee an excellent cut quality.
2. Cutting:
This is the actual phase of creating the veneers . The wooden blocks are subjected to a cutting operation that can be done with blades or lasers. This is a decisive phase, since the cutting direction (transversal or longitudinal) defines the orientation of the wood fibers and the visible pattern on the veneers sheets. 
In addition to shearing, there is a technique called peeling : in this case, the cut is made with a rotary movement, sometimes even on the round trunk. The veneers sheets thus obtained are larger, but their aesthetic result is less valuable.
3. Drying: Once cut, the sheets are dried, ironed, flattened and merged into several sheets called packs.
4. Veneer: This is the actual phase of creating wood veneered. The veneers sheets are finished, they are placed side by side and glued to the wooden support.
Want to know more interesting information about veneer like uses, price and advantages ? Check this complete guide about wood veneers!
What is solid wood?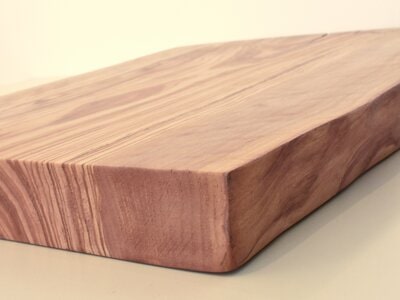 Solid wood is, by definition, wood produced directly from the mass of the tree. In other words, this rough piece of wood results from sawing a tree and removing one of its parts. By extension, a piece of furniture made of solid wood is often made from a single piece of wood.
First of all, you can easily see if the wood is solid by looking at its texture and appearance. In general, and although this is also not a hard and fast rule, solid wood tends to be thicker, more "raw" at first glance and may even appear a bit coarse in its shapes and structure.
Visual characteristics specific to solid wood which, in fact, is very robust. This strength is explained by the fact that this type of wood very often comes from slow growing trees (oak, maple, pine, etc.) that you may have noticed during frenzied walks in the forest. 
They are very impressive both in their size and their diameter. This is one of the reasons for their obvious durability.
Veneer vs Solid wood: Comparison Table
Parameters
Wood Veneer
Solid Wood
Thickness
You can easily find sheets with thicknesses from 1.5 mm to 0.5 mm. 
However, it is usually 0.5 mm and 0.8 mm.
The most widely used thicknesses for this type of board range between 15 mm and 35 mm, although thicknesses of up to 75 mm are also reached.
Color
Color of the wood veneer, being able to find two types: 
1) dark wood veneer , which comes from dark woods such as walnut or zebrawood
2) veneer light wood , which comes from light woods such as birch or ash.
Depending on the wood type it comes from, it can be brown, yellow or red, lighter or darker; 
The solid wood color varieties available are very numerous.
Dimensions
In the cases of acquiring sheets already fixed on veneered boards, there are standardized measures in the market. The most common is 244 × 122 cm.
Solid wood is available in widths and thicknesses from 140 mm to 394 mm (5 ½ "to 15 ½"). 
The most common sizes range from 140 mm by 140 mm (5 ½ in by 5 ½ in) to 292 mm by 495 mm (11 ½ in by 19 ½ in) and are available in lengths of 5 m to 9 m (16 ft at 30 ft). 
Weather Resistance
Wood veneer are generally more resistance to fluctuations in temperature or humidity than solid wood.
Damage is usually caused by frequent fluctuations in temperature or humidity.
Furniture made from solid wood will be damaged by mold if exposed to high humidity or left in a humid environment.
Durability
Wood veneer durability depends of the type of veneer but it is lower than solid wood.
Solid wood has a very good durability.
Price
Furniture with wood veneer starts in the mid three-digit price range.
Since the processing of solid wood is the most complex and only large pieces of wood can be used, furniture made of solid wood costs more than wood veneer furniture. 
Do you know that are more than 10 types of wood veneer? Discover in this article the characteristic and uses of each type of wood veneer!
How to distinguish between solid wood and veneer?
The short answer is: solid wood furniture consists entirely of one type of wood. A table top, for example, is 3 to 10 cm thick. In the case of wood veneer, only the surface is covered with a thin layer of wood, underneath are carrier boards made of chipboard or MDF.
It is almost impossible to visually tell the difference between solid wood and veneer. Be guided by the following:
the price of a real solid wood should be more expensive than a veneered; 
by weight: an object made of solid wood is heavier than veneered; 
if there is a door cut in the manufacturer's store, be sure to look at it.
If in the door structure first there is a thin layer of wood, then a layer of MDF, and then glued sheets of solid wood, then you have a veneered door. In solid wood doors, everything is simpler there are glued sheets of wood and cladding.
It seems redundant and unnecessary, but not everyone knows how to identify solid wood from the rest. The first evidence of solid wood is the top of the boards with transverse grains, indicating the grain of the wood and its authenticity, as there is no top strip that matches the grains of the plate, and you will see this on the corner.
Although the texture of the wood can be simulated, we can even identify on veneered plywood sheets, which are very similar and sometimes difficult to differentiate. The first item we noticed is the top with transversal lines at 90°, unlike the wood, and the sides with veins not matching those of the cover.
Solid wood eventually suffers slight warpage, and can have a much more solid noise to the touch/tap, as the tensioned veins act as an acoustic element ​​and that's why certain violins cost a fortune.
In the case of non-solid wood like wood veneer, see how the top grains do not match the grains in the table top. This indicates veneer, glued, over, generally, plywood.
In fact, all you have to do is observe the grain of the wood and see if this same fiber keeps a logical continuity, even in the corners and sides of the furniture. 
If this is the case, you are indeed facing a piece of solid wood furniture (end-grain wood at its ends). Otherwise, the edge of the furniture will be wood grain, so it will be a veneer.
Want to know more about plywood and how does veneers have a major part in plywood manufacturing? This article I wrote is an in-depth guide about what is plywood !
Veneer vs Solid wood: Uses
The use of veneers for decorative reasons was the original reason for using thin sheets of wood. Today they are also used in the production of wood-based materials such as veneer plywood, laminated wood or plywood.
The veneers have a wide range of applications. They are commonly used to make plywood, cabinet paneling, and accent surfaces, and can also be used to build doors, furniture, and flooring.
Solid wood is used to create kitchens, tables, chairs, bookcases, sideboards, doors etc., all sturdy pieces of furniture that last over time, and are suitable for creating different styles such as country or rustic style, synonymous with simplicity and essentiality.
It is used in particular for extensions and elevations of buildings.
Solid wood thus adapts well to large constructions which take advantage of its modularity. Because a solid wood building, even a large one, if it is well designed, is resistant and durable.
Furthermore, solid wood is widely used in flooring, that is for parquet which gives elegance and warmth to the rooms.
Veneer vs Solid wood: Furniture
Solid wood Furniture
A solid wood cabinet is undoubtedly beautiful. It gives quality to the totality of your home furnishings. Yes, it can give a feeling of classic furniture, but, if the design allows it, it can be modern and sophisticated. Undoubtedly, however, it is an expensive investment.
Solid wood furniture is very resistant and designed to last over time. They resist wear and often require minimal maintenance. Resistance is directly proportional to weight. In fact, a solid wood piece of furniture is decidedly heavier than a piece of furniture made of wood veneer and it is more complicated to move them. 
Over time, solid wood furniture, which is starting to show its age, can be beautifully restored. The same cannot be said for furniture in different materials.
If your choice falls on solid wood furniture, it will certainly be an ecological choice . Plastics and veneers can be processed and filled with chemicals, unlike solid wood, which can be carved and manufactured much more naturally. 
Veneer Furniture
An alternative to solid wood furniture is veneered furniture. Veneer furniture represents a much lower investment. This is the choice made by many, especially first-time homeowners who, after having made significant investments, find themselves having to spend less on furniture.
Veneers are the result of fabrication work, so they can be designed to give the appearance of a wider variety of wood finishes. You can often find pieces created to simulate an exotic wood essence, which may not be available in solid wood collections or is very expensive. 
Veneer can also provide a smoother finish and be easier to match with furniture in a previously furnished room.
That said, the problem lies with what's underneath the veneer. Many manufacturers use a combination of MDF, particle board and other materials as the core of their furniture. These materials are mixed with chemicals and glues that provide strength. 
While this core makes them lighter and easier to handle, it also makes them more susceptible to damage that often cannot be repaired. But they remain the most requested, as they are cheaper.
Here is another useful and interesting comparison between Medium Density Fiberboard (MDF) vs Particle Board!
Wood Veneer Furniture compared to Solid wood Furniture
There are a few points to keep in mind when deciding for or against. First of all, the price probably plays a decisive role. Wood veneers are usually cheaper because the manufacturing process can be accomplished with less effort. Just the right selection of the right slats when gluing solid wood furniture takes a lot of time and expertise.
In addition, veneered furniture can be produced in any shape, as one is not dependent on the natural conditions of the trunk. This also avoids the changes in the wood. 
Since it is a natural raw material, it continues to work after processing into furniture and reacts to environmental influences such as heat or cold. In the case of solid wood, such changes can even lead to warping of the furniture if you do not pay attention to a few things. You can find out more about this here. 
On the other hand, the natural robustness is also an advantage that solid wood furniture has over veneered furniture. If handled correctly, it can easily be moved several times in a lifetime, whereas veneered furniture often tears at the edges of the drill holes and does not survive a move intact. Smaller restoration work can be carried out on massive furniture yourself and bumps do not lead to the bulky waste.
Solid wood furniture is an acquisition for a lifetime, which is also reflected in the price. However, if you consider the useful life, the higher acquisition costs are put into perspective again. 
On the other hand, the design options for solid wood are more limited. When painting, for example, the knotholes usually shine through and there can be discoloration from escaping resin. 
Veneered furniture made of pressboard or fibers is significantly lighter than real solid wood furniture, but is less robust. The resilience of veneered furniture can already be influenced in a certain direction during manufacture. 
Veneer vs Solid wood: Maintenance
Veneer maintenance
It is recommended to use only specific products that preserve the brilliance and protection over time. To remove dust, use only a soft cloth. Being real wood, it is subject to absorb any liquid, oil or chemical substance, so we recommend removing any substances that come into contact with the surface as soon as possible. A protective wax should be used on a regular basis.
To keep your purchase cured over time, use a well-wrung damp cloth for cleaning. Clean the top in the direction of the grain, in order to remove dirt from the pores more effectively, and dry carefully at the end of the operation. The use of soft non-abrasive cloths is always recommended.
Want to easily apply wax to wood furniture? This is a simple step by step guide on how to apply beeswax to your wooden furniture!
Solid wood maintenance
it is recommended to use only specific products that preserve the brilliance and protection over time. Do not use abrasive or corrosive detergents but pass a dry cotton cloth on the surface of the cabinet, always in the direction of the wood grain. 
In case of stubborn dirt, use a sponge moistened with water and very little neutral detergent then dry immediately with a dry cotton cloth. Being real wood it is subject to infiltration of any liquid, therefore avoid absorption and immediately stop infiltrations. 
Do not place hot or wet objects on the surface of the furniture. Being a natural wood, it can undergo more or less slight variations over time, depending on the conditions in which it is exposed. For example, constant exposure to sunlight can change the color.
The solid wood can be used in its natural state or modified through an artisanal process that covers it in a compact and uniform way, the so-called lacquering that can create a glossy or opaque effect.
For solid wooden floors it is sufficient to wipe the surface with a well wrung cloth with a natural detergent. For furniture finished with ordinary cleaning wax, simply wipe with a dry cloth to remove dust. Periodically, the wood should be treated with a wax that should be applied with circular movements and then polished with a soft cloth.
Veneer vs Solid wood : Advantages
Wood Veneer Advantages
Good price / performance ratio compared to solid wood furniture. You get a very similar look for less money. 
The furniture is torsion-resistant. Solid wood furniture is more prone to deformation here.
Lighter because the core consists of other materials such as an MDF board.
You can rework wood veneer like any wood for example, painting or staining. Since the layer of wood is quite thin, you can only sand it to a limited extent, ideally by hand and not with a machine.
Since the thin layer requires less wood, you can also choose a higher quality type of wood without increasing the price significantly.
Solid wood Advantages
Classic aesthetics. Solid wood furniture can be integrated into practically any other style and décor.
Durable. They not only withstand daily use, but can also be enjoyed for decades if properly cared for. This is not least because solid wood can be reconditioned. You can repair scratches and other small damages in this way.
Versatility. Thanks to numerous types of wood and processing options, you have a wide range of optics.
Increase in value. While cheaper pieces of furniture usually lose value, high-quality and well-cared for solid wood furniture can be resold at high prices. Some even increase in value.
Here is a list with 65 different types of wood and their uses. This information will help you in your woodworking project.
Veneer vs Solid wood: Disadvantages
Solid wood Disadvantages
Need careful handling. Furniture made of soft woods is correspondingly more sensitive, especially on edges and corners. They also react to moisture and extreme temperatures.
More expensive. The purchase price is usually significantly higher than the other variants presented here.
Weighty. Solid wood furniture is stable, but also heavy.
Wood Veneer Disadvantage
Compared to plastic film, real wood veneer is softer and therefore more sensitive . For example, it is easier to scratch. Accordingly, you should handle it more carefully.
Damage can only be repaired to a limited extent because you do not have the same leeway as with solid wood furniture.
In the case of deeper scratches and damage, difficult to impossible to repair, because it cannot be re-sanded and reconditioned as often as solid wood.
Discolored by sunlight over time.
Conclusion: Solid wood vs. Veneer
If you are now faced with the decision of whether you should buy a solid wood furniture or a veneered furniture, here are the conclusion of the Solid wood vs Veneer :
Veneered furniture is usually cheaper than solid wood furniture because it requires less effort and expertise to manufacture.
Veneer is applied very thinly to a carrier plate. As a result, it does not warp and there are fewer cracks.
Veneered furniture is lighter than solid wood furniture.
Solid wood is particularly durable.
Solid wood furniture feels high quality and has a particularly natural look. Veneer cannot recreate the natural forms of a tree edge.
You can regrind solid wood furniture over and over again. Recondition and remove scratches or stains from the surface.
Solid wood furniture actively regulates the room climate and ensures good air in your home.
Solid wood furniture goes along with many moves, while the veneered surface of furniture often tears at the edges or the drill holes when it is used.
Due to its longevity, solid wood furniture is sustainable, you don't have to buy new furniture as often.
It takes experts to make good solid wood furniture. You get tested quality.