What is Plywood? 5 Interesting Facts You Should Know
Every person has heard the word "plywood". In this article I will try to tell you what is plywood, what it is made of, where and how plywood is used.
Plywood is a panel-shaped wood-based material made from several thin layers of wood (the plies or wood veneers) that are glued crosswise (90 ° angle to each other) along the grain. This normalizes material properties such as shrinkage and swelling behavior. Plywood is formed from an odd number of veneer sheets.
Plywood is produced in different qualities due to different uses. The quality of plywood mostly depends on the gluing or the number of veneer layers. 
The History Of Plywood
Like veneer, plywood was also used in ancient Egypt. Pieces of furniture made with plywood were found.
Later this type of wood processing was unfortunately forgotten. It was not used again until the middle of the 19th century. 
It was soon also used in industry. In this way, large quantities could be created quickly. This made it possible to use it in the automotive industry and also in aircraft construction.
Do you know what rubber wood is ? And why is one of the most used wood around the world ?
After we find out what is plywood, we need to know what is used for.
What is plywood mainly used for?
Plywood is very appreciated by professionals, craftsmen and do-it-yourself lovers because it lends itself to various uses and the main ones are:
Building
Furniture manufacturing.
Construction materials
Automotive
Interior decoration of premises
Surface coating in the construction and naval sector.
Furnishing of boats.
Car building
Packaging
Plywood is used in many areas as a building material, for example, both indoors and outdoors. 
Plywood is also used for furniture sets, cabinets and tables . In general, it can be said that due to its high strength values, plywood is used wherever high stability is required.
It is used for a wide variety of uses, from construction to design, including framing or marine thanks to its water resistance. 
Due to its mechanical performance, ply is an essential element in the building. It is used as a structural element in the building or as a facade panel. 
This material makes it possible to make curved shapes more easily than with most conventional woods. 
Its "solid wood" aspect also counts in the success of its use, just like the multiple possibilities of finishes that the plywood allows.
Veneer plywood (FU) is used for general purposes; usually in areas where there are no particularly high demands on durability. This means that the plywood does not have to fulfill a load-bearing function. This is particularly the case indoors (wall cladding).
Construction veneer plywood (BFU) meets the requirements for load-bearing capacity and durability. This means that this ply can be used, for example, in concrete or timber construction for stiffening and load-bearing purposes.
TIP!
Birch plywood can even be used for interior cladding. Such plywood is based on sawdust and shavings from light birch wood.
Check this comparison between MDF and Particle Board to see exactly which one is the best!
The areas of application depend on the properties of the wood:
Type of plywood
Properties of the wood
Beech plywood
high hardness
high strength properties
heavy
light to reddish color
Birch plywood
high strength properties
light coloration
Poplar plywood
low hardness
very low weight
easy work-ability
Pine Plywood
medium hardness
medium strength
easy machinability
How is plywood made?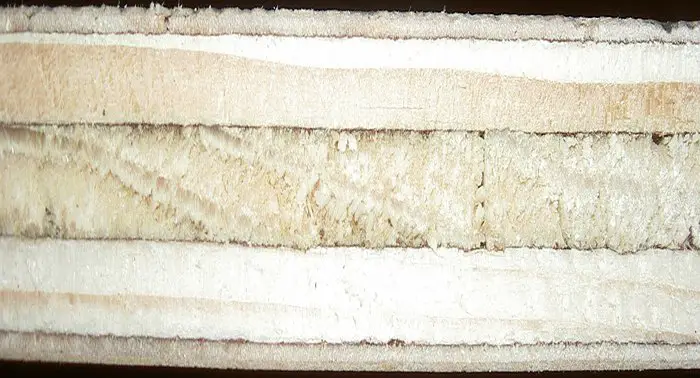 The procedure for obtaining plywood consists in fact in "leafing through" the tree trunk with a special lathe capable of cutting a very thin layer of wood (1-3 mm), then gluing the sheets together in order to "cross the veins ". 
The manufacture of plywood involves debarking tree trunks which are then steamed and softened in order to unroll the trunk into a flat sheet: the fold. Several plies are then glued and pressed together, alternating the direction of the wood fibers, which gives the plywood great resistance, whatever the direction of torsion or force.
The cohesion of the alternating and glued wood plies make plywood the product made from wood with the best resistance in relation to weight and / or thickness.
To glue the sheets together you need a simple press as large as the panel, similar or the same as the one for creating chipboard panels. 
If you use phenolic glue (water resistant) you have a plywood suitable for outdoor and sea transport (such as "Canadian marine" plywood).
The final operation is sanding, smoothing the surface of the plywood sheet. In some cases, the sheet is coated with a special compound such as melamine or acrylic, the edges of the sheet are sealed.
The woods most used for the production of stratified panels are soft woods such as conifers and in particular: Fir, Birch wood or Poplar, but there are plywood made with more precious woods such as Beech, Teak, Okoume and others. 
There are also plywoods in which only the external layers are made with more or less thin sheets of precious woods such as those just mentioned or even Walnut, Oak, Rosewood, etc., while the internal layers that make up most of the panel are in wood. In these last cases is also called melamine plywood.
Helpful tip!
Avoid using commonly sold plywood, i.e. indoor plywood, in environments where it could come into contact with water such as bathrooms and kitchens. In this case it is much better to use phenolic plywood.
---
Is plywood stronger than wood?
Plywood is characterized by high strength and dimensional stability and has an advantage over chipboard, for example.
 Because of the interlocking effect of the veneer layers, plywood has better (less) swelling and shrinking properties compared to solid wood panels. Plywood is used where high loads and thin cross-sections are required.
Plywood is lightweight, easily combined with other materials, easy to process, resistant to temperature changes, and has an aesthetic appearance. 
Its strength, thermal conductivity and environmental characteristics are much higher than those of other wood-based board materials, such as chipboard, fiberboard and MDF.
Do you know how to cut plywood without chipping using a circular saw or using a table saw? If You don't, I will show you step by step how YOU can do it!
Is plywood toxic?
Release of formaldehyde. Resin emission from plywood sheets is extremely low and meets international environmental standards.
On the other hand, like other building materials, plywood can pose health risks. It contains an irritant substance, formaldehyde, classified as a proven carcinogenic substance for humans by the International Agency for Research on Cancer (IARC). 
Faced with the recognition of this risk, plywood manufacturers are moving towards less use of these substances, which are more particularly harmful to the employees who handle this material.
Find out here how can you bleach wood with easy step by step instructions!
What are the different types of plywood?
Depending on the type of raw material, purpose and production technology, the following types of plywood are distinguished:
birch, manufactured in versions:

FC brand – moisture resistant;
FSF grade – with increased moisture resistance;

coniferous;
laminated.
Now let's dive in on each type!
Types of plywood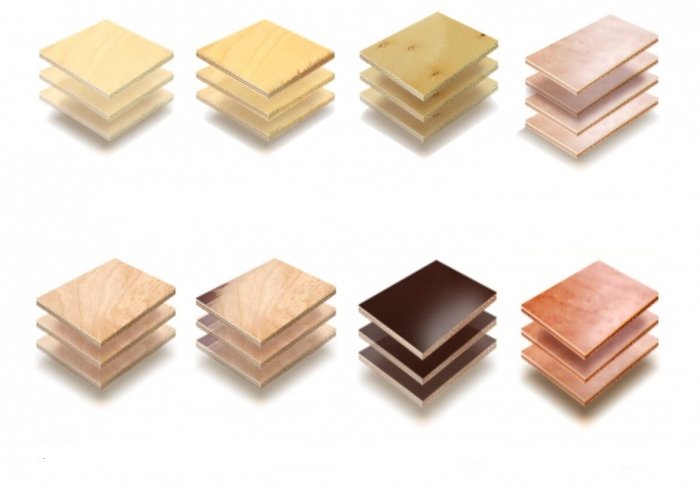 There are a lot of types of ply, practically, for any purpose and task. It will not be possible to consider everything in detail in one article, we will list only the main ones.
Coniferous plywood
One of the most common species around the world. Used primarily in construction and industry.
Hardwood plywood
Such ply has a high hardness and strength in comparison with softwood, softer and more viscous. It is highly resistant to damage and wear and tear, and is suitable for the harshest conditions, including flooring and walls.
Tropical plywood
It is made from tropical timber from Asia, Africa, South America. It is distinguished by its high viscosity, combined with the strength and uniformity of the layers. 
Due to these characteristics, tropical plywood is used abroad in construction, industry, furniture production, and design.
Tropical ply looks very attractive even without additional processing.
Aviation plywood
This high strength plywood is made from mahogany or birch, or a combination of both, and glued with heat and moisture resistant glue.
During World War II, aviation plywood was used in aircraft construction, and nowadays it is used where strength and resistance to overloads are needed.
Decorative plywood
Hardwood is used for its production, and the scope of application of finished sheets is furniture, wall panels, various design projects.
It is additionally covered with resin-impregnated plastic or paper veneer.
Marine plywood
It is a good choice for the manufacture of boats and any items in contact with moisture and water. 
Marine plywood is highly resistant to fungus, delamination and deformation under the influence of moisture.
The main disadvantage of such ply is its high cost. It is much more expensive than other varieties.
Laminated plywood
The sheet is covered with a hot laminate. Such material is used for formwork, for example, concrete structures, holding brick arches and other forms using a liquid plastic solution before it solidifies.
Film faced ply is also used for decorative purposes, as well as where a non-slip surface is needed.
What to bend wood? This article I wrote will give you the complete guide how to do this procedure! Check it out!
How is plywood graded?
Different quality levels have been defined for plywood. Their meanings are given below:
A : Name for a light-colored plywood completely free of knots in the top layers. Only minimal color bleeding is allowed in plywood of this quality class.
A bleached : Bleached ply that is also completely free of knots in the top layers. This wood is very light and no color bleeding is allowed.
AB : This light-colored ply is also knot-free in the top layers and color bleeding is possible. A few healthy, overgrown branches are possible, but rarely.
B : With this ply, small, not fancy and firmly grown knots are possible. Color inlets and knotholes up to 8mm as well as putty are allowed.
BB : This is ply with branches. Color runs, unusual or leveled knots and small cracks in the top layers are also allowed in this quality level. Knotholes up to 15mm and putty are allowed.
C : The lowest quality ply. Here the wood may have knots, unusual knots as well as cracks and all natural defects. Unsettled imperfections in the top layers and wood defects are also possible here.
Usually two quality specifications are given separated by a slash. (For example: A / B) The first letter refers to the front and the second to the back.
What are the characteristics of plywood?
Strength
The strength of plywood is high: it is shock-resistant, lightweight, easy to cut and machinable.
Due to these properties, ply is used as sheet material for forming or sheathing large flat volumetric structures, walls, roofs, floors, containers.
I have created a list with the strongest woods in the world. This will help you with your woodworking project!
Suitability for challenging work
Plywood is easy to handle. It is used to make not only rough formwork or simple slabs for wall or floor sheathing, but also complex models, wooden puzzles, designer carved boxes. 
Scale of application
Low price, ease of processing and high custom properties of ply makes it a practical material for large-scale work. 
Do you need to sheathe walls, ceilings, floors with a minimum of seams and joints? The first thing that comes to mind is plywood. From thick cargo storage racks to thin linings in designer interiors.
Thermal conductivity 
This parameter depends on humidity. The table shows the thermal conductivity values ​​for some types of plywood of the same thickness (40 mm):
RH 47%
RH 93%
Type of material
Humidity
Thermal conductivity
Humidity
Thermal conductivity
Birch
9.3%
0.147 W / mK
26%
0.175 W / mK
Coniferous
10.4%
0.110 W / mK
25%
0.132 W / mK
Fire resistance
Plywood resists fire better than wood and some non-combustible materials. It lights up only when exposed to an open flame and the surface is heated to + 400 ° C. 
The material burns slowly and at a constant rate, which makes it possible to use it in the construction of fire-resistant structures.
See exactly the temperature required for your firewood to burn properly and how hot some of the different wood species burn!
Chemical resistance
 Plywood is characterized by relatively high resistance to acid and alkaline compounds. Alkalis substances can soften the material with prolonged contact. Alcohols, solvents and water cause swelling and loss of strength.
Having trouble with the mold? This article will show how you can remove mold from wood is a clean and easy way!
Is plywood waterproof?
Aircraft plywood is not only waterproof but also glued to be resistant to boiling water. That means you can even water and heat it for bending. Therefore it is absolutely insensitive to moisture and temperature influences.
Plywood in general is not waterproof. However, there are plywood panels that are glued to be waterproof especially for boat building. In the following two important types of plywood for damp or wet areas:
Okoumé plywood (Gabon mahogany): This is a mahogany peeled veneer. The veneer is glued water-resistant and boil-proof. Often the plywood is then coated with a clear boat varnish, giving it a warm, light color.
Sapele plywood (sapeli mahogany): There are many mahogany plants. One of them is Sapeli. Sapeli is very similar in appearance and quality to real mahogany tree. The wood color ranges from gold to red barun and has a beautiful grain. This wood is also often processed into waterproof plywood for boat building.
Want to waterproof you plywood? I wrote an easy step by step guide so you can waterproof plywood like a professional!
What is Plywood Size?
The ply sheets are not defined to a single standard and have the following sizes:
| Plywood Sheet Sizes [mm] | Plywood Sheet Sizes [feet] |
| --- | --- |
| 1220×1220 | 4 x 4 feet |
| 1220×2440 | 4 x 8 feet |
| 1270×1525 | 4.1 x 5 feet |
| 1350×1525 | 4.4 x 5 feet |
| 1550×1550 | 5 x 5 feet |
| 1525×1830 | 5 x 6 feet |
| 1500×300 | 5 x 1 feet |
| 1525×3050 | 5 x 10 feet |
 Sizes may vary (depending on the country of the manufacturer). In some cases, the production of formats other than stipulated by the terms of the contract or special order is being established.
The minimum indicator of ply thickness reaches 3 mm, the maximum does not exceed 40 mm. Of the intermediate options available sheets with a thickness of 4 and 6, 8 and 9, 12 and 15, 18 and 21, 24 and 25, 27 and 30 mm. 
The thickness of ply determines the number of veneer layers contained in it and may vary depending on the country in which the plant is located.
Do you know what a floating floor is? Maybe you already have it installed in your house. Check this article I wrote on floating floors!
If you want to dry wood I have wrote an complete step by step guide how you can easily perform the drying procedure!
In this article I tried to cover all the topic regarding plywood, so now you know what is plywood! Hope you like it!
What is the strongest plywood?
The strongest plywood is the Marine Plywood.
Marine plywood can only be made from high strength wood like Acuomea Kleinea. This tree grows in the rainforests of the Congo Basin.
What is plywood core?
 The core, which consists of a central core and sheets of wood veneer called " plies ", glued on either side. The plywood sheets are arranged around a central fold called the core (often in soft wood), their number is therefore always odd to guarantee a good balance to the panel.
What is made out of plywood?
 The following things can be made of plywood: doors, floors or ceilings, external walls as well as roof and concrete formwork, cabinets, chairs, tables and many other things. 
In addition, boat and aircraft construction as well as hobby and model construction often use plywood.