What is a Floating Floor?
When laying floor coverings, a distinction is always made between floating and glued installation. In our article you can read what is a floating floor, which floors and which floor structure is suitable for floating installation, and what you have to pay attention to.
The floating floor is installed "floating", which means that it is not nailed or glued directly to the base of the floor. The boards are rather stamped using a blade and groove system. This allows the floor to be installed quickly, without mess.
Lay floating floor or better glue floor? This question is not just a matter of taste. There are good reasons to lay parquet in a floating manner than to glue the entire surface to the substrate elsewhere.
The floating floor (also called raised floor ) is an installation method that involves the interlocking installation of planks, boards or tiles at a certain distance from the surface to be covered. The flooring is usually placed on top of a cantilever frame, foam or other sub-floor.
One way to understand the concept of a floating floor is to think of a puzzle . 
The pieces connect to each other, not to the table, and what keeps them in place are the weight, the friction between the puzzle and the surface and the lateral attachment of the individual pieces.
You can also think of a floating floor as a type of carpet , made of resistant material. 
In theory, you should be able to remove the raised floor to modify it if necessary, as you would with a home rug.
What is a floating floor anyway?
A floor that is not connected to the ground by nails or glue is called floating or floating parquet . It lies loosely on it. 
It is held by the sides of the room. Due to this loose installation, a floating parquet vibrates a little more. 
We therefore generally recommend using impact sound insulation between the floor and the subsurface . It improves the room acoustics.
The expression "floating floor", the most used today, derives from its installation method which links the boards to each other by the click, without having to fix them to the ground.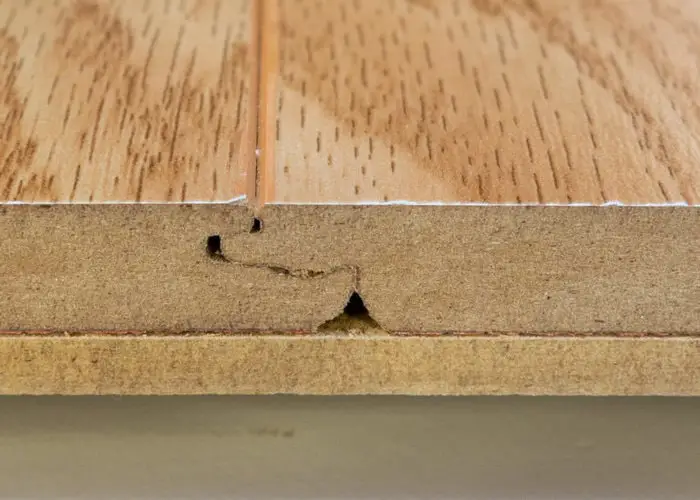 Whether for a condo, an office, a basement or a house, laminate flooring often turns out to be a great alternative when the budget is tight!
Laminate flooring has undergone significant development since its introduction in the 80s.
If at the outset it had the form of panels, each panel presenting the same image of 2 to 3 boards, and that was glued in the joints, today it is quite different!
 Even the most skeptical can be confused by the rich textures, colors, dimensions and finishes found on the market!
Floating floor installation is possible with several types of floor:
with laminate (floating installation is even the rule here)
for vinyl floors and PVC floors
with parquet
for floorboards
with linoleum (rarely the case)
What is the floating floor made of?
The floating floor is made of four layers. The stabilizing lower layer; which gives the floating floor its stability. It is made of moisture resistant resins.
On this first layer, we find the main layer. It is made from compressed wood fibers and is saturated with resins to make it extremely hard. Most manufacturers add moisture-resistant resin to this main layer.
Above the main layer add a very rigid paper as well as a decorative sheet of paper. 
It is this last sheet that gives the floating floor its distinct appearance, from the authentic hardwood reproduction to ceramic or that of stone.
The top layer is made of melamine resin, a very wear-resistant material that gives the floating floor its durability. 
This layer is similar in all respects to the top layer of a kitchen counter, but it is 40% more resistant. This property of the floating floor makes it possible to resist scratches, burns, bumps, stains etc.
Lining layer. This is polystyrene, expanded clay or mineral wool . The type of substrate is selected based on the technical characteristics of the material and the quality of the hard base. 
For an even base, sheets of foam or linoleum are suitable. Significant irregularities can be corrected with expanded clay . 
The different types of floating floors
There are several types of floating floors available, including laminate and PVC floors. 
Given their composition which does not include wood, we will speak more of floating laminate floor.
But if you want a real floating parquet, with a surface composed of wood, the best choice remains the laminated floors.
Composed of several layers of composite wood, its surface is composed of real noble wood called wear layer. 
The floating installation is suitable for laminated parquet, the wear layer of which is at least 2.5 mm thick.
There are several main types of floating floors: prefabricated, cork, concrete and dry screed.
For all types of floor coverings using the "floating floor" technology, it is imperative to use an insulating layer to ensure that the base does not come into contact with the floor itself. 
The substrate can be made of foamed polyurethane, polyethylene, pressed wood dust, pressed crumbs of bark of balsa wood.
Prefabricated floating floor. This type includes floors made of laminate , grooved boards, as well as parquet, so it is also called a wooden floating floor. 
Before proceeding with its installation, the materials must lie for some time in the room in which they will be laid.
One of the important conditions for a quality floor that affects the service life is the evenness of the base. 
Check the evenness with a two-meter rail or rule. By attaching the rail to the floor, you can see if a gap has formed.
Floating cork floor. For the device, multi-layer panels are used, the top layer of which is made of natural cork. Each such panel has its own unique pattern. 
They do not have fasteners with a base, but only connect to each other using the "groove-comb" system, the joints of which are treated with moisture-resistant glue. If necessary, they are easy to dismantle and shift elsewhere.
Dry screed is the foundation for the finish floating floor. It should have good sound and heat insulation properties. Therefore, you need to choose the material for it, depending on the necessary goals.
 So, for good sound insulation, you should opt for mineral wool, which has the highest noise reduction index. And the foam plastic will do the job of warming well.
Concrete floating floors are the most durable of all types of floating floors. Therefore, it is often used where there are large loads on the floor: in warehouse and industrial premises.
 But in private homes, it is not uncommon, as it is reliable and durable. It consists of a flat base, heat-insulating material, waterproofing, screed, insulation tape.
Advantages and disadvantages of floating floor
The floating installation has some advantages, but also some disadvantages that have to be considered. Regardless of this, not every surface is suitable for gluing.
Advantages of the floating floor
One advantage of floating installation is certainly the simplicity and speed of installation. You can see that very clearly, especially with laminate. 
The individual elements of the laminate flooring are only cut to size and simply clicked together. This is much faster than gluing part by part individually (such as when laying tiles ).
Another advantage is that a floating floor can be dismantled and, under certain circumstances, even relocated again. 
If there are problems with the installation, the floor can also be removed and re-installed appropriately (for example if the laminate creaks ).
In addition to the ease of installation, this floating floor is also very easy to maintain and requires very little effort, unlike carpet for example, which attracts a lot of dirt and mites.
Finally, a detail to take into account is its aesthetics which is not always optimal. 
But if the latter is of good quality and is well laid, it will be impossible to tell the difference from a solid parquet. 
With this floating floor, you can therefore ensure that your interior is as elegant as possible.
Disadvantage of the floating floor
A major disadvantage of the floating floor is the remaining air gap between the floor covering and the surface. It ensures a significantly louder impact sound than when the floor covering is glued. 
In addition, for underfloor heating, floating installation is not possible for the same reason: the air gap would serve as a heat buffer and prevent the heat from being transferred into the room. This would require significantly more heating energy.
Another negative aspect is that the floating floor is not very resistant to humidity and it would therefore be preferable to avoid putting it in the bathroom or near a washing machine and a dishwasher, to avoid damaging your floor. 
To avoid being faced with this kind of problem, it is strongly advised to use this type of floating floor only in rooms where there is little humidity.
Why choose floating floors?
Aesthetic, floating floors offer several advantages like:
designed in wood or ecological material, warm and design;
cheaper (accessible from $40/m2 ) than its solid wood variant which costs between $100/m2 and $200/m2 ;
easier to install than other floors and provides more stability.
Composed of three layers, the floating floor resists temperature variations. Bleached, aged or colored, it can be made of bamboo, merbau, teak, doucier, jatoba, etc.
Assembly of wood, floating parquet is very sensitive to humidity, hence the advantage of using marine wood .
 However, it should not be installed near a dishwasher or washing machine.
 In addition, the most affordable models (2.5 mm thick) allow only one sanding. Also note that the acoustic insulation of floating floors leaves something to be desired.
 Thus, the installation of an underlay is necessary in order to optimize its soundproofing performance.
How is the floating floor installed?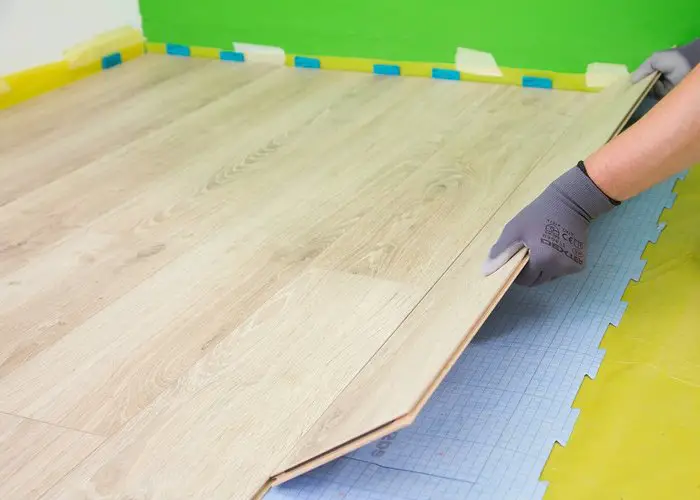 Most floating floors today are build with a "click" system.. This system allows quick and easy installation. What makes the ingenuity of the "click" is the shape of the slats and grooves of the floorboards
Just place the blade of one of the slats in the groove of another slat at a certain angle and press on the board. 
The manufacturing precision of this system makes it possible to create a tight assembly during installation. We can then walk on the floor.
If you are laying the floating floor on a concrete base, then you should prior lay a moisture-proof membrane. 
This is actually a plastic sheet of about 5 mm and helps protect the floating floor from moisture. 
Above this membrane, a layer of foam is added which allows sound absorption and also helps to level out irregularities in the sub-floor.
Most manufacturers now offer a membrane combining the properties of moisture protection and sound absorption.
What Types of Flooring Materials Can Be Floated?
There are three types of flooring materials suitable for floating installation: laminate flooring, wood veneer parquet and solid floating parquet.
Laminate flooring : the most economical formula, the laminate is composed of a very hard agglomerated wooden support, a decorative layer imitating the different types of wood, then an "overlay", that is to say a transparent upper layer, intended to protect the surface against wear.
Wood veneer parquet , composed of two layers of agglomerated wood on which a layer of noble wood is veneered. Most of the time, these floors require no treatment, once installed. Although floating laying is the simplest option, wood veneer floors can also be nailed or glued.
Solid parquet , composed of 100% wood essence. The most used wood for solid parquet floors in floating laying is bamboo, whose expansion is low and which adapts well to the nesting characteristics of the floating parquet boards. There are, however, in many species such as oak, beech or exotic woods such as merbau, wenge etc. Ready to use, the solid floating parquet offers robustness and simplicity of installation.
How to determine the quality of a floating floor
At first glance, it should be noted that the quality of the floor is determined by a scale ranging from AC1 to AC5. 
While the AC3, AC4 and AC5 ratings indicate respectable product quality, the lower ratings are to be avoided. 
It is important to note that an AC3 rating is sufficient for residential use or requiring little traffic, while higher ratings are appropriate for commercial premises with high traffic flow. 
Conclusion: should you lay floating floor?
Basically, the decision as to whether you should lay your floating floor or glue it all over (depends on your own preferences):
If the simple laying is an important reason and you also want to protect your wallet (at the beginning), then that is floating installation the right choice. 
This is also the case when flexibility plays a role, so the floor can be easily replaced.
However, if the longevity of the floor and thus the long-term cost savings are seen as central, the full-surface gluing of the parquet is certainly the right choice. 
Since these arguments are usually in the foreground with a parquet floor, the full-surface gluing is surely an option for most parquet interested.
In this article we wanted you to understand what is a floating floor.