What is an Angle Grinder Used For? [10 Unexpected Uses]
In this guide I will explain what is an angle grinder used for, in order to understand immediately if this tool is the right one for your work.
The term grinder derives from emery , which is a mineral considered and commonly used as a natural abrasive, here are the first jobs for which the angle grinder was designed to be used:
smooth
grind
to cut
roughing
polish
What is an angle grinder?
Let's see why this tool is so versatile. First of all, it can be used on almost any material you will have to process in your garage : metal, wood, marble, stone and similar materials have always been the main uses of the angle grinder.
In the jargon also called flexible, whip, flex (from the famous brand that invented it among the first), the grinder was born as a tool with electricity and in some versions with air and battery. 
The origins of its use are very deep, it suffices to think that the first models of material shaping tools used the manual rotation of sharp stones and harder for the processing of parts.
The main components of the angle grinder include:
Electric motor. It is made structurally according to the classical scheme: thermal protection, contact blocks, brushes, stator and rotor (armature).
The body of the grinder is made of high quality shock-resistant plastic. It houses the electric motor, speed control wheels, start buttons, fixing the electric cable and other elements. Consists of two parts, which are fastened with self-tapping screws. At the location of the electric motor, slots are provided in the housing for its cooling.
Gearbox mechanism. Includes a driven bevel gear of a planetary type, rotating on two bearings, as well as a number of other gears, a flange.
Speed ​​control wheel. Provides control of rheostatic resistance, due to which the electric motor rotates at the required angular speed.
Start button. Provides starting and shutdown of the electric motor.
Disk quick change button. Provides convenient and quick disc changes. When unscrewing the disc securing nut, it blocks the planetary gear of the reducer.
Protective cover. Protects the user from possible injury from a ruptured disc.
Power cable. Provides voltage supply to the brushes of the electric motor through a rheostat resistance.
Key for changing circles (disks).
What does a angle grinder do?
With an angle grinder you can:
cut
sharpen
roughen
level
gauge
polish
remove foreign objects from other materials. 
Angle Grinder Uses
Metalworking
Repairing scratches on the car
Removal of rust
Cutting through metal bars or tubes
Overcasting welding edges
Woodworking
Restoring old furniture (rough work) or windowsRemoval of old paint coatsMilling of edges
Stone and ceramic processing
Bathroom renovation, for example to cut the tiles to size
Tile the terrace
Polishing work
Car polish
Polishing out scratches
There are many different sizes, with different shaped handles suitable for different types of use. Electric power varies from a few hundred watts to more than 2 kW.
By equipping your tool with a disc suitable for metal, you will be able to grind and cut parts made of iron, aluminum, stainless steel, etc. Diamond discs are generally used to cut or grind stone, concrete, ceramics and even extremely hard materials like marble.
 Each diameter corresponds to a maximum rotational speed, so always be sure to fit a disc the diameter of which is supported by the grinder you are using!
Want to change the blade of your angle grinder? Read this easy step by step article I wrote how you can change your angle grinder blade in a heart beat!
---
What is an Angle Grinder Used For?
The angle grinder is a tool suitable for example for cutting iron or stainless steel, very resistant materials and for which particular reinforced hard disks are needed. 
This tool is also suitable for cutting a wide range of materials commonly used in construction such as tiles, stone blocks, but also granite, bricks or marble slabs.
Burrs or drips can easily remain between metal parts when welding, and the angle grinder is the right tool to remove these residues. 
Thanks to the angle grinder it is also possible to polish different types of surfaces, for example metal ones, while eliminating any layers of rust that cover them. 
Sheets, gates, iron products can be brought back to life with the use of an angle grinder. The grinders can also be used to polish wood or parquet, using special discs.
The angle grinder is also very useful when dealing with blunt blades or blades that no longer cut, such as those of the lawnmower or garden shears; thanks to these tools it is possible to sharpen the blades in a few minutes and without effort.
Uses of Angle Grinders
The angle grinder is the ideal tool for all kinds of tasks: grinding, brushing, polishing and rust removal. It allows deburring of stone and metal. 
After welding or cutting, some metal surfaces have sharp angles or edges. A grinding disc eliminates sharp edges. 
In addition, the angle grinder cuts metal, stone, concrete and ceramic tiles. With the right accessories, the angle grinder becomes a sander, polisher, etc.
Here is how you can glue wood to concrete the easy way!
Here are the top 10 main application of an angle grinder:
1.Building site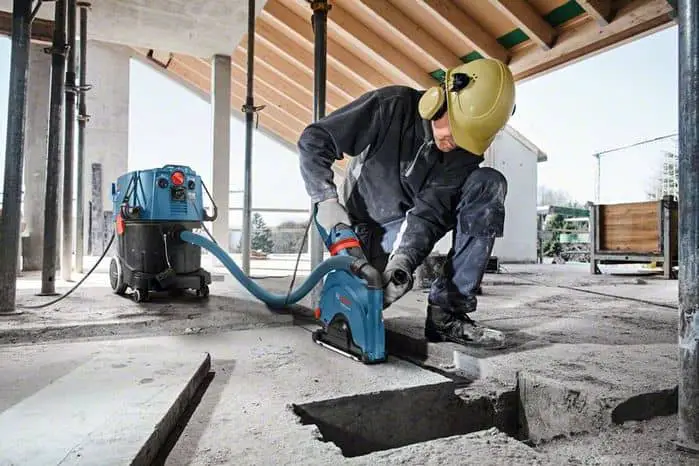 An angle grinder can be used on a construction site to cut various materials. 
Which accessories are available? e.g. diamond cutting disc that enables cutting of concrete, brick, stone, granite or reinforced concrete. 
In order to be able to process the light materials (e.g. aerated concrete), rasp disks can be used. 
The angle grinder can even be used instead of a wall chaser. In this case, however, it must be equipped with a protective cover.
2. Laying tiles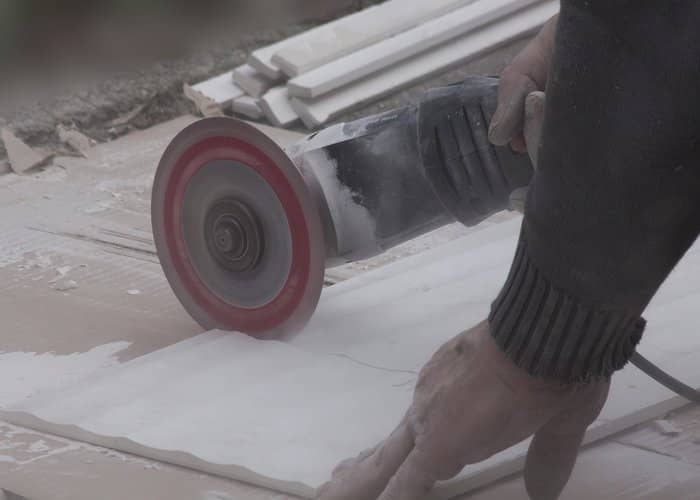 When laying tiles, it happens very often that you have to cut an element. In order to achieve precise cuts, you should of course use a tile cutter. An angle grinder can be used for rough cutting. 
Angle grinders can be equipped with a diamond wheel which can be used to cut ceramic materials with great ease.
 They, therefore work very well for cutting tiles with great precision. Small discs are very useful for deburring tiles or performing jobs in hard to reach places.
For this you need a diamond cutting disc. Old joints can be cut out with the aid of a diamond cutting disc. The tiler can also sand / remove the old adhesive from the tile surface. 
If we need to drill a hole in the tile, we can mount a diamond crown of the appropriate diameter on the angle grinder. Diamond core bits that are suitable for grinding machines are intended for dry work.
3. Sawing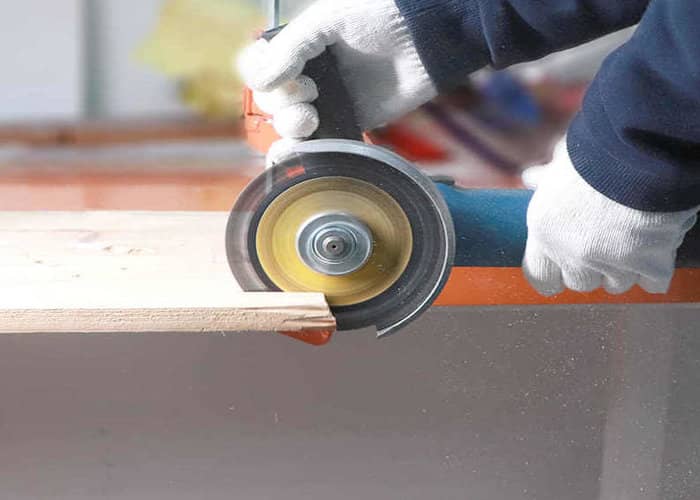 Sawing is also possible with the angle grinder. In addition to saw blades, the shape of which is reminiscent of the blade of a circular saw, there are also metal disks that are fitted with a saw chain all around. 
Both variants are functional, but due to the high speed of the angle grinder and the resulting heating, it is advisable to use a classic saw.
4. Polishing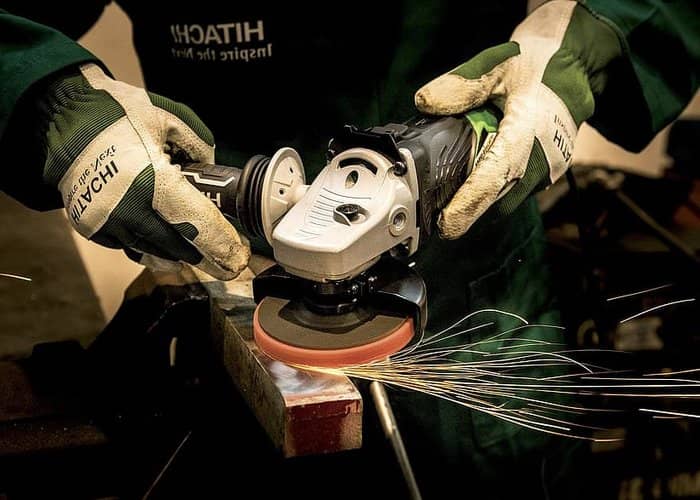 Thanks to the flap discs, your grinder is also able to polish flat surfaces for finishing work. 
These discs are made of different grains depending on the materials and uses. In general, the more material there is to remove, the more abrasive power the disc should have.
The grinder will give you a clean but not necessarily smooth surface. 
If you have eliminated the bead of a weld or part of the flaking rust of an old gate, it is likely that the result obtained is not satisfactory: the precision work, in fact, must be carried out with filing  or by carrying out a subsequent step, that of polishing .
The classic angle grinder  (if it has a speed adjustment and therefore can be used at speeds that are not excessive) can be equipped with pads and caps that can mount nylon discs impregnated with resin and abrasive granules.
 In this way, the polishing  (which is nothing other than a grinding  more careful, delicate and precision) operated with the grinder you can return a bone surface and mirror.
5. Sanding
Here again, the angle grinder reveals its full potential as a multi-tool. It is possible to install different sanding discs which can be rigid, semi-rigid or more flexible. 
Depending on the function, it is just as possible to sand flat or non-flat surfaces on several types of materials depending on the grain chosen using an angle grinder.
Check my in depth article about sandblasting. It contains a lot of tips and tricks to get the sandblasting job done right and quickly!
6. Metal pickling
This is one of the amazing uses of angle grinders. You can use wire brushes to effectively remove paint and rust from metal surfaces.
These types of accessories come in different forms to perform a variety of tasks such as cleaning, stripping and deburring. For example, they are very useful for cleaning other tools by removing stubborn dirt or dried cement.
7. Metal processing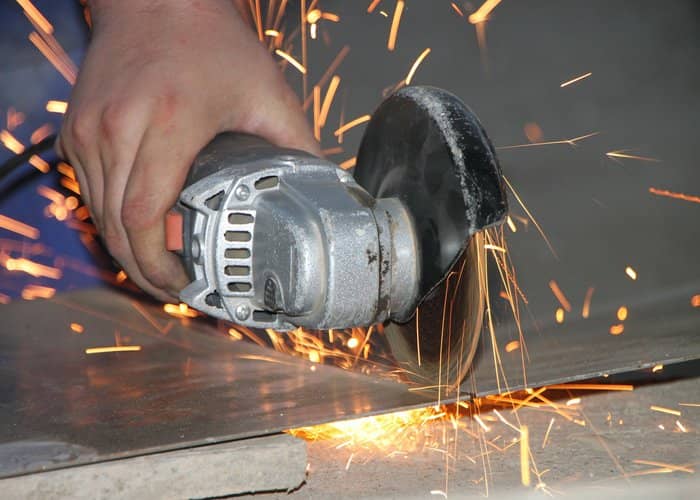 An angle grinder is also compatible with metal cutting discs, so it can be used in body repairs (dismantling car parts, dismantling metal structures). 
On this occasion it is also worth mentioning that with the help of an angle grinder and corundum disks, you can also cut structural steel, stainless steel, cast iron, various types of metal elements, for example, metal profiles, angles, pipes. 
These elements can also be ground. Rust and paint can be removed with an angle grinder.
Paint can be removed from wood with 5 easy techniques. Check my article on this amazing techniques here!
8. Planing
Planing disks are metal disks which have been provided with one or more cutting edges and which are mainly used for processing wooden surfaces.
Since it happens again and again when changing the disc that the clamping nut cannot be loosened, here is a little practical tip – with the shaft locked, easily approach the wrench with the appropriate hammer type.
Restore your furniture looks with this simple steps presented in the following article I wrote about furniture restoration!
9. Welding
The welder can use the angle grinder both before and after welding. With the help of wire brushes and flap discs, he can prepare the material for welding. 
The skilled welder will make the perfect joint, but if the weld is not quite perfect it can also be improved. A separating disc will help here.
10.Brushing
When brushing using a angle grinder, a surface is freed from quite loose adhesions, such as when derusting. 
Here, too, there are a large number of different brushes, but the wire brush in disc or cup shape is the most important representative of this type.
Can I use an angle grinder to cut wood?
The angle grinder can grind wood and give it the right shape. Angle grinders straighten the surface of wood with the right accessories almost effortlessly and are therefore unthinkable in workshops where wood is processed and work at home. The one-hand device is easy to use because its compact design makes it easy to operate.
Cutting wood using a angle grinder is a risky job to the operator because angle grinders typically spin the disk at speeds between 10,000 – 15,000 RPM. In addition, there are also models with low speed, which are only suitable for the hobby area.
Be careful when using the freehand angle grinders to cut wood because the kickback can be really dangerous.
What to avoid the kickback effect? I have wrote this helpfulness and in depth guide about the kickback effect and how can you easily avoid it.
However angle grinders can be used to make small cutoffs but there are far better tools for safely cutting wood like: table saw, circular saws, jigsaws,reciprocating saws.
Safety instructions to follow before and after you use the angle grinder
Angle grinders are powerful tools that can be dangerous if they are not used in accordance with safety regulations. 
By neglecting the safety instructions you run the risk of serious injury. Here are some tips to follow before and after you use an angle grinder:
Always check the condition of your tool's power cord before plugging it in. A damaged cord can create a risk of electric shock.
Check that the disc or accessory is properly secured before starting your machine.
Always unplug your grinder before making a consumable change.
The main risk of injury when using a grinder comes from projections. It is therefore essential to protect your eyes with suitable glasses, as well as gloves and suitable work clothes.
When working with metal, sparks are often thrown. This is the reason why it is extremely important never to operate a grinder near flammable materials.
Conclusion
Thanks to our advice, you should now know what is a angle grinder used for and how to use a grinder like a pro. If you have any doubts about how you should use your angle grinder, refer to its user guide. 
What materials does an angle grinder handle?
Using an angle grinder, you can, for example, easily give the desired shape to tiles or paving slabs, "saw" an asbestos-cement sheet or pipe, ordinary brick and slate. The grinder can also handle softer materials, such as wood, plywood, chipboard. But in this case, not abrasive discs are used, but special attachments, for example, grinding wheels.
Angle Grinder and Flex: What is the difference?
Angle grinder and flex refer to one and the same product.
The company "Ackermann & Schmitt" (later "Flex") invented the angle grinder and thus coined the name Flex as an angle grinder, but it is no longer the sole manufacturer of angle grinders.