What is a Hammer Drill? What is Used For?
Probably everyone heard about hammer drills . But not everyone clearly understands what is a hammer drill and what they are used for. And in what situations do we need hammer drills?
What is a Hammer Drill ?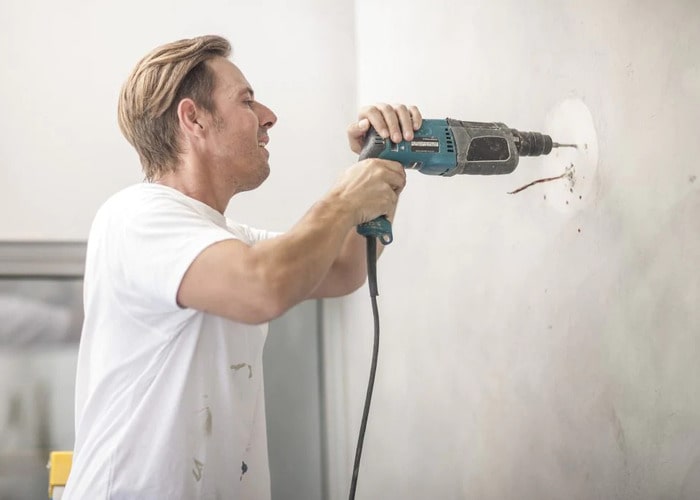 The hammer drill is an electric machine with a shock mechanism and the possibility of drilling. It is universal, as it combines a number of features of a drill and a jackhammer. 
Multitasking has made the hammer drill indispensable in construction, repair, decoration and other types of work. 
We can safely say that this machine has sufficient versatility, because it can fully replace both an impact drill and a small jackhammer. 
To date, this type of equipment is in demand on almost any construction site, where it performs a lot of different work. 
The hammer drill is indispensable in the field of repairs or constructions.
How do Hammer Drills Works?
The rotary hammer (rotary hammer / hammer drill / roto-drill) is an electro-portable machine, which is used to drill hard materials, such as concrete, stone, metal, wood.
In the 19th century, the German company Flottmann designed and sold drills for mining and the tunnel construction industry.
In 1932, Bosch launched the first electrically operated rotary hammer. Until that date, centuries in a row, drilling hard materials was a very tiring job.
A first solution belonging to the German entrepreneur Wilhelm Emil Fein, considered to be the inventor of the electric drilling machine, manually controlled, but which was not very efficient.
In the case of concrete and stone.
The drill of the rotary hammer, in addition to the rotational movement, also performs a simultaneous impact on the material, whose power is measured in Joule (unit of measurement for mechanical work, named after the physicist who defined it – James Prescott Joule).
In the case of the drilling machine, the perforation is made with the help of serrated discs (like a saw), attached to a mandarin (a piece calibrated for drilling holes), which vibrates the drilling shaft, to cause disintegration of the material in that place.
The rotary hammer (electromechanical or electropneumatic) exerts a blow (by a continuous back and forth movement, with a frequency of 10,000 beats per minute), in parallel with the rotary movement of the drilling shaft (drill), which facilitates the penetration of materials hard.
However, the use of a rotary hammer is contraindicated in the case of materials that crumble easily, such as aerated concrete, brick, ceramics, etc.
Being a powerful tool, it is frequently used to make holes with a large diameter, through which pipes or cables can pass, for demolition works (inside or outside), for removing tiles, concrete tiles, etc.
A professional hammer drill reaches a power of 10 Joules, but for someone who wants to use such a device, for homework, a hammer drill of 1.5-3 Joules is enough.
The electro-mechanical rotary hammer drill works thanks to a mechanical system of blades and springs, and the electro-pneumatic one, with compressed air and pistons (being suitable for large works).
It is also provided with a button that allows the selection of the desired functions and the perforation speed.
A side handle makes it possible to choose the most suitable angle, so that the effort, on the part of the user, is minimal.
It is mandatory to use gloves and goggles during the operation of such a machine.
Types of Hammers Drills
The difference between hammer drills is not only in their power, but also in the location of the electric motor. 
There are models with horizontal and vertical arrangement of the drive:
The vertical engine  allows you to get more power and impact power. The significant weight of such models limits their use to the height of rise from the level of the worker's legs. The purpose of heavy hammer drills is the production of holes of a rather large diameter (more than 20 mm), crushing of monolithic blocks.
Lightweight tools with a horizontal motor allow you to work even with one hand. With their help, they prepare the fastening of drywall partitions, drill holes up to 20 mm, make niches for wiring accessories.
Hammer drills are chosen for the home and professional fields.
And so that each user can find a suitable option, there is a conditional division into three classes by weight:
Light Hammer Drills – weigh no more than 4 kg and have a power of 400 to 800 watts. They are mainly used for household repairs, when it is necessary to drill holes for dowels, socket boxes, soldering boxes in concrete.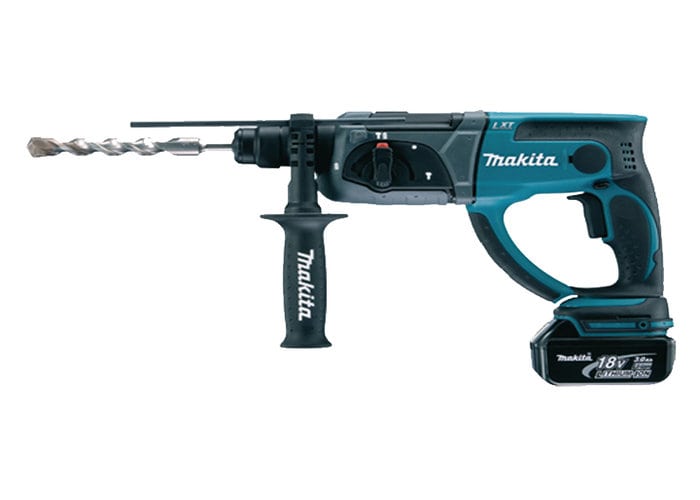 You can fix the profile for plasterboard walls, hang shelves, mount plumbing, install switches and sockets. In shock mode, you can chip tiles and remove tile glue.
Medium Hammer Drills – they weigh up to 8 kg, and power can reach 1000 watts.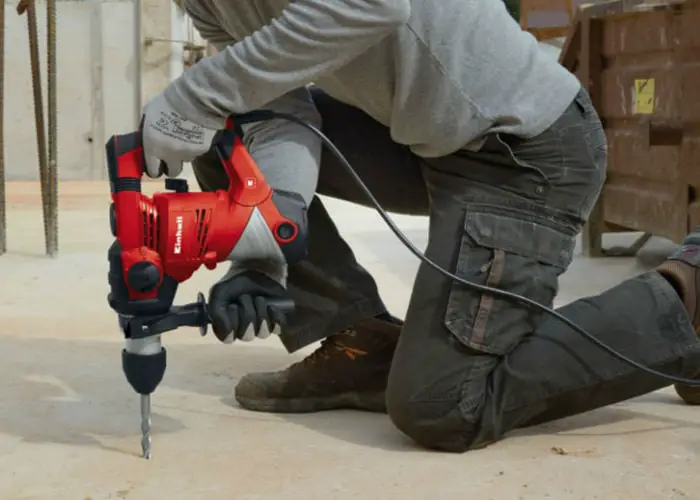 These models are used in the arsenal of masters in the decoration, repair, installation of communications and electrical work. 
Greater endurance and increased destructive impact will help not only to fulfill the tasks characteristic of light hammer drills, but also punch through holes for pipes, prepare gates for electrical wiring, remove old floor coverings.
Heavy Hammer Drills– exceed the weight of 8 kg and have a power of up to 2000 watts. 
Such models are used by professionals in dismantling, overhaul, laying of communications, removal of materials. 
You can make holes with crowns with a diameter of more than 100 mm, chip concrete in the openings, drill natural stone. 
Of course, such tools are large. 
And to reduce vibration, manufacturers install dampers in the handles so that during prolonged use the user does not strain his hands and reduces the risk of tunnel syndrome.
What is SDS Max drill?
An SDS + shank drill is used with lightweight tools to produce small diameter holes in brick or concrete walls and ceilings.
SDS-max drills are characterized by an increased contact area of ​​the shank with the clamping device.
They are used in powerful drills for drilling large-diameter holes.
Almost all drill hammers are powered by 110 V / 220 V. The less common are portable models with built-in rechargeable batteries. 
Their use is justified if it is impossible to provide a stationary or temporary presence at the workplace of a standard power grid.
Single-mode machines that can only drill are extremely rare today.
Dual modes have one additional function:
for SDS-Plus rotary hammers, this is drilling without impact
for SDS-Max models – chiselling, that is, impact without rotation.
The most versatile are the "three-modes", which are probably the majority on the market. They can drill, and drill, and perform jacking work.
Whether you use it for professional purposes or you just have a hobby, you can find the model according to the requirements of your project.
At the same time, the demolition hammer will make your work easier if you have to carry out projects in difficult conditions.
What is a Hammer Drill used for ?
Hammer Drills are the ideal power tools for active craftsmen, they have 2, 3, or even 4 functions (simple drilling, percussion drilling, chiseling and electronic positioning of the chisel) and due to the left / right operating principle they can also perform screwing, respectively unscrewing.
The hammer drill is useful for:
holes in concrete, stone, brick (with different types of drills)
chiseling or demolition (with wide, narrow chisel, spit, hook chisel)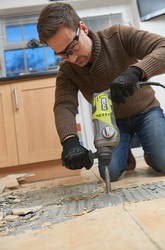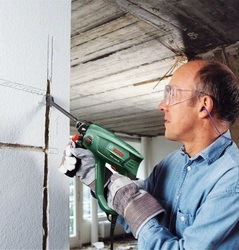 The demolition hammer is used for:
chiseling works in concrete, brick, stone
removal of mortar, faience
When using power tools, always keep in mind the protection measures:
wearing a helmet, goggles, earmuffs;
use dust mask and protective gloves;
check that the machine is switched off and unplugged before installing or removing the drill;
make sure before drilling that the drill is securely fastened;
use the auxiliary handles of the machine for a very good control at the time of execution;
---
How to care for a Hammer Drill
Every power tool needs periodic care, even hammer drills. All parts of the mechanisms under friction are subject to wear. 
Prevent premature wear of parts by regularly lubricating the surfaces of the parts. 
Many users limit themselves to lubricating the shank of the drill: from it, oil enters the cartridge, and partially lubricates it. 
This is justified only while the instrument is under warranty. 
In addition to the cartridge, care is required for the impact mechanism, gearbox and electric motor – these actions require disassembly of the housing.
During the warranty period, such service can only be carried out at authorized service centers. Self-disassembling the tool entails the loss of the right to warranty repairs.
Types of Percussion Mechanism of the Hammer Drill
Electromechanical – requires great effort to strike, which means that high engine power is needed. 
The work is carried out due to the action of the eccentric on the lever spring, which moves the drummer. 
Due to the recoil, the impact force increases and is transmitted to the equipment. This option is considered obsolete. 
Models with this mechanism are not currently released.
Electro-pneumatic – allows you to get high impact energy even at low power. 
This is the most popular strike mechanism that is used by almost all manufacturers. 
But its implementation in different designs has differences. For example, on light models with a horizontal engine, a rolling bearing is used. 
Medium and heavy class L-shaped tools are equipped with a crank mechanism.
How to choose a Hammer Drill
 Power is the most important indicator of the performance of the hammer drill, the ones up to 1400 W being for domestic works and the ones over 1400 W being professional.
The chucks can be with key or SDS, the most common and used being the SDS-Plus and SDS-Max (more enduring when drilling with high percussion).
 The rotary hammers have mechanical or pneumatic percussion, the latter offering a high perforating force and a higher resistance to wear.
For hobby type works we recommend you to choose a rotary hammer with a maximum percussion of 4000 per minute.
For professional use, you can choose a model with a lower number of percussion.
 The drilling capacity of various materials (concrete, masonry, wood, metal, plastic) varies from one manufacturer to another.
So it is recommended to check these specifications in the product data sheet to choose the product that best suits the operations which you intend to achieve.
 A demolition hammer is the perfect machine to quickly and safely drill various hard materials, regardless of the thickness of the layer to be drilled, so it is indispensable on any construction site and any major renovation work.
Demolition hammers will prove useful in breaking masonry, cement, bricks and even stone.
 The performance of a demolition hammer is conditioned by the nominal power, the percussion rate, the percussion energy, the gauge and the functions or technologies it is equipped with.
Demolition hammers intended for occasional work (hobby mode) are characterized by nominal powers of 500 – 800 W, percussion rate up to 700, percussion energy of 2 – 8 J.
While models in the professional range benefit from higher powers (1000 – 2000 W), percussion rate of 800 – 1000, percussion energy of 10 – 40 J and large size.
---
Where do you use a Hammer Drill?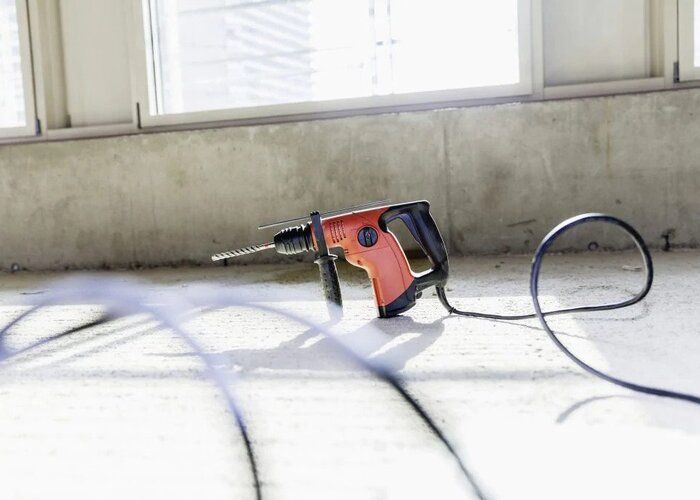 Hammer Drills are used in construction ,installation work and repair. The hammer drill is indispensable when working with concrete, hence the great demand for this tool.
It is actively used by builders and installers who have to drill dozens or even hundreds of holes.
It is in demand in everyday life (during repair or "cosmetic" work).
Typical tasks for this tool are to make holes for dowels, to prepare a socket for a socket, or to drill a through hole for communications. 
Whoever wants to buy a rotary hammer must consider the type of work they intend to perform.
For holes with smaller diameter and depth, in materials with low hardness, a drilling machine is recommended.
Regarding the rotary hammers, it should be known that they are of different sizes, the heaviest (around 10 kilograms) having a smaller recoil and, therefore, a greater stability.
Each device has drills of different shapes and sizes:
for metal, for example, the conical tip is used,
for wood, the drill with three tips), with compatible dowels and screws, with depth limiter (very useful especially when drilling holes equal depths)
and with a template (with a diameter larger than the drill, one millimetre), so that the work can be executed accurately.
---
Comparison of Hammer Drill vs Drill
Comparison parameter
Drill
Hammer drill
Power, W
250 – 1500
450 – 2000
Rotational speed
(number of idle revolutions), rpm
Up to 3500
600 – 1500
Strength (energy) of the impact, J
Not specified
1.5 – 4 (light),
5 – 18 (heavy)
The frequency (number) of strokes, beats / min
24,000 – 60,000
1100 – 5000
Diameter of holes in
drilling with impact, mm:
concrete
16 – 20
18 – 32 (brown), 60 – 65, maximum 150 (crown)
wood
up to 30 – 40
24 – 32
steel
until 13 – 16
until 13
Weight, kg
1.7 – 4.5
1.7 – 12
Conclusion
The hammer drill has many options. In addition to the main classifications, it is worth considering the values ​​for specific characteristics. 
For example, impact force, power, cartridge size – all this will help to make the best choice. Do not forget about the additional functions that are endowed with a modern hammer drill. 
So, professional models are often supplemented with a second handle for more comfortable holding the device during the impact.