Gas vs Electric Chainsaw: Which is Better?
Whether you want to cut firewood for the winter or care for the branches of the trees in the yard, you will need a chainsaw. And you're probably wondering what kind of model to choose: gas chainsaw vs electric chainsaw?
To help you, we have prepared a short guide, in which you will find the advantages and disadvantages of gas vs electric chainsaw.
So, if you have decided to buy a chainsaw and do not know what to choose gas vs electric chainsaw, below we will help you with tips.
What is a Chainsaw?
The chainsaw is a portable saw powered by an engine: gas or electric. The chainsaw blade has a chain that has cutting parts.
The motor drives the chain and turns it into a cutting blade, transforming the saw into an efficient cutting device.
What types of chainsaws exist on the market?
Depending on the type of engine, the chainsaw is divided into three groups:
Gas Chainsaw – is the most popular type of saw. Gas Chainsaw have a great power and can be used for extended periods, which makes them efficient and helps you save time and energy;
Electric Chainsaw – these are usually the most economical saws. It is recommended in small households for conventional use.
Cordless Electric Chainsaws (Battery Chainsaw) – requires recharging the batteries, and because of this they are recommended for applications inside the yard, not outside.
How do you choose a chainsaw?
Depending on the activities you will use, you can opt for an electric motor or gas powered motor. The gas chainsaw is ideal for professional use (conferring mobility and high power), and the electric chainsaw is recommended for smaller hobby applications.
The most used ones are the electric chainsaw and the gas chainsaw, each of them having advantages and disadvantages.
Gas Chainsaw:
it is stronger – the speed of movement of the chain is higher which causes the pressure applied to cut to be lower;
has independence – the connection to the power source is not made by cable;
the start is made by repeatedly pulling a cable until the spark that starts the engine in 2 strokes appears;
the gasoline-powered engine requires the same maintenance as any engine: oil change, air filter, etc;
the noise of the engine is quite strong so that the worker needs protective helmets;
eliminate pollutants and combustion gases;
Electric Chainsaw:
it starts by simply pressing a button;
it is easier and quieter;
does not require filter or oil changes;
does not pollute;
the power is less so it needs more pressure to cut;
it is related to the power supply which limits the movement;
When it comes to sawing, most people make the mistake of acquiring the one with the most power over their budget.
Whether you are a professional or amateur woodcutter, if you own a garden with old trees, which must be properly cared for, a chainsaw will prove extremely useful, and acquiring it will be a pretty important process.
The investment is quite considerable, and for people who occasionally use a chainsaw, it will be more difficult to guess what particularities, functions and capabilities a quality chainsaw should have, in order to provide the best performance.
Specifically, we present the main features of gas chainsaw vs electric chainsaw, that you should take into account when you want to buy one.
Electric Chainsaw vs Gasoline Chainsaw
There are many types of saws on the market, which are divided into two major categories: electric and gasoline chainsaws.
In turn, the electric chainsaw can be wired or with batteries.
Why Choose an Electric Chainsaw?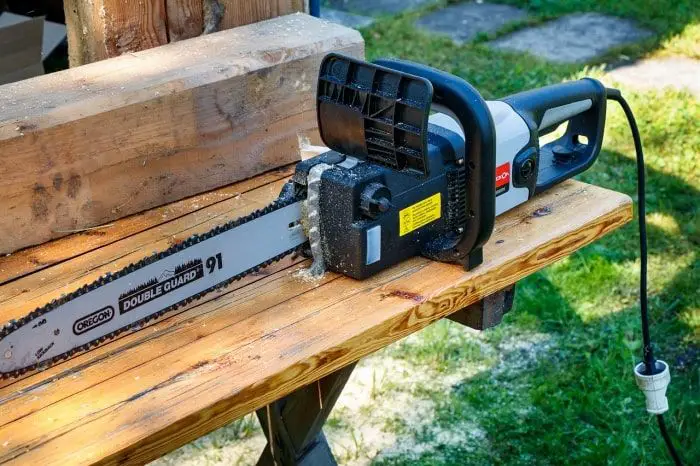 Electric Chainsaws are an economical and inexpensive choice, suitable if the wood cutting is done in a relatively fixed place, close to a power socket.
You can use them for cutting firewood, carpentry, but also for garden work, if you use an extension cord.
Electric Chainsaw models require electric power, are easy to maintain and are suitable for conventional tasks that occur in a household, as they can have 1500 – 2000 W power.
An Electric Chainsaw usually cost less then the one on gas. Many of them are much lighter and less bulky.
Battery Chainsaw are also nature friendly, with an added advantage: mobility.
You can go anywhere you need, within the limits of battery power.
Electric Chainsaw are lightweight and work well enough for low and medium difficulty tasks. The power of an electric chainsaw can be lower than the other types of chainsaw.
Another great advantage of electric chainsaw is that they are much quieter.
It is an important aspect if your neighbors are more sensitive or if you work in a space with noise restrictions.
Disadvantages of electric chainsaw
The disadvantage of the electric chainsaw is that you will depend on the length of the power cord, so it may not help you much if you plan to reach the crown of a tree.
Electric motors are available in different power configuration for any pocket and are generally simple to use, but compared to those on gasoline, they have less powerful engines.
The chain moves at a slower speed and this is why these saws are used for simpler tasks.
To power the electric chainsaw you will need a power socket or extension cord that has the right amperage to get optimal saw performance.
If you want to buy an electric mower the power of 1500 – 2000 W is sufficient for hobby applications.
Corded Electric Chainsaws Cordless Electric Chainsaws
| | |
| --- | --- |
| WEIGHT | WEIGHT |
| 3 – 7 kg | 3.5 – 8 kg |
| Blade length | Blade length |
| 15 – 45 cm | 15 – 45 cm |
| Electrical motor | Electrical motor |
| 1500 – 4500 W | 1500 – 4000 W |
| Voltage | Voltage |
| 230 V (Europe) / 110 V (USA) | 36 V – 82 V |
Why Choose a Gas Chainsaw?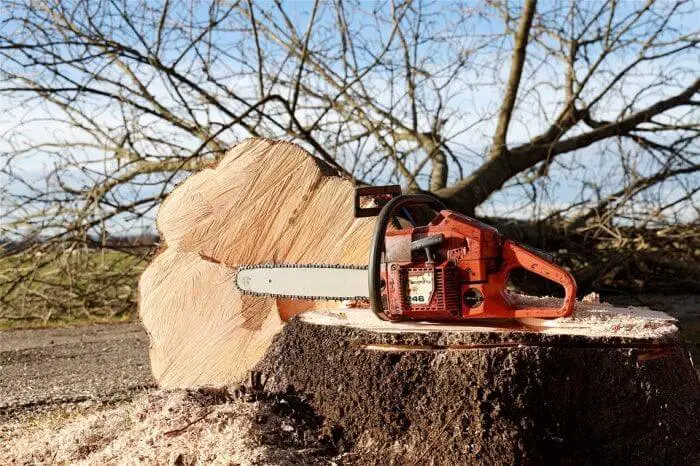 Gas chainsaws are more popular due to their power, which gives them a higher efficiency and the fact that they are very portable, independent of the power supply.
The gas chainsaw are the classic ones, and these models are generally more efficient, but they also have some disadvantages to the electric version, which may or may not be important, depending on how you plan to use them.
In thermal engines fueled by gas, the power is expressed in horsepower (CP), 1 CP = 735 W while in electrical engines it is expressed in W or KW (1000 W).
The engine capacity is expressed in cubic centimeters (CC), the higher the capacity, the higher the power. Thus, in a household a gas chainsaw with a engine capacity of 30-50 cc is sufficient.
If you have a gasoline container, you can refuel them anytime, anywhere. And this is very helpful if, for example, you are going to cut wood on the field or in a forest.
The 2-stroke gas chainsaw will be fueled, usually with gasoline. These are stronger, so we recommend them, if you want to cut a wood supply, for example.
Of course, do not forget to check its power, expressed in HP, and the capacity of the tank, to know how much you can work on a single refuel.
The gasoline engine is stronger and makes the chain move faster, so the cutting is done faster and with a lower applied pressure.
New generation engines are optimized for lower fuel consumption than in the past and have low emissions.
This type of equipment is a long-term investment that is easy to recover if you need it regularly.
Disadvantages of gas chainsaw
The disadvantages of the gas chainsaw is the fact that they require more careful maintenance, they emit noises, they are noisier and less comfortable, because they vibrate louder.
Keep in mind that gasoline chainsaw also involve the specific maintenance part of any combustion engine: changing the air filter and the oil.
However, they are not conditioned by cable and you can take them to the forest.
Equally welcome are the safety stop system, the self-cleaning option, the lubrication system and a reduced weight, which helps in a comfortable handling.
What to Watch Out for When Choosing a Chainsaw
If you have consulted enough opinions about the best gas chainsaw vs electric chainsaw, and you have decided on a specific model, we suggest you buy it online, where you have the chance to find it cheaper.
Here are the main criteria:
Blade length
Blades can range from 30 to 70 cm. Your choice depends on the material being cut – how thick are the pieces of wood you want to cut.
The more massive they are, the longer a blade is required.
However, know that a 30 cm blade can cut up to twice its length.
Engine power
As I pointed out, the chainsaw come with various engines; the choice depends on the frequency of use, but also on the essence of the wood.
A smaller engine chainsaw is used for occasional use; you don't need the largest engine available to cut a few twigs. In contrast, a smaller engine is safer for home use.
Chain quality
To use as many years of your chainsaw as possible, make sure the chain is made of stainless steel and is original from the equipment manufacturer.
Chain mounting mode
There are models where you can mount and disassemble the chain without any tools. TLC technology (see manufacturer's specifications) allows for quick pretension and adjustment of the chain through simple maneuvers.
Tank size / battery life
Depending on the tasks that you will use most often, the chainsaw tank must have sufficient capacity, respectively the battery must have an autonomy that corresponds to the time you want to carry out the activities.
The weight of the chainsaw
The more you use the chainsaw more and more, the more careful you are to make it easier to avoid fatigue and back pain.
The handle
The more ergonomic and optimized for a stable grip, the better.
Functions for safety
Check the technical data sheet of the product you put your eyes on.
It would be good to have a vibration damping system, a chain braking system that is activated by inertia and an equal distribution of force on the blade.
Your budget
Set yourself an amount of money you can spend and be flexible. Sometimes you may find that for a few extra bucks , you make a much more profitable purchase.
The manufacturer
Choose to buy equipment made by well-known brands, such as Husqvarna or Makita, which are constantly improving their products to make them more useful and efficient.
That way, you are sure that you have bought a quality product; in addition, you receive 2 years warranty.
How do you use the chainsaw safely?
Wear proper clothing without jewelry or loose clothing. Long hair should always be stuck in a queue before using the saw. Choose a lightweight protective suit, which will include boots with grip sole and steel frame, helmet and durable gloves.
There are many models of chainsaw for any budget, such as professional chainsaw, electric chainsaw, gasoline chainsaw, battery chainsaw, telescopic chainsaw, Ruris drills, professional Stihl chainsaw, Bosch electric chainsaw and accessories for chainsaw.
Conclusion on Gas vs Electric Chainsaw
In the case of amateur chainsaw users,( those who use it to solve household chores – toilet trees, cut firewood), do not use it daily and operate a small number of hours, the important criteria are weight, noise level, lack of pollutant emissions, ease of handling. The electric chainsaws are best suited to these requirements.
The chainsaws are used by both professionals (those involved in woodworking) and amateurs.
In the case of professionals, it is important for the chainsaw to operate in good conditions for as long as possible, to have the power to cut hard and thick wood, to have the blade long enough to be able to cut thick logs, not to be difficult to handle, and the most suitable for such operations are the gas chainsaws.
A lot of things can be said about the saws and there is specialized information, so it's not a problem to document yourself before you buy them.
It is good to remember that it is a dangerous tool if it is not used properly and that the protective equipment is necessary.
Regardless of what you opt for, make sure the chainsaw is reliable, an optimal tension-ed chain, made of superior steel, with wear and rust resistance being preferred.