What Is Mango Wood? 5 Interesting Facts You Should Know
Mango wood! What is mango wood? It is very often used for furniture. But why? What are the characteristics of mango wood? Where is it from? How durable is mango wood? Read on here!
The mango tree is well known for its fruit, and not so much for its wood. Mango wood is resistant and appreciated. In addition, it is very beautiful given the wide variety of shades that it can achieve.
What Is Mango Wood?
Mango is one of the modern types of wood and is characterized by its longevity, individual grain and, in particular, by its sustainability. Because a mango tree no longer bears any edible fruit after about seven to fifteen years, it is cleared. The wood is recycled so that we, and in particular our nature, benefit from sustainable use.
Mango is a hard wood with dense grains, so it has enough strength to support the weight needed for heavy chairs and tables, but is still soft enough that it is relatively easy to work with, without the need for special tools on behalf from manufacturers so it is not necessary for large machines that consume a lot of energy and therefore it is less harmful to the environment.
The mango tree comes from tropical South Asia and India. The plant will grow tall – in nature its height reaches 30-40 m, its trunk diameter is 1-1.2 m, and its lifespan is up to 100 years and more. There are about 70 types of it. India is currently the largest producer of mango trees, followed by Brazil, Pakistan and Mexico.
What is the color of mango wood?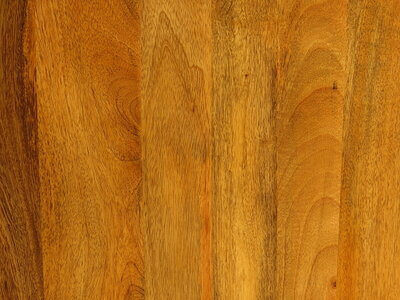 Due to the dyes that are present in mango tree , it can take on a very large number of shades. The main color is golden brown, while other colors such as yellow, pink and black can form numerous streaks.
The Mango wood has a texture more coarse compared to Sheesham wood and has a color variable, from gray to sand. The long, almost uniformly colored veins give a play of movement with a veiled effect.
The light brown color of mango brings light and airiness to the room. Mango furniture can be integrated into many styles of decoration. 
Mango wood has a light middle brown which partly changes to gray-yellow and has exciting color and pattern gradients. A roughened surface or a gray finish also go perfectly with furniture made of mango wood, which was designed in a slightly industrial style.
Where does mango come from?
Originally, the mango tree up to 25 meters high and one meter wide in forestry grew only in India and the Philippines, but can now be found in almost all countries that border the Earth's equator or have a tropical rainforest climate, including, for example: Central and South America, Thailand, Australia, Pakistan, Kenya and also the Caribbean. 
The long way from the production countries to the processing manufacturers of the furniture made of mango wood naturally has a negative impact on the sustainability balance.
What is Mango Wood used for?
The mango tree is a tropical tree of Asian origin, which is therefore found mainly in southern Asia (India, Burma and Indonesia), but also in Africa and Brazil. If it is known for its delicious fruit, the mango tree also offers a very useful wood in cabinet making; and that we obviously find in our rattan furniture collections.
Mango wood is often chosen for a modern interior design in industrial style and convinces with its natural charm. Furniture made from this material includes chests of drawers, cupboards, shelves and dining tables. 
Similar to olive wood, the wood is also used for kitchen utensils, among other things. Care should be taken here, however, that such products are not left in the water for a long time, as they can otherwise swell and form stains.
Mango wood was originally used in the countries of origin to manufacture door and window frames as well as agricultural implements. By slightly roughening the wood during processing or by staging cracks and knotholes on smoothly sanded surfaces, extravagant pieces of furniture with an enchanting vintage character can also be created.
Economical color accents and innovative wiping techniques ensure the artificially and artistically aged shabby look. The combination of mango wood with metal elements is particularly appealing: metal table frames, brackets, brackets, handles and castors, combined with factory prints, create a cool industrial style. Thanks to the warm brown tone of the wood, the cozy living atmosphere never falls by the wayside.
Uses of Mango Wood:
The main use of mango is the manufacture of furniture.
Kitchen and home accessories such as plates, spoons, trays or vases. In these uses, care must be taken given the proliferation of fungi or the chemicals used to stop them.
Musical instruments .
Turning.
Interior carpentry. Window frames.
Plywood boards.
Boxes for parcels.
Coal. In countries where wood must be used for energy or heat.
Characteristics Of Mango Wood
Characteristics Of Mango Wood
1.Color : Normally golden to dark or light brown. 
However, the hues can go much further, including red and black.
2.Wood Fiber : Straight or interlaced.
3.Wood Grain : Thick and good natural shine.
4.Density : Mango wood is a semi-heavy wood, with an approximate density of 750-780 kg / m 3 at 12% humidity.
5.Hardness : It is a semi-hard wood with 3.7 in the Monnin test and Janka Hardness of 1,070 lbf (4,780 N)
6.Durability : Resistance and durability quite acceptable. 
The downside is that it is prone to fungal attack. 
For its use in some jobs it is necessary to treat it beforehand.
7.Dimensional Stability : Volumetric contraction coefficient: 0.54% moderately nervous wood.
8.Mechanical properties:
Compressive strength: 725 kg / cm 2
Static bending strength: 835 kg / cm 2
Modulus of elasticity: 125,000 kg / cm 2
9.Workability :
Sawn: Problematic when there is interlaced fiber.
Drying : No problem.
Brushed: Problematic when there is interlaced fiber.
Glued: No problem.
Nailed and Screwed: Requires knockouts.
Finish: No problem.
Advantages of Mango Wood
The versatility of the medium strength, and the high malleability
It has a hard wood with dense grains, so it has enough strength to support the weight necessary for heavy chairs and tables, as well as withstanding the wear and tear of time very well.
Despite its rigidity, mango wood is quite flexible, resilient and easy to work with tools
Has natural anti-parasitic capacity, and thus mango wood is rarely attacked by common insects.
Easy to maintain
Easy to carve and shape
Mango wood is waterproof, which increases its reliability and durability.
Is highly resistant to water, which makes this wood highly appreciated for making kitchen utensils.
Grows faster than other hardwood trees, and can easily adjust its supply to demand.
It is also very light, a property that makes it a wood of choice for exotic garden
Disadvantages of Mango Wood
The wood is susceptible to attack by dry wood insects. 
The wood is not resistant to attacks from marine borers (tarets, pholades).
May contain bumps
Not a good choice for wood construction.
Color is not always uniform
Is Mango Wood used for Furniture?
Mango wood is used to make home furnishings such as:
Cabinets
Tables
shelves
Veneers
Kitchen utensils
Beds
However, it is still considered a relatively new and modern wood and is used exclusively as solid wood . The mango wood bed in particular is enjoying increasing popularity. So if you want to buy mango to build your own bed out of it , you should have this planned by a selected specialist wood dealer.
Mango can be used in solid form or in veneer for multiple uses, but mainly indoors: interior carpentry, paneling, interior plywood, plywood face or counterface, molding , parquet, framework, turned articles, current furniture, shuttering, packing-crates. When it presents a very wavy wire which gives it a sought-after decorative character, it is used in cabinet making and in tabletting, in the form of sliced ​​veneers for decoration.
Is mango wood good for furniture?
Mango wood is, due to its hardness, density and lightness, one of the best options for furniture and decoration accessories in general. The pieces made of this wood present a wide variety of colors that go from blond to dark brown, passing through pinkish tones.
It is also easy to carve and shape, thus lending itself to decorate it with all kinds of engravings. As if that were not enough, it is very resistant to water, so it is also used to make kitchen utensils, which can be cleaned repeatedly without deteriorating their material. Like acacia wood, it is designed for interior decoration, but it can also be used for the terrace or garden.
Any piece of furniture can be made from mango wood. The best choices for mango wood furniture are pieces that will showcase the grain and tone of the wood which include: tables and chairs which are made of mango wood, as are consoles, dressers, bed frames and wardrobes.
Doors can also be made of mango tree, it is an exceptional opportunity to showcase the beauty of wood while creating a durable and strong piece of furniture. Some mango wood furniture is less common but still quite functional. Kitchen cupboards, for example, are usually not mango, although there really is no reason not to use wood for such purposes.
Mango wood desks are also less common, although, again, such a piece of furniture is a perfect way to show off the beauty of wood while creating a durable and affordable piece of furniture. This wood can be combined with other materials when building furniture.
The most commonly used material combined with mango wood is glass, as doors and table tops can be showcased in this material.
Reason to Choose Mango Wood as Furniture:
1. Mango wood has a sturdy appearance. 
It goes perfectly with today's industrial vintage furniture.
2. Can be combined very well with other wood products with a similar color.
3. It is durable
4. Is very stable and resistant
5. Mango wood has a unique pattern and interesting tones: from golden brown to dark brown
6. Mango furniture is very affordable. 
So always pay the best price for solid wood.
7.It is also a sustainable and environmentally friendly raw material
Is mango furniture durable?
Like pine and teak, mango is one of the modern types of wood and is characterized by its durability, individual grain and, in particular, its sustainability. Because a mango tree no longer bears any edible fruit after about seven to fifteen years, it is cleared. The wood is recycled so that we, and in particular our nature, benefit from sustainable use.
Here is a unique list with the most known types of wood in the world!
The wood of the mango tree belongs to the hardwoods, is very stable and resistant. It also convinces with its natural medium brown color and characteristic grain. Each mango wood product is unique. 
Over time, the inexpensive wood can form small cracks. However, these reinforce the rustic look. In order to enjoy your mango wood furniture for as long as possible, it is sufficient to wipe it regularly with a damp cloth. In spite of its lightness, mango has a very high density.
For the most part, mango furniture is very durable and waterproof. Always our advice is to keep hydrated with furniture polish , your mango wood furniture simply let its beauty grow with age as it should last for generations.
How to care for mango furniture?
To care for the mango furniture , it is recommended to clean the wood with a damp cloth . However, it should not come into contact with running water, otherwise it can swell and form stains. So that you can enjoy your mango wood product for a long time, you can use special care products such as wax or oil to seal the surface and maintain the color fastness.
Clean furniture with a soft, slightly damp cloth. Stagnant water and other liquid substances spoil the surface of the product; wet surfaces should be quickly dried with a dry cloth. Mango furniture should be protected from excessive dryness and heat; direct sunlight will not do her good either.
Since mango furniture is rarely made from raw, untreated wood, but is mostly brushed, lacquered or waxed, the maintenance of mango wood furniture is not difficult: just wipe your piece of furniture every now and then with a slightly damp cloth in the direction of the grain. 
All you need is regular dusting or maintenance with a damp sponge and knowledge to clean your rattan and mango wood living room. You can also use a maintenance wax from time to time to restore shine to your mango furniture.
Make sure that the furniture does not come into contact with too much water, otherwise you could swell. For example, if you have a coffee table made of untreated mango wood, we advise you to rub it carefully with linseed or olive oil, which will really enhance the structure of the mango wood. 
Less oil means more care for the table in this work step. For all mango wood products, waxes and oils are also available in specialist shops and online to keep them looking beautiful and shiny for a long time. 
Is mango wood durable?
It has a hard wood with dense grains, so it has enough strength to support the weight necessary for heavy chairs and tables, as well as withstanding the wear and tear of time very well.
Mango is classified as hardwood because of its strength, density, attractive appearance and of course durability which allows it not to wear out quickly and retain its high gloss texture for many years.
 Its wood has a color range from blonde to dark brown, and can even show a hint of pink, with the unique grain. Although it is durable and dense like ash or cherry wood, it is not strong enough for construction or for use as a parquet.
Is Mango Wood Sustainable ?
Another very important feature is the full sustainability of production. Mango wood is normally recovered at the end of the fruiting cycle of the plant, consequently waste is limited to a minimum. It is rare, in fact, that crops are started solely for the furniture industry, more frequent a recovery right after the harvest of the fruits. This choice also cuts costs : mango, in fact, has an excellent relationship between quality and price.
Mango wood is very sustainable as it is a waste product from mango plantations. Forests are not cut down specifically for the furniture industry , but generally cleared after a few years ,then but directly new trees planted are. 
Mango tree is a by-product of the fruit harvest of mangoes. The mango trees stand on the plantation for about 7-15 years, then it is sawn into large pieces, dried and used for furniture production.
The young mango trees then have to grow quickly in order to be able to produce many delicious mangoes from them. Mango is also a very solid type of wood, which guarantees the durability of mango furniture . So they are always a good choice.
Since it is a sustainable source of wood (due to its rapid growth), the mango is the best choice for furniture and home accessories such as plates, vases, trays, shelves, etc. It is a good choice of good alternative wood.
Is mango wood cheap?
In addition to the designs, mango wood furniture is cheaper compared to other hardwoods since the trunk of the mango grows at a much faster rate than the others. The trunk ranges from 31 to 152 cm in diameter and a single trunk reaches a height of almost 15 meters in a relatively short period of time.
Is Mango Wood Waterproof?
Mango wood is considered one of the hardest and densest in the world, and is also waterproof. Therefore, its early use was limited to shipbuilding, house cladding and sleepers.
Is mango wood termite resistant?
Natural resistance to termites: Mango wood is considered to be sensitive to termites.
Is mango wood toxic?
One of the drawbacks of this wood is that it can cause irritation on contact with the skin.