What is Acacia Wood? 5 Interesting Facts You Should Know
Acacia Wood is a very beautiful, practical and in demand wood. In this article we will show you what is acacia wood, where it is used, it's amazing characteristics and everything you need to know if you plan to buy acacia furniture for your home.
What is Acacia Wood?
Acacia is a heavy and hard wood that withstands climatic variations well. This strong resistance and its natural durability make it an ideal species for all exterior works and is a perfect alternative to exotic woods.
Acacia is the hardest of all hardwoods, characterized by high density and resilience. Its wood has a multidirectional structure (the fibers are located towards each other) and an increased resistance to friction, which makes it difficult to process when dry. The core of the trunk is colored in a noble reddish-brown color with dark veins, the sapwood is yellowish or light brown. Acacia wood requires a special, gentle drying regimen, as it is very prone to cracking.
Check here the list with the top 10 hardest woods in the world and see exactly if acacia wood is among them!
The acacia wood is a type of wood that grows in Africa, America, Asia and the Pacific coast. However, it originated in Australia and is native there. Actually, there are more than a thousand varieties of Acacia. The hardwood derived from the tree is suitable for the construction of long-lasting furniture and household items.
Acacia wood is not only hard and robust, it is also very flexible and easy to work with. The natural material is one of the few types of wood in resistance class 1 and can also be used outdoors without impregnation. Fungi, pests, weather will not will not affect furniture made of acacia on the balcony, in the garden or on the terrace.
Have you heard of rubber wood? If not check this article I wrote to help you see the advantages of this amazing wood!
What is the color of acacia wood?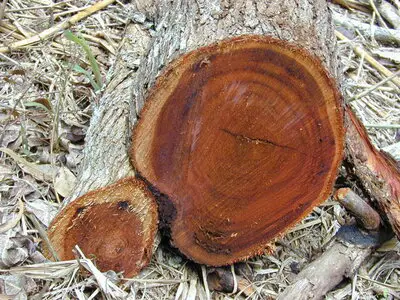 Acacia wood therefore appears in a wide variety of colors . Acacias have an irregular wood pattern, the heartwood color ranges from light brown to dark red and can be clearly differentiated from the yellowish-white sapwood.
Acacia wood is quite smooth naturally and even more so when it is treated. It has a warm tone with very attractive natural veins, in reddish or dark tones, depending on the piece.
Once the tree has been felled, its white to light yellow colored sapwood appears. The older the tree, the narrower the sapwood that surrounds the significantly darker colored heartwood. Exposure to light causes the heartwood to darken from light brown to golden brown and further enhances the contrast. It is also noticeable in the cross-section that the pores in latewood are significantly smaller than those in early wood.
Acacia is an elegant wood that fits very well in outdoor furniture and for country-style décor. It has a very attractive appearance, whether polished, varnished or natural.
See here why engineered wood is the most used material in the production of furniture!
What is Acacia Wood used for?
Acacia has many varied uses, from hardwood furniture to water-soluble gums used as thickening agents in food. The most common use is the cultivation of acacia for wood in the manufacture of furniture. It is a very resistant wood, so it is also used to make support beams for the construction of buildings. The beautiful wood is also used in carving such as making bowls and for decorative uses.
Acacia wood is used, above all, for the manufacture of bathroom, kitchen and garden furniture, since it is durable and waterproof, ideal for elements of intense use that are in frequent contact with liquids. Due to their fine finish, indoor furniture and even floorboards are also manufactured with them.
The clear and characteristic pattern of the tree rings makes the acacia wood highly decorative. Acacia wood is suitable for processing such as turning or milling, so it can be used for the production of, for example, furniture with decorative legs. Due to its hardness, care should be taken when connecting it with screws and nails, as incompetent drilling may cause cracks.
Uses of Robinia or Acacia Wood:
Outdoor and indoor furniture.
Ship building.
Floors and platforms.
Turning.
Manufacture of boards, beams .
Countertops and chopping or cutting boards.
In countries where it is abundant, it is used as a pole or even railway sleepers thanks to its good durability and resistance.
Characteristics Of Acacia Wood
Characteristics Of Acacia Wood
1.Color : The color ranges from yellow to brown, acquiring reddish tones as it ages. Heartwood is clearly differentiated from sapwood.
2.Wood Fibers: Straight.
3.Grain : Medium to coarse. Acacia wood has a straight or wavy grain pattern.
4.Density : Acacia is a heavy wood, with an approximate density of 770 kg / m3.
5.Hardness : Very hard wood with a Monnin test result of 9.5
6.Durability : It is a wood with good durability even in the open. It resists humidity quite well and even the attack of insects and fungi.
7.Durability class: 1-2
8.Dimensional Stability : Moderately stable wood.
9.Mechanical properties:
Compressive strength: 713 kg / cm 2
Static flexural strength: 1,284 kg / cm 2
Modulus of elasticity: 172,400 kg / cm 2
10.Workability : Although the straight fiber favors its workability, its hardness complicates it.
Sawn: Easy.
Drying: Slow. There is a risk of deformation.
Brushed: Easy.
Glued: Easy.
Nailed and Screwed: Requires knockouts.
Finish: Easy.
Advantages of Acacia Wood
Extremely robust and resistant
Very durable
Particularly flexible and elastic
Resistant to rot
Weatherproof and immune to fungi and insects
It has a variety of colors and textures
Is easy to paint and polish
It can be clean and maintained with little effort
Disadvantages of Acacia Wood
More expensive compared to other hardwoods
Is has a high risk of warping, cracking and splintering. 
The acacia wood has stains, color variations and knots.
The drying process must proceed very slowly so that the wood does not warp. 
Acacia wood tiles outside and also inside countertops can lead to increased warpage.
You need to maintain a stable humidity level during the heating season so that the boards do not dry out or deform.
Want to learn how to properly dry your wood? This guide will show you step by step exactly how to dry wood like a pro!
Is acacia wood real wood?
When talking about acacia wood, we should not generalize excessively, since there are different types or species. Among all of them, two types of wood stand out. The first one known as black acacia (Acacia Melanoxylon) and native to Oceania, although it really is not entirely black and the second one known as the "false acacia" ( Robinia Pseudoacacia ) , whose origin is mainly in North America, although it is normal to find it in temperate climates. Robinia or "false acacia" is the one we talk about since it is the most common and which we usually refer to when talking about acacia wood.
Each of them with more or less different characteristics. These trees belong to the Fabaceae family, with a large part of the species belonging to this family being found in Australia. Some of these are considered invasive species, so their cultivation is very limited or is not even considered as a timber species.
Robinia originate from North America and were introduced as park trees. They are now also growing in Europe, with the wood coming mostly from Southeastern Europe. Since black locust trees are very heat and drought tolerant, they will probably become even more important in the face of noticeable climate change.
Since robinia is permanent and hardly needs any maintenance, the furniture industry soon became interested in it. There is hardly any real acacia wood on the North American and European market, which is why the false acacia, i.e. the robinia, has become the name of acacia wood.
How durable is acacia wood?
Like robinia wood, acacia is very durable and resistant to fungi and insect attack. The wood will last 30 years and more if left untreated.
Here is a tutorial I wrote with easy step by step instruction how to remove mold from furniture!
Extreme hardness, best durability and can also be used outdoors – false acacias have similar properties to real acacia wood and even surpass many acacia species. It is the only non-tropical wood that meets the requirements for durability (resistance) classes 1 to 2.
This certifies that robinia wood is durable between "very durable" and "durable".
In contrast to real acacia wood, robinia wood has no extreme transport routes behind it and it does not promote overexploitation of nature.
Acacia is relatively insensitive to weather, insects and fungal attack. If left untreated, the hard wood will last up to thirty years outdoors. Nevertheless, it is recommended to treat the surface with glazes, hardwood oils or hard wax. 
Now after we know what is acacia wood, we should find out if it is good quality and if it is good for furniture.
Is acacia wood good for furniture?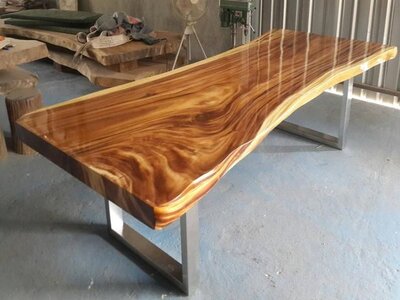 Building furniture from solid acacia wood results in a high quality end product.  The low moisture content of the wood greatly limits the shrinkage and warping that typically occurs in natural woods, which means your solid acacia furniture can last for many years. Acacia wood is simply the perfect material for modern solid wood furniture.
Acacia wood for furniture comes from heartwood of various types, often it is the Australian and Asian Acacia mangium, whose wood has a dark, brownish-yellow shimmer.
Due to its durability, its glossy finish and its various shades, acacia wood is often chosen to decorate the home, this type of wood is just a beautiful and practical material to create high-quality furniture. Depending on how the wood is finished, you can find acacias in light or dark tones.
For example, if you have a limewash paint, you will notice that the furniture looks smooth and the grain patterns will be noticeable. On the other hand, it is also possible to find a mahogany color finish (my favorite by the way!) That makes the furniture darker. 
Acacia wood has been used for multiple purposes as well as application, as furniture, you can consider for the bedroom, dining room and living room, for flooring applications, wood performs excellently.
Reason to Choose Acacia as Furniture:
1. It is strong
2. Resistant to wear and tear
3. Good waterproof protection
4. Resistant to fungi and insects
5. Has a variety of colors and textures
6. Can be clean and maintained with little effort
7 Can be used outdoor without impregnation
There are many people who are prevented from opting for acacia furniture or flooring, as they think it is expensive, but in reality this is not true; those in the know about furniture argue that as long as homeowners make sure to wax the wood as directed when purchasing the furniture, this method will maintain its natural shine and prevent cracking of the acacia. 
I must warn you that in case you buy a finished acacia wood furniture, waxing is not recommended. Acacia furniture is heavy, strong and resistant to wear and tear; These are great features that can be tailored to your needs and home style.
Want to refinish your acacia furniture and don't know how to start? Then this article is perfect for you!
How to care for acacia furniture?
So that you can enjoy acacia furniture for a long time, here are a few tips on acacia furniture care that relate to the acacia properties:
Maintain acacia wood with a damp cloth
Do not pour running water over acacia furniture
Don't place any hot or wet objects on acacia furniture
Don't place near a heater or oven on acacia furniture
With extreme temperature fluctuations or permanent exposure to heat sources, acacia wood contracts strongly and expands again after cooling. 
You should therefore ensure a constant room temperature and do not place furniture made of acacia wood directly next to heaters or stoves. Acacia wood feels most comfortable when the humidity is constant . With a humidifier, even smaller cracks can form back in the acacia wood.
Get an easy step by step guide how to stain your furniture in this amazing article!
What about the cost of acacia wood?
Acacia is very expensive, the price for robinia depends on the origin and the possible transport routes, on the trunk length and also on the quality. At a good 1,000 per cubic meter, the woods cost a little more than oak, but significantly less than Tropical woods. 
Is acacia wood sustainable?
One of the advantages of Acacia trees is that when harvested, they grow fast when replanted. Pine trees typically grow about 7% biologically each year, but Acacia exceeds this level.
Due to the speed of natural growth, it is difficult for forestry companies to run out of wood supply and deplete the forest in the process. As such, it is a good renewable resource that also cleans the air like other forests do. 
When it is first cut, it also has a sweet aroma, which is also different from other trees. They survive heat waves and drought well. 
Acacias are very important as they are nitrogen fixing plants. In this way, they contribute to the nitrification of the soil since it is ideal for plants, such as ornamentals, that need basic soils. They also facilitate access to this element from other plants.
Moreover, due to its edaphic plasticity and its high resistance to drought, acacia is a beneficial species in the context of global warming. In addition, acacia has the peculiarity of fixing the soil due to its strong lateral root system, which can extend up to 15 m in radius and thus participates in anchoring the land.
Acacia flooring is considered environmentally friendly because tree felling is well controlled and little waste is left from production.
Is acacia wood expensive?
 In places where it is abundant, for example, in the United States, the price of acacia wood is similar to that of other quality woods such as oak or ash. In other areas, as it is an imported product, the price of acacia wood is significantly higher.
With its high strength and beauty, acacia is cheaper on the world market than other exotic species, since this tree grows quickly. Up to ten years, acacia adds one or two meters per year, and then halves its growth. 
Is acacia wood waterproof?
The waterproof nature of this wood means that cookware will also not warp due to water damage. Acacia wood has good resistance to contact with water, which makes it one of the most suitable woods for outdoor use. It is a very durable material, capable of resisting changes in humidity very well.
The durability of Acacia wood, in addition to its resistance to water damage, are key selling points in products made from wood. Furthermore, the waterproof nature of acacia wood means that cookware will also not warp due to water damage.
Is acacia a good firewood?
The false acacia used as firewood is therefore in fact locust. But what is the quality of this fuel? Like fruit trees or chestnut , it is a semi-hard deciduous tree. Like fruit trees, it burns faster than beech or oak and as firewood it is suitable for maintaining the fire as it burns slowly, but still produces appreciable heat, without clogging your installation.
Despite these qualities, it is still necessary to underline a weak point of the false acacia: it produces cinders, that is to say projections of small embers which can be dangerous in an open hearth. If you are going to use locust for firewood, it is better to burn it in a closed fireplace.
Do you know how much wood is in a cord? How about a half cord? If not then this article I wrote will help you a lot!
In addition to oak and beech, acacia wood is one of the most popular types of wood to heat the house because of the following advantages:
burns very evenly
ideally suited for open fireplaces, as there is little spark formation
no odor formation
less resin
low noise
Note: When the acacia firewood is mentioned, it is actually the wood of a robinia (mentioned above), which is also called a false acacia. The black locust is one of the deciduous trees with the highest calorific value of any species.
Learn here the best tips and tricks how to burn wood in the best way. Also see exactly how hot does each type of wood burn!
How to treat acacia wood
When working with acacia wood, one of the most important processes for a good finish is sanding. A good finish should be fine, without chips, nicks or cracks. Professionals use circular and eccentric sanders for this. 
This tool can include a practical container for the dust that results from sanding and is used before painting or varnishing. These machines are complemented with sanding discs, and are usually 125mm or 150mm in diameter.
The orbital sanding of these sanders that can be seen here , offer a unique movement compared to that of other sanders, since they perform a simultaneous rotation of the sanding disc at the same time that they move it making small ellipses, and this allows to work the wood without having to worry about the direction of the grain. 
In this way, the sandpaper will go through the same place twice in each rotation without scratching the surface. Thanks to this type of rotation, the tool does not leave swirl marks on the surface of the wood.
Is acacia wood good quality?
The quality of acacia wood is incredible, and this is one of the best adaptations that supports both indoors and outdoors, even without the need for any treatment.
Is acacia wood harder than teak?
Acacia looks a lot like teak , and is often recommended as a substitute due to the high cost of teak, but has similar hardness and durability. The Janka score for acacia wood is between 1700 – 2200 compared to teak wood 1070, so in conclusion acacia wood is harder than teak wood.
Is acacia wood heat resistant?
Because the wood it is originally from Australia it had to adapt to the frequently bush fires and because of this is well resistant to changes in temperature and has a good heat resistant.