What is Varnish? 5 Interesting Facts You Should Know
Wood varnish is almost an integral part of any wood work. Whether you create small crafts, or are engaged in the restoration of furniture at some point you will have to face varnishing. But what is varnish?
Varnishing of wood is a general process defined by the application of a substance with a protective role, but especially of uniformity of the surface, which gives the pieces of furniture, in particular, a glossy, glass look. Recently, the matt varnishes have been chosen more and more often, but the acceptance still persists that a lacquered wood, either furniture or parquet, is smooth and glossy. A brushed and lacquered table top with 5% gloss lacquer can hardly be associated with the term "wood varnishing".
Wood, due to its unique charm and style, is a material that is often used both inside and outside buildings.
 If you want to keep the facade clapboard or furniture in good condition for many years, you need to take care of them accordingly.
 One way is to varnish them.Varnish can be used to coat wooden surfaces both as a finish and to fix another finish. For example, painting.
Wooden products are considered one of the most sophisticated and unusual. 
However, for the long life of the wood, special protection is required. 
For these purposes, you can use paint, but if you want to emphasize the structure of the material, it is better to cover such objects with varnish. 
The varnish for wood is a double-use finish, its purpose being to give a pleasant appearance and to prolong the life of the wood, protecting the natural properties that the material has.
But to ensure its efficiency, a correct application of varnish is essential, whether we are talking about indoor or outdoor application.
At first glance, the workflow should not cause any difficulties, but, as in any business, there are some nuances here. 
About what is varnishing and at the same time how to varnish a wood, read our article.
Types of Varnishes for Wood
When choosing a varnish, it is necessary to study information about its composition, properties, and safety measures during operation. 
It is also necessary to observe the staining technology according to the manufacturer's instructions. Only in this case, you can get a high-quality varnished coating.
In the modern market there are many different types of varnishes made on different bases. The most common type of varnish are:
alkyd varnish;
nitro-varnishes (nitrocellulose);
bituminous varnish;
oil varnish;
polyurethane varnish;
acrylic varnish;
epoxy varnish.
There are also narrowly targeted materials that are used exclusively for certain purposes, for example, ship, parquet, impregnating, etc. Consider the properties of different paintwork materials.
Types of varnishes

Features
Oil varnish for painting wood is made on the basis of organic synthetic or natural resins and oils.
Its advantages:

Ideally compatible with wood that readily absorbs an oily mixture.
It becomes very durable after complete drying, which, however, is very long (several days).
Alkyd materials incorporate alkyd resins and synthetic solvents.
They surpass oil analogues in:

Moisture resistance.
Hardening speeds.
Wear resistance.
Varnishes are divided into several types according to their composition: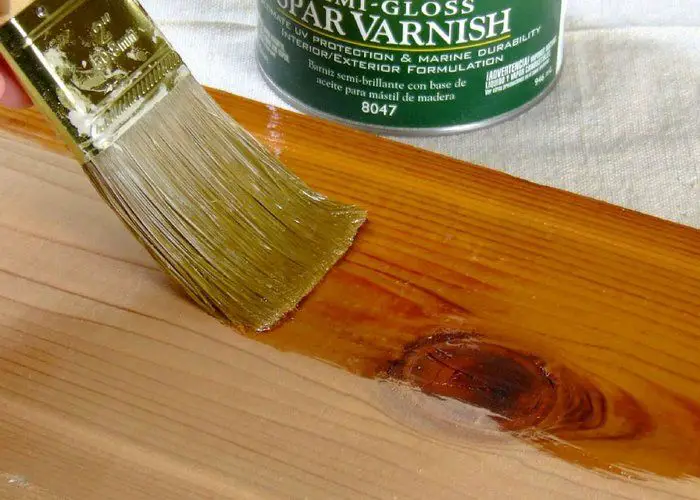 1.Alkyd varnish: are widespread, in comparison with their counterparts. They include artificially synthesized alkyd resin in combination with an organic solvent. 
Alkyd mixtures are distinguished by good adhesive properties on different surfaces, as well as resistance to moisture. 
It forms a solid, transparent film layer, which may be slightly colored. 
The scope of use of such varnishes is very wide: they are used for exterior and interior decoration. Often, consumers confuse alkyd varnishes with oil varnishes. 
However, they have differences in chemical composition. In addition, alkyd compounds have higher performance characteristics than their oil "relatives".
2. Bituminous varnish: produced from bitumen in combination with resins and oils. 
Varnishing with them gives a black film that is resistant to moisture and some aggressive chemicals. 
Bituminous varnishes are used mainly for the purpose of temporary protection of metal products, since permanent protection by them is impossible due to the lack of anti-corrosion properties.
3. Epoxy varnish: A mixture of epoxy resin and an organic solvent. Epoxy varnishes are characterized by good adhesive properties, resistance to water, alkali's. 
Designed for bonding, processing souvenirs, preparing putties and so on.
4. Alcohol varnishes or varnishes: made from natural resins that dissolve in alcohols. 
When varnished, they form a durable shiny film that can be polished. 
Such varnishes are quite expensive and are mainly used to cover musical instruments.
5. Petroleum varnish: appeared not so long ago. They are obtained by mixing petroleum resin and an organic solvent. 
They are much cheaper than oil varnishes, but surpass them in operational properties: they are resistant to humid environments and aggressive chemicals.
6. Nitrocellulose varnish: the chemical composition is a mixture of cellulose nitrate with an organic solvent.
7. Epoxy varnish: a mixture of epoxy resin and an organic solvent form a transparent quick-drying film. 
They are not water resistant and quite fragile. Designed for varnishing wood products.
8.Alkyd-carbamide varnish : obtained by dissolving two types of resins in organic solvents. 
When varnishing, a strong film is obtained, which is resistant to mechanical stress and moisture. 
These properties determined the scope of their application: they are used for varnishing furniture, wood products and parquet coatings.
9.Polyurethane varnish and alkyd-urethane varnish : characterized by high strength characteristics. 
Used in varnishing of parquet coatings, wooden furniture and musical instruments.
10.Acrylic varnish– obtained by mixing acrylic, an organic solvent and dyes. 
They are used as a decorative finishing material for the treatment of metal, glass and wooden surfaces: they protect well and give them different shades.
11.Oily varnish– consist of synthetic or natural resins and vegetable oils mixed with solvents and desiccants. 
Amber, shellac and rosin are the most commonly used natural resins. They are quite rare materials, therefore they are used to a limited extent, mainly for painting art and decorative items. 
Widely used are oil varnishes with synthetic resins. Durable transparent film formed on the surface of the product when coated with oil varnish, has a yellowish tint.
Such varnishes are unstable to atmospheric phenomena, therefore, they are used exclusively for interior decoration, for example, covering wood floors. 
The color scheme of oil varnishes, depending on the composition, can vary from light yellow to dark brown.
12.Water based varnish: are environmentally friendly products, have good wear-resistant properties, are resistant to water and UV rays, form a glossy or matte film. 
In their production, water and only about 15% of other solvents are used as a solvent. Waterborne varnishes with dyes give the surface a variety of bright colors. 
They dry quickly. They are used to cover parquet floors, facades of houses, windows, doors, gazebos and wooden garden furniture. 
Recently, many furniture factories have preferred water-based varnishes because of the absence of a pungent odor and toxic effects on the human body.
 Also, water varnishes are used for the preparation of primers, for coating glass, paper and melamine films.
Two-component varnishes are the most modern. Their operational properties are much superior to single-component and aqueous analogues. 
Of the shortcomings of two-component varnishes, it is worth noting the high cost and painstaking application, which requires specialist skills. 
These varnishes are not completely safe, since toxic substances are released during application. 
Therefore, you need to work with them in a respirator and protective gloves. 
Two-component varnishes are used, mainly for flooring with high operational load. 
Such varnish compositions must not be mixed with any solvents. If vapors are released in large volumes, there is a risk of explosion hazard.
Varnish compounds, which are used to protect wood, are produced in various colors. 
They emphasize the structure of natural wood, give a beautiful look to furniture, and also protect against mold, rot, insects and the negative effects of natural phenomena. Varnishes are used to cover window frames, wooden walls, doors both inside and outside.
Do you want to finish wood and don't know to decide between varnish and lacquer? I have for you the perfect answer here!
---
Acrylic Varnishes
Types of acrylic varnishes:
Matt water-soluble acrylic based varnish. The most optimal when used indoors. You can handle floors, doors, walls, furniture, even toys. It has increased wear resistance.
Glossy alkyd varnish for universal use. Gives surfaces a glossy sheen. It can be used for furniture, window frames, doors, parquet flooring.
Acrylic varnish with the addition of water, semi-gloss. It is used for internal work, gives protective properties against ultraviolet rays. It is possible to process surfaces of wood, brick, logs, concrete.
Alkyd glossy varnish is used indoors. It is possible to varnish wooden floors, as well as wood-fiber and wood-particle boards.
Polyurethane-based acrylic varnish, diluted with water, half glossy. Internal wooden structures, usually flooring, are processed.
Colorless varnish for knots : used for internal work, slows down resinous discharge from knotted surfaces. 
Urethane-alkyd glossy quick-drying varnish. It is used for processing wooden surfaces, indoor and outdoor use.
What is Varnish used for?
Varnish compositions are used to coat surfaces of various materials. By varnish purpose, there are the following groups of varnishes:
For walls and ceilings
Yacht varnish is used to protect outdoor furniture and sports equipment.They are mainly water-based varnishes that can be mixed with color to give the desired shade. 
They dry quickly, prevent yellowing, emit a faint odor, and are resistant to water, fat and household chemicals. 
They are used in the processing of various surfaces: panel, concrete, brick and log. Varnishes for walls and ceilings can be matte and glossy, colorless or of the most various colors.
Varnishes with high resistance to wear and shocks, as well as water and detergents are used for the floor . 
For parquet floors, varnishes that do not have a yellow shade are used so as not to spoil the natural color of the wood. 
They come in various degrees of brilliance, so you can choose the right one depending on the desired end result.
For wooden surfaces
 Varnish must have protection against damaging factors: insects, mold, moisture, chemically aggressive substances, and also emphasize the natural structure of wood. 
Mostly furniture, floors, musical instruments and souvenirs are made from wood, so non-toxic water-based varnishes should be preferred when we varnish them.
Anti corrosion varnishes are used for metal surfaces . 
More often it is a one-component polyurethane varnish compositions. They are applied to a previously cleaned, dried, primed or enameled surface for metal. 
These varnishes are easy to apply, do not leak, dry quickly, have high wear resistance. It is possible to apply the composition for metal processing even at low temperatures. 
It is suitable for surfaces of steel, aluminum, copper, cast iron. Tanks for water, chemicals, petroleum products, street structures, metal floors and equipment are processed with metal varnish.
Special varnishes for processing knots
 Are mainly used for working with coniferous species of wood. A special composition prevents the resin from knots from passing through the painted surface. Suitable for indoor and outdoor use.
 Yachts Varnishes
 Protective and decorative varnishes are used. Such compounds are highly resistant to water, salt, sunlight and mechanical stress. 
They are used for varnishing both surface and underwater parts of yachts, boats and other vessels, as well as for protecting outdoor furniture and sports equipment from adverse environmental factors. 
Three types of varnish are used for yachts: alkyd, polyurethane and mixed.
---
Stages of Varnishing
Wood varnishing is a laborious process in which every step is important. If you miss something, or do poor quality work, then the result is unlikely to suit the customer. 
Varnishing a wood in the following sequence:
Removing the old coating. Required if old furniture is being restored. Varnish and paint are removed from the surface.
Grinding. Its main task is to make the wood structure smooth, to remove all protruding fibers and splinters.
Elimination of defects of wood. Damage to wood can cause furniture to crack, even if it is varnished. Therefore, gaps and voids stick together.
Pre-drying. Before applying varnish to wood, you need to thoroughly dry it. This is the main guarantee that the coating will be even.
Application of the first coat of varnish. Actually, the most important and main process that turns ordinary wood into durable and beautiful furniture. Apply varnish along the wood fibers.
Drying and grinding. The first layer of varnish is dried for about three to four hours (however, it all depends on the type of paint composition), and then sanded with a sandpaper. To prevent dust from remaining on the surface, wipe it with a damp sponge, and then clean it with a clean cloth.
Application of the second and third coat of varnish. The varnishing of the wood is repeated several more times, each layer is dried and carefully sanded.
Polishing surface. It is used when you need to achieve even deeper gloss. A varnish is applied to a carefully sanded surface.
---
Methods for applying Varnish to Wood
Tools needed for varnishing wood:
Wool fabric
Extra fine steel wool
Fine sand
Flat brush
Wood can be varnished using a swab, brush or spray. Here's how you do it:
Method of varnishing using a swab made of cotton, wool or linen. It is saturated with a certain amount of varnish. The main disadvantage is that the swab leaves particles of nap. And this significantly affects the quality of wood processing.
Brush for varnishing. When the varnish is applied with a brush, the layer is made as thin as possible. Pre-squeeze it to remove excess varnish. And so that the brush does not dry out, you can periodically dip it in alcohol.
Spraying method. Using a special spray gun allows you to get even varnishing. But you can spray varnish only in a well-ventilated room – because otherwise small particles of dust in the air will fall on a wooden surface.
And the last one. Haste is something that is by no means unacceptable when varnishing a wood . 
Inaccurately applied varnish, not completely dried surface will spoil even the most valuable wood species.
---
How to apply Varnish
Varnish is a universal means of coating any species of painted and unpainted wood. The manufacture of wooden furniture, accessories, as well as wall and floor cladding are rarely dispensed with without its use.
Wooden surfaces must be varnished for several reasons:
it perfectly protects from moisture, insects and other aggressive influences, including mechanical ones;
able to emphasize the unique texture and natural color of the tree, therefore, in some cases it is a tool for the implementation of design decisions.
Modern manufacturers offer a large number of varnish compositions with which it is possible to cover wooden surfaces, while each product has its own unique characteristics.
The most popular varnishes include:
Oil. They include solutions of synthetic or natural resins, which allows you to form a fairly dense yellowish layer on the treated surface. In most cases, such materials are used to cover walls and floors in private homes.
Alcohol They are solutions of vegetable resins or polymers in alcohol, which are used for priming a tree after polishing. The compositions in question are not intended to protect wooden surfaces from moisture, but with their help it is possible to give the wood a shine and make it more durable.
Alkyd. Produced using synthetic resins with special solvents. Alkyd varnishes can be used for facing work in different conditions. They are often used to repair facades, walls and floors in private homes. They are resistant to moisture and increase the strength of wooden surfaces.
Nitrocellulose. They are made from nitrocellulose, which is diluted in special solvents using plasticizers. Such varnishes form an absolutely colorless layer on a wooden surface. The application of several layers of varnish helps to increase the strength of wood by an order of magnitude.
Acrylic The compositions in question are based on the action of acrylic resins. These are environmentally friendly and safe compounds that are durable and resistant to light. Such varnishes are used only for interior decoration.
Polyurethane Provide reliable protection for wooden products, often used in the production of musical instruments and for varnishing the floor.
CONCLUSION
Regardless of what type of varnish you will use, work should be carried out exclusively in accordance with the manufacturer's instructions. 
Varnishing of wood products is an area of ​​finishing work where savings are inappropriate. 
Poor coverage can permanently ruin a thing. And special care must be exercised when choosing a varnish when it comes to a valuable product. 
It is also necessary to take into account the compatibility of the varnish with the type of wood, since an improperly selected composition can cause an undesirable color change or a different kind of problem. 
In this regard, when buying varnish, you must always pay attention to the manufacturer's recommendations and consult the seller.
So you will definitely get a reliable coating that will protect the tree from the effects of negative factors.