What is Engineered Wood ?
When it comes to hardwood flooring you've probably heard of the words: engineered wood. It has become so popular but everyone question is: What is Engineered Wood ?
  Engineered Wood also known as "man-made wood" or composite wood is a versatile alternative to hard wood. It is constructed from multiple layers of wood called ply that have been reformed using heat, glue and pressure, each layer runs in different directions, which makes it very stable and provide better properties than hard wood.
What is Engineered wood made of?
The top layer of engineered wood is the fancy looking one: a beautiful veneer of solid wood. It's the layer you'll feel and touch and it's the most important choice to make when choosing your engineered floor.
The second layer of engineered wood is the clever one: a strong, supportive layer which can be made of plywood, particle board or medium-density fibreboard(MDF). All three materials work the same, preventing the top layer from warping.
The last layer of engineered wood is the stabilizing back layer. The result? A beautiful floor which doesn't buckle in areas of changing moisture.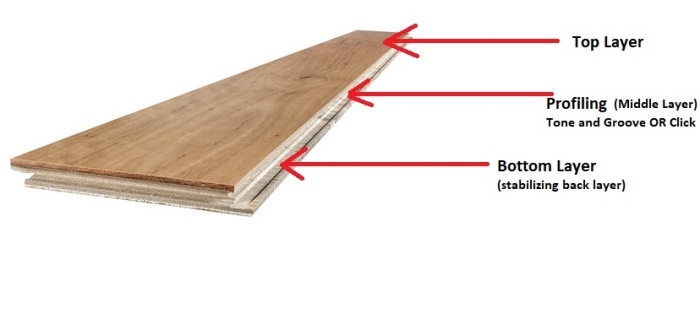 But before we discuss about the advantages and disadvantages of engineered wood, let us first see the various types of wood, solid wood and engineered, available on the market:
Solid wood
Here we find primarily two varieties : hardwoods and softwoods.
| | |
| --- | --- |
| HARDWOODS | SOFTWOODS |
| Comes from trees that have flowers such as: maple, oak, and walnut. | Comes from coniferous trees such as: cedar, fir, and pine. |
| Takes a long time to grow. | Takes comparatively shorter time to grow. |
| It is more expensive | It is less expensive |
| Is durable (less likely to decay) comes with close grain, and requires low maintenance. | It comes with fine wood texture. |
Both of these Solid Woods will give your furniture the natural look you want.
Engineered wood
The primary material used to manufacture engineered wood products is made from the same hardwoods and softwoods that we mention above.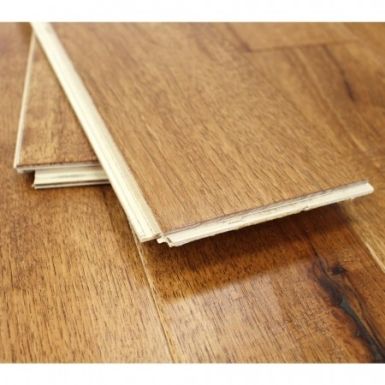 Engineered hardwood does come with a click fitting system or a tongue with groove profile. There are multiple finished you can choose : oiled, lacquered, brushed and unfinished, widths, lengths and thickness may vary depending of your requirements.
We should not confuse engineered hardwood flooring with laminate flooring.
Engineered hardwood is compose of a top layer of real hardwood, whereas laminate flooring has a high quality picture of wooden flooring laminate onto high density fibreboard (HDF), not wood.
---
What are the Types of Engineered Wood?
There are several types, the most common and important ones are:
Plywood
Is made from thin layers of veneer that are glue together with moisture-resistant adhesives under heat and pressure.
Each adjacent layer having their wood grain rotated up to 90 degrees to reduce the risk of splitting and also to improve the strength, stability and prevent wrapping.
Here is an indepth article about what is plywood, how it is made and why you should use this material!
Is used for a variety of interior, structural, and exterior applications such as structural frames and internal paneling. Can be treated and can be used in exposed exterior applications.
  The main disadvantages of using plywood are: that they bend and sag when exposed to too much weight or water, also is more expensive when compared to particle boards and medium-density fibreboard.
Particle board
Particle board is a commonly known engineered wood used in the manufacturing of many kitchen cabinets and countertops.
Is made made out of wood chips by compressing them with glue. The wood chips in the surface layer are thinner than those in the middle layer, so the surface of the particle board is denser and more compact.
The main advantage when it comes to particle board is that it can create any shape possible.
Some wood construction type using particle board are usually imitated even while making extremely complex curves and edges which will require far more difficult preparation if actual hard wood was used.
The main disadvantage to using particle board is that it is not very strong compared with other pressed woods, also great material to use when low cost is of higher importance than strength.
Medium-density fibreboard (MDF) production process involves grinding hardwood and softwood particles into wood fibers. Next, the wood fibers are combined with wax binding them with synthetic resin under heat and pressure to form panels. MDF offers a smooth finish and consistency. It is strong, but also easy to work with. 
MDF is it denser than plywood and it can soak up water faster than and hence is susceptible to damage if used outdoors.
Because the MDF surface is quite smooth, it is mostly suitable for painting and indoor furniture. MDF comes in different thicknesses and quality. If you take into account other types of hardwood lumber, MDF has a lower cost. Since it is made from waste materials and doesn't require fresh timber it is consider a green product.
Medium-density fibreboard (MDF) is not susceptible to splintering and provides consistency.
CLICK Here to SEE a comparison between MDF VS Particle Board
As a disadvantage it comparison to wood it has a higher weight per inch, less strenght and inability to repel moisture and a lack of wood grain.
This lack of grain can be a problem for some cabinetmakers because the boards will need to be primes and painted.
The material is just too absorbent for stains and can not have the finished look of wood.
Laminate veneer
Laminate veneer (LVL) is produced by bonding thin wood veneers together into one large billet. The grain of all facets of the LVL billet is parallel to the long direction. 
The resulting product features improved mechanical properties and dimensional stability that offer a wider range of product width, depth and length than conventional lumber.
 LVL is a member of the structural composite lumber (SCL) family of engineered wood products that are commonly used in the same structural applications as conventional sawn lumber and lumber, including beams, headers, beams, joists, circle boards, studs and columns.
Cross laminated
What is Wood Composite? Why Is The Best Material? Click here to see why!
Cross-laminated (CLT) is a versatile multi-layer panel made of lumber. 
Each layer of panels is placed transversely to adjacent layers for greater rigidity and strength. CLT can be used for long spans and all assemblies, eg floors, walls or roofs. 
CLT has the advantage of faster build times as the panels are made and finished on site and supplied ready to screw together as a complex plan package project.
Both hardwood and engineered wood provide a great look for any room but which type should you choose? Let's look into that!
What is the difference between engineered hardwood and solid hardwood?
As the name suggests, solid wood is entirely solid wood. The engineered wood is made in layers:
The top layer is a hardwood veneer and underneath, there are layers (or layers) of wood. 
Did you heard about wood veneer but you don't know what is it? This article will answer all your questions!
Generally, these canvases are perpendicular in direction and laminated together (similar to plywood), and generally (but not always), these canvases are made of wood although they are not necessarily the same species as the top layer.


Engineered wood
 Solid wood
Basics
Engineered wood is a layered product consisting of an effective but thin hardwood slice on a high quality plywood base.
Solid wood and nothing but hard wood, a homogeneous product from top to bottom and side to side.
Thickness,Width
The thickness can range from 3/8 inch to 1/2 inch. Standard widths are 3 1/4 inches, with plank sizes starting at 5 inches wide.
The thickness is typically 3/4 inches. Standard width starts at 2 1/4 inches wide. The plank width starts at 5 inches and can go up to 11 inches wide.
Prefinished vs. Finished site
Most engineered hardwood floors are pre-finished, although some companies make finished engineered hardwood floors on-site.
Pre-finished is increasingly the finish of choice for solid wood floors. Today, the finished (also called unfinished) site accounts for about 25 percent of the hardwoods.
Sanding
Sanding is one of the biggest differences between solid and engineered hardwood floors. Engineered wood can be sanded, but only once or twice lightly, before the thin top layer wears off.
Solid wood can be sanded several times. Eventually, solid wood will become too thin after years of sanding, compromising its structural integrity.
Installation
Engineered wood is simpler than solid wood since a wide variety of installation methods are available, including stapling or nailing, folding and locking, or glue.
The solid wood floor is nailed or stapled. It is never installed on a mobile base.
Resale value
Since engineered hardwood floors are real wood, they can be advertised as such in real estate marketing materials, making them more attractive to buyers.
As long as the floor is in good condition, the same goes for the engineered wood floor in terms of resale value.
Durability
Wood floors are durable, but not comparable to solid wood. Because the surface is thin, it can be chipped or de-laminated if stressed beyond normal conditions. However, its ability to withstand limited humidity helps improve its endurance.
Well-maintained solid wood flooring will last for decades. Humidity is the enemy of this biological product. Wood floors have a chance to be recovered after flooding, but they will never perfectly return to their former shape.
Humidity
Engineered wood is better than solid wood for dealing with moisture. Its plywood base is dimensionally stable, which means it deforms and flexes less easily on contact with moisture than solid wood. Plywood fibers run in transverse layers, a much more stable structure than parallel solid wood fibers.
Solid wood is never recommended for bathrooms, basements or other areas where humidity is prevalent or even expected. However, solid wood can withstand moisture. Finished in-site wood floors (as opposed to pre-finished), however, have a sealed top layer that can release some moisture.
Hardness
Hardwoods are the most durable, including many of the South American or Indonesian exotics, as well as birch, maple, and walnut. Hardwoods like pine are not found in the engineered wood format.
Solid wood encompasses a greater range of wood hardness than engineered wood. 
Hardness ranges from extremely soft and only suitable for service areas (such as Douglas Fir for workshops) to extremely tough hardwoods (for example, Brazilian Walnut).
---
How to identify if it is engineered wood ?
You can identify if it is engineered wood by the following characteristics:
Engineered hardwood it is much lighter than solid wood.
The exterior and interior of the planks will not match.
Lifting the furniture and looking at the base of the legs is another good indicator.
Engineered hardwood have either a click fitting system or a tongue and groove profile.
There are also different finishes to choose from including: oiled, lacquered, brushed and unfinished.
If you buy usually it is more cost effective than solid hardwood flooring.
Engineered wood is usually installed below grade(basements, below the ground).
It is more stable when you walk on it.
What are the advantages of engineered wood?
Engineered wood are preferred because they are design to meet specific customer requirements and contain certain advantages compared to solid woods like:
Affordable option:
They are manufactured using a mixture of byproducts materials such as wood fibres, sawdust, glues and chemicals.
Also furniture made out of engineered wood is more affordable so if you like to update your furniture more frequently it might not make much sense to invest huge amounts in furniture.
Structural advantages:
Because is "man-made" in the construction process it is design to be more resilient to changes in temperature and humidity.
This means exposure to humidity or moisture wouldn't cause warping or cracking. The wood is additionally impervious to termite attack.
In particularly common places the likes of bathrooms and kitchens where the temperature and humidity levels are constantly fluctuating solid wood expands and contracts whereas engineered wood is much less affected.
Also can be install in houses with underfloor heating systems.
Easy to work with:
They can be cut, drilled, routed, jointed, glued, and fastened easily using ordinary tools and basic skills.
Choosing a click system engineered hardwood will find it quick and easy to install.
Engineered hardwood offers easy care and maintenance.
Easy to move:
Compared with hardwood the "man-made wood" is lighter so it's and ideal choice for people that are at risk of shifting frequently.
More design choices:
You will have a choice of different wood species, styles, colours, finishes and plank sizes.
It offer a variety of styles with multiple finishes available in matte, semi-gloss, and high-gloss.
Also comes with a variety of visual effects such as hand scraped for a time worn appearance, distressed for a slightly rustic appearance, or wire-brushed.
Does not require sanding
If necessary, you'll be able to sand the top layer of real wood and refinish the flooring.
Engineered wood are often sanded but just one occasion or twice lightly but you get about 25 of service from the original finish and you can sanded again and get another 25 years.
Final it is great for people with allergies too because it has closed joints between the boards so the dust can never accumulate, dust mites or other allergy causing organisms cannot survive on clear floors.
---
Is Engineered Wood good for floors ?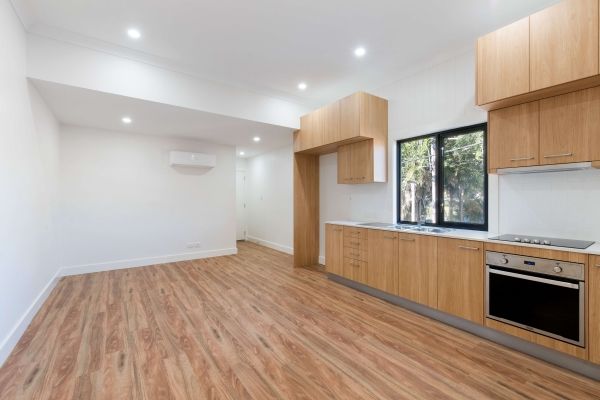 Engineered wood is good for floors but first you should make your choice based on the budget and location of use. One thing to emphasize is that engineered wood is a very versatile and stable product.
You get a natural floor covering at a reasonable price, being stronger and having more design choices to choose from than solid wood flooring.
It is still a natural product which offer various different installation methods such as glue down, stapled, floating with glued joints and floating click-together.
Another reason is that they can be easily installed over a variety of sub-floors like: concrete both below and above the grade.
It is recommended that you have a high traffic floor or the area has specific needs you should use an engineered hardwood floor with a high Janka score. It will give you the performance you're looking for.
In conclusion engineered hardwood is definitely good for floors!
---
Is Engineered Wood Durable?
The durability of engineered wood is given by the type of timber used and the type of finished applied to that timber on the top surface.
Some timbers are naturally more durable and harder such as oak, hickory compare to softwood timbers such as pine.
This ignores the fact whether the board is solid or engineered because the top surface of an engineered board would be the same timber that would be used for solid and therefore be equally as hard.
The factor which determines the durability of solid of engineered hardwood is the Janka score which refers to the hardness of the wood.
For example, Hickory is one of the strongest hardwoods available, with a Janka score of 1820 compared to California Redwood with a score of 420.
How Strong Is Engineered Wood?
Engineered wood maintain all the natural strength of the wood but is further strengthened by fixation methods.
In most part it is still natural wood, making his strength even more impressive and in some cases can be used to replace steel in various building projects.
But most importantly it's not subject to some of the natural characteristics like knots and splits which characterized traditional lumber.
What is Engineered Wood Price?
The price depends on several factors. Engineered wood is more expensive than solid wood because of its different components and the higher number of manufacturing steps.
 In both cases, the elements that influence the price are: species, width, lengths, thickness. For solid wood, the cost of the project will vary depending on the size of the boards chosen. 
There is also a price difference at the installation level, the costs being often higher for the engineered floor. 
In fact, you have to remember to use the right tools to glue the engineered wood. Solu supplies the glue, trowels and cleaning wipes to ensure quality work.
---
How Thick is Engineered Wood Flooring?
Engineered wood flooring comes in a variety of different wood species, finishes and board sizes.
Usually engineered wood it is available in fixed lengths but with different thicknesses typically from 12.5 mm(0.5 inch) to 22 mm(0.86 inch) having either a tongue and groove or click fitting system.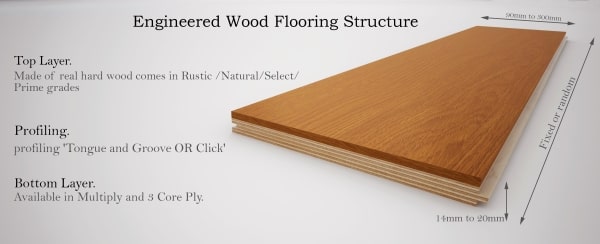 When you go to the warehouse to buy engineered wood and see a figure like 16/3 or 18/4, this means that the boards are 16 mm and 18 mm thick respectively with corresponding top layers of 3 mm and 4 mm.
There are generally two factors to the thickness of an engineered wood:
the overall board thickness
the top layer or lamella thickness.
The lamella is the face layer of the wood that is visible when installed. Typically, it is a sawn piece of timber. The timber can be cut in three different styles: flat-sawn, quarter-sawn, and rift-sawn.
It can be either prefinished floor (which is already oiled or lacquered) or unfinished (raw material which needed to be sanded and sealed with oil or a lacquer)
---
Where do you want to install the flooring?
You need to be careful when you decide to choose the best option for the thickness of your board.
Usually it is not recommended a board of more then 14 mm thick for under floor heating and a board of less than 18mm thick for structural projects.
Where you would like the flooring to go may assist you to make a decision whether to choose engineered or solid hardwood flooring.
Solid wood flooring is great for high traffic areas because it will be sanded down and re-finished multiple times.
So if you're trying to find flooring for an entrance hallway or living area then solid wood flooring might be a good option.
If however, you would like hardwood flooring for an area where temperature or humidity is continually fluctuating, I might recommend an engineered hardwood floor.
For instance , conservatories, rooms with tons of glazing or perhaps for a kitchen they all have installed engineered floors.
Engineered hardwood flooring has been designed to resist slight changes in its surroundings, so can deal with changing air temperature, or moisture within the air.
Where can engineered wood flooring be used?
Engineered wood is the best type of wood flooring to use with an underfloor heating system because it responds well to changes in floor temperature. 
Other types of wooden flooring can also be used, but with softer and less dense wood, special attention should be paid to the thickness of the floorboards so that they do not act as an insulator blocking heat. 
As a general rule, for wooden floor coverings, the floor surface temperature should not exceed 27 ° C.
Different types of wooden flooring have different thermal properties, so there are differences in their suitability for use with an underfloor heating system. 
The denser and thinner the floorboards, the better they conduct heat and are generally the engineered wood is more suitable for use with underfloor heating.
The question of which overall choice of wood flooring is most suitable in terms of durability is best answered by looking first at the intended purpose of the floor.
 For example, a busy corridor or foyer that is likely to undergo an above average passage the best floor is a high-density engineered wood floor (i.e. a species of wood that obtains a high score on the Janka hardness test glued to materials more absorbent). 
The engineered wood floor should provide ample impact resistance and sufficient "elasticity" to withstand intense use.
However, in a low-impact area such as a lounge, where pedestrian traffic is likely to be relatively lower, maintenance and lifespan become more important considerations. In this case, solid wood floors are considered to be the most popular choice.

Can I use engineered wood with underfloor heating?
Engineered wood can be definitely used with underfloor heating systems. If you are interested in underfloor heating then engineered wood is the perfect choice.
It has the following advantages like allowing the heat to be transferred to the surface of the floor, can deal with the constant changes in temperature and can react accordingly.
It'll expand and contract and is dimension-ally stable enough to not become damaged by the warmth from underneath.
CONCLUSION
Engineered wood is currently, and this all over the world, the type of wood most used in interiors for its strength, aesthetic appearance and easy maintenance. 
Current technology allows in particular the production of slats or boards much wider and accessible to the application of an immense variety of varied and really interesting finishes.
Engineered wood requires very little maintenance and has multiple virtues such as good resistance to atmospheric agents and high thermal insulation. 
The engineered wood is a reliable and inexpensive element that represents an innovative solution destined to be increasingly used in the building sector.
In this article I presented what is engineered wood, where can be used, the advantages and a comparison with solid wood.
Is Engineered Wood Waterproof?
Engineered Wood is not entirely waterproof, but it has more water resistance than solid hardwood. This means that it cannot be installed in below grade rooms like basements or rooms that are humid and moist.
Is Engineered Wood real wood?
Engineered wood looks very similar to the real wood on the surface, but it is made from thin layers of both hardwood and plywood which makes engineered wood not real wood.
---
RECOMMENDED READING: