How to Cut Melamine without Chipping [ Easy Guide]
Melamine chipboard is a combination of plastics and formaldehyde that form a resin that is then pressed into a particle board (or other material). You can use melamine board for furniture, veneer, insulation material and a variety of other uses. It is often glued to the particle board and knowing how to cut melamine without chipping (with or without particle board) is more difficult than it seems.
Improper technology will cause melamine panels to chip and splinter at the edges. The following article will show you how to cut melamine chipboard without chipping!
Helpful TIP!
Never use the table saw unless you have read the manufacturer's safety instructions and know exactly how to use this power tool. Always wear protective gear such as a mask, ear plugs, goggles.
Step 1. Choose the saw blade for cutting melamine
First of all, it is important to use the right saw blade. The more teeth, the better in principle. It doesn't have to be more than 60 teeth on a blade with a diameter of 250 millimeters. 
Even more teeth increase the cutting pressure and impair chip evacuation. Unsightly scorch marks threaten. When it comes to tooth geometry, there is an argument. 
There are special blades with a so-called hollow roof tooth geometry that are ideally suited for coated panels. However, these blades are expensive, not available in all sizes, very sensitive and also more expensive to sharpen than conventional blades. The following cutting methods all work for me with conventional alternate tooth blades.
You don't know what type of blade to use? Here is an easy guide which shows you how to choose a blade for your saw!
Type of saw blades for cutting melamine
Conclusion after cutting
1. 80 teeth 10 "carbide table saw blade
Quality of cut: Excellent
Usefulness of the masking tape: makes it worse .
2. 36 teeth 10 "carbide table saw blade
Quality of cuts: Fair, nothing more. 
Defects can optionally be fixed with light sanding of the edge after the fact.
Usefulness of the masking tape: None
3. 100 teeth circular saw blade 5-1 / 2 "
Quality of cut: Fair, nothing more. 
Defects can optionally be fixed with light sanding of the edge after the fact.
Usefulness of the masking tape: None
Based on these results so far, a better quality circular saw blade would do a good job . 
As we have seen, the number of teeth is not the only thing.
4. 18 teeth circular saw blade 5-1 / 2 "
Quality of cut: Terrible, cannot be repaired after the fact
Usefulness of the masking tape: None
Step 2. Mark the cut
Before you start cutting melamine panels, it is important to know where you are going to cut. Use a straight edge, pencil, and tape measure to mark your cut. Unlike other materials, you'll want to continue the line on both edges of the board. Adding the line along the edge will help keep the melamine board properly lined up with the blade.
Step 3. Prepare your saw
Obviously, the most important component to a good cut in melamine panels is using a properly prepared table saw.
First, make sure you are using the correct tool. To cut melamine or laminate boards without chipping, your saw must be equipped with a double-sided laminate / melamine blade. These blades are specially designed for cutting and at the same time minimize chipping.
Before making your cuts, get your table sawed as best you can. You should adjust your table saw regularly to keep it in tip-top shape anyway, but if you're planning a project with melamine, make sure it has been tuned up shortly beforehand.
If possible, use a backlash-free needle plate on your machine.
Want to sharpen your table saw or your circular saw? Here are the best guides to help you sharpen a table saw or sharpen a circular saw!
Step 4. Position the melamine chipboard properly for cutting
Next, set the circular saw or circular saw blade to cut 1/4 "into the melamine. You are not cutting the melamine at this step, you are simply creating a clean cut at the bottom of the melamine.
Since most of the chips occur when the teeth that are not actually removing material come into contact with the surface, this 1/4 "rating helps prevent breakage during the final cut.
For a cut without chipping, you will have to position your piece of melamine chipboard on the correct side:
For sawing by hand, the visible part must be placed on the top because any splinters will be caused by the blade on the underside (sawing from top to bottom).
Sawing it with a jigsaw or circular saw, the visible part must be on the bottom because the cutting direction is reversed (from bottom to top). Any splinters will be caused by the blade on top.
If you need to replace your saw blade here is a tutorial I've created to help you!
Step 4. Feed the melamine as smoothly as possible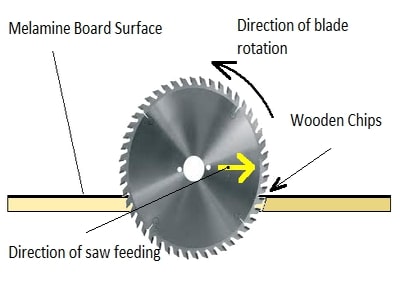 Another way to minimize the chipping and splitting is to make sure you are pulling your melamine board through the saw as smoothly as possible. To do this, make sure you have enough support for the board and saw. 
Make sure your saw is as stable and level as possible before you start sawing. In the event that your melamine is a very long piece, put another table behind or next to the saw to give the excess a place to rest while you cut.
Most amateur table saws can experience a drag problem while cutting, and this can be one of the biggest problems in making a smooth cut with melamine. Rub the surface of your table with wax paper sheets or use a top coat to reduce friction for a smoother lining.
Step 5. Use painters tape to protect the melamine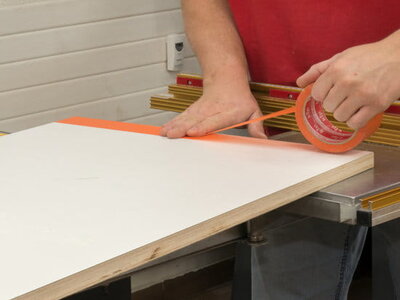 The vibrations and torques generated by a table saw are enough to tear the melamine and chipboard apart. To keep these materials from damaging, you'll need to reduce the amount of vibration placed on the board. Something as simple as two inch wide painter's tape will work.
After you have correctly measured the board and drawn a cutting line, apply the tape. Make sure the tape is straight and centered with the line, which means there should be an inch of painter's tape on each side. 
Place the tape on the side of the board that you want to face out and flatten it while pressing it down. When you cut the melamine board, do so on the back.
Step 6. Prevent the melamine from chipping
Melamine board is often thin and trying to use a table or handsaw to cut it will result in chipping the board. Particle board is often used for furniture and as the basis for a melamine board veneer. 
To cut the board without damaging it, attach it to a particle board of the same size. Use clamps around the sides to clip it in place and then cut the melamine board.
Step 7. Start to cut the melamine board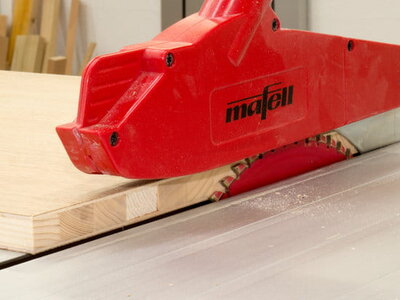 Helpful TIP!
It is very important not to use gloves , since the hands must be free when using this type of machine.
Now you will see that the second cut is clean too.
Once we have the equalized distance at the entrance and exit, we will make the first cut.
First cut:
The first cut will be between 1 to 2 millimeters deep. We are simply looking to cut the bottom sheet of the board.
Once we have cut the lower melamine – as you will see the cut is perfect – then we are going to give it a second cut.
Second cut:
The second cut is already made by cutting the entire board. If your circular machine has the disc protection, you can raise the disc to the height you want. On the other hand, in this case since I don't have disk protection, no.
If for any reason when making the second cut, the melamine board is seen chipping on the upper face, the problem could be due to:
Sierra in bad condition. Some crooked tooth.
Bad choice of circular saw.
Tilt of the blade.
Motor with bearings in poor condition.
Dirty or rusty pressure plates.
To help you even further I have created a step by step guide how you can EASILY sharpen your table saw in less then 5 minutes!
If the table is big enough the best technique for cutting melamine with a table saw is the following:
Reduce the depth of the saw to a few millimeters.
Make the cut so that the saw eats all the melamine and an additional millimeter of the board.
We raised the saw enough to cut the board.
We turn the piece over and make the cut again on the other side.
Melamine cutting using a machine.
The machine that usually cuts melamine is usually a squaring machine. It is a machine more or less of a considerable size. There are manual, semi-automatic or automatic.
For melamine cutting, we recommend blade speeds between 60 and 80 m / s. The following table indicates the rpm at which the automatic table saw should operate, depending on the diameter of the saw and for the different peripheral cutting speeds (on the blades).
ANGULAR SPEED (RPM) in Imperial Units
| | | | |
| --- | --- | --- | --- |
| Diameter Of The Saw Blade [inch] | 60 ft/s | 70 ft/s | 80 ft/s |
| 4″ | 38050 | 44620 | 51100 |
| 5″ | 30100 | 35100 | 40000 |
| 6″ | 25000 | 29000 | 32000 |
| 7″ | 20800 | 24000 | 27000 |
| 8″ | 18800 | 21900 | 25100 |
ANGULAR SPEED (RPM) in Metric Units
| | | | |
| --- | --- | --- | --- |
| Diameter Of The Saw Blade [mm] | 60 m/s | 70 m/s | 80 m/s |
| 100 mm | 11.460 | 13.360 | 15.260 |
| 125 mm | 9.180 | 10.700 | 12.220 |
| 150 mm | 7.640 | 8.900 | 10.160 |
| 180 mm | 6.360 | 7.420 | 8.440 |
| 200 mm | 5.740 | 6.700 | 7.660 |
How to Cut Melamine using Different Tools
Regardless of the tool we use, there cannot be vibrations or oscillations of the saw . Make sure that everything is tight and that the board is on a firm and well supported support. The vibrations in any cut are bad, for this purpose they are even worse.
Cut Melamine without Chipping with a Jigsaw
Cutting melamine without chipping with a jigsaw it is really hard. Even using some of the tricks that we will talk about later and with all the patience in the world, the cuts are not straight, as it is your pulse that guides the saw. 
In my experience, neither time nor material is worth wasting. However if you still want to do it, you should know that the melamine is going to chip. To finish this job, you should always use a sander to clean the edges and file the cuts.
Want to know how to easily change a jigsaw blade? Check this step by step tutorial!
Cut Melamine without Chipping with a Hand saw
Everyone who is an DIY enthusiast must have a hand saw. You can use a hand saw to cut melamine and I recommend to have a fixed rule positioning block which allows you to reduce the possibility of deviating from the cut. Sometimes manufacturers offer ruler positioning block when you buy the hand saw.
When cutting melamine with a hand saw it is very important that everything is steady and well secured in place so you can make a straight cut and reduce hauling and vibrations.
In addition, you have to know that using a hand saw the face of the board that will be the best is the one below. It is in this where fewer chips will jump and where we must pay more attention if we only want a good side. I comment on this in order to use a discard piece that improves the result.
Saw Blade or Discs for Cutting Melamine
The melamine cutting blade is the key to success. If you don't have a good saw blade and it isn't sharpened properly, it will look bad.
Melamine is a very fragile material, and it needs a specific saw and the ones that come standard with most hand saws or miter saws are for general use, but most likely that you will need to buy a saw blade specially designed to cut melamine.
This type of blade must have a high number of teeth and alternate (cuts at the top of the tooth). The number of teeth will depend on the size of the blade and the saw, for example for a 10 inch saw between 48 and 80 teeth. Regarding the material, it is best that it be diamond .
Tricks for How to Cut Melamine without Chipping
Lay the material and cut it exclusively on a flat surface. If you want to saw a large melamine board, you can slide 2 large tables together and saw the chipboard panel on it;
Along the line where you want to cut, you need to stick tape or masking tape. 
Then the edge of the laminated layer of the melamine will be retained and this will exclude the appearance of a chip;
If you are going to cut a chipboard, then you need to choose a saw with fine teeth. Before, it needs to be sharpened. 
The saw must be slightly pressed and led at an acute angle;
However, if you want to cut the chipboard with a jigsaw, you must first scratch a line on the board. You can also use a sharp knife and cut through the slab;
Then you need to install a saw with small fine teeth;
Select the maximum speed of the jigsaw;
The jigsaw must be guided exactly along the saw cut line and pressed very tightly against the stove.
If you listen to these tips, you will be able to properly cut the melamine chipboard without chipping. Therefore, if you want to get an even cut with a smooth line, on which neither chips nor saw marks are visible, then you need to contact a special workshop where you can cut the chipboard, here they will help you to cut the desired piece of the plate exactly.
Is there a trick to cutting melamine without chipping?
Yes! The masking tape is, together with the well-sharpened saw, the ideal complement so that the melamine does not chip.
We must place masking tape right where we are going to make the cut , so that it is much lighter and smoother.
This will lessen the impact of the saw, so the plastic layer on top will not peel off and the chips inside will stay together. And you will get a spectacular result !
Which saw should you use to cut melamine chipboard without chipping?
If you want to saw coated panels without splitting and also want an exactly straight cut, a circular saw is the only option for me. You will always have fewer tears if the teeth of the saw blade "dip" into the wood from the outside. This is typically the case with circular saws. Not with jigsaws – therefore a circular saw has advantages here.
Especially if you use a table or hand-held circular saw with a guide rail, the cut will be very clean. I would only use a jigsaw for round cuts if nothing else is available or if it doesn't matter because the cut edge is not visible later and does not have to be 100% straight.
The choice of the right saw blade is also crucial. This ultimately decides which teeth enter the plate at which angle and what the cutting edge will look like later.
Can melamine be cut?
Yes, melamine can be cut , but it is common that if we do not know how to do it, it will chip and peel.
How to cut melamine without chipping?
So that the melamine does not splinter when cutting, it is very important to use good materials and avoid saw movements as much as possible, as this will help the particles to separate and generate chips. To avoid this, it is best to use a sharp saw.