What is Wood Veneer? Secrets You Never Knew
Have you ever heard of wood veneer or veneer furniture ? Do you know what is wood veneer?
In this practical article we aim to give you some more information that will allow you to understand what is wood veneer, the aesthetic and functional advantages of the wood veneer.
What is Wood Veneer?
Veneer wood is a quality wood, taken from the trunk of the tree by sawing, knife cutting or peeling and cut into very thin sheets. The thickness of a veneer sheet is between 0.5 and 2 millimeters. By juxtaposing several sheets, it is possible to cover large areas with the same pattern. Yet each leaf is unique, precisely because of its origin: a real tree trunk. An origin which gives the veneer its authenticity and charm.
What is Wood Veneer Made Of?
Wood Veneer is made of a tree trunk by peeling, sawing or knife cutting. This technique removes layer by layer, which is why a lot of material can be extracted from a single trunk. To ensure that it is of particularly high quality, only certain top quality trees are used. 
For furniture construction, the veneer is attached to a carrier material (e.g. MDF or chipboard), giving the impression that the furniture is made entirely of wood. 
I have created an in-depth comparison between MDF and Particle Board in this article. You will find out which one is the best for you!
This technique is also used for making flooring. The veneer is the most precious thing that can be extracted from a tree and was very expensive in the past.
How is Wood Veneer Made?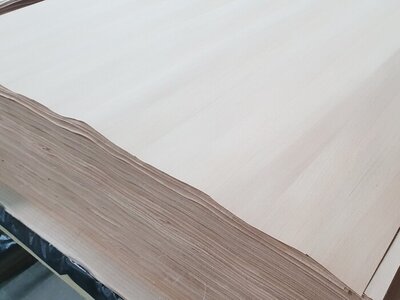 The process of obtaining wood veneer can be, as we have commented before, by unrolling the log or by very fine cuts of it, at the desired angle depending on the drawing that is sought. From both methods we obtain veneers of different lengths with very different patterns.
 It is mainly obtained from maple, beech, oak, ash and walnut, but not every tree in this genus is suitable for veneer. Choosing logs with the right color and wood structure for the desired veneer look remains a laborious task. Each veneer sheet is a unique natural product with an individual look.
Once the right tree has been found, suitable wooden leaves are cut from the trunk by sawing, knife cutting or peeling. 
The veneers, which are usually between 0.3 and 6 mm thick, go through a drying phase before they are cut to the desired size. The material is then glued to wood-based materials for surface finishing.
At the start of the production of wood veneer, the tree trunk, stripped of its bark, is steamed in hot water. 
This has two effects: the wood softens, which allows a smooth cut, and steaming has an effect on the color of the veneer. 
For example, beech, originally white, takes on a pinkish tint during steaming. 
The drying time varies from one day to two weeks depending on the type of wood and the desired color. 
Want to learn how to dry wood or the best techniques to apply? Then this article I wrote for you is perfect! Check it out!
The thin sheets of wood veneer are then sawn and peeled, then dried and ironed. This operation requires a lot of experience. Indeed, if the leaves are too dry, they become brittle and if they are too wet, they mold.
Learn how you can remove mold from wood with step by step instruction!
Is veneer real wood?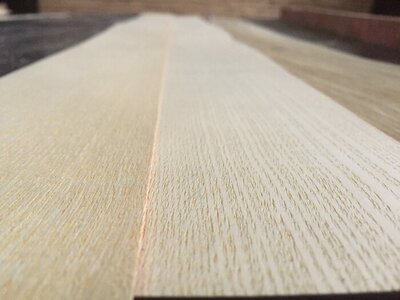 Experts always speak of real wood when the surface that you touch is made of wood. 
In fact, every area of ​​the piece of furniture that can be seen must consist of the same type of wood specified in the description. This means that both a solid wood and a veneered can use the term real wood.
Wood veneer is and remains real wood and is therefore not an imitation such as laminate / melamine panels (imitation of wood on paper).
What is Wood Veneer Used For?
Wood veneer is mostly used for interior applications like : residential projects, hotel projects, offices, etc. 
In addition, wood veneer can also be transformed into various products such as veneered parquet floors, flexible sheets of wood veneer, veneered panels, wall coverings, etc. Therefore it gives any interior a unique character. 
Its use is very varied within the world of decoration: furniture, doors, kitchens, parquets, coatings, marquetry.
Although for a while wood veneers have not been part of the avant-garde of interior design, it is true that this trend is changing.
We can appreciate how many manufacturers are rushing to update their catalogs in order to adapt to a demand that seeks the naturalness and warmth that only natural products can provide.
This makes it easier for wood veneers to have endless applications in interior design, each one more unique and original:
In furniture: wood veneers are widely used in cabinetmaking, covering or decorating furniture. Veneers with very irregular colors or shapes are highly valued for this purpose.
In cladding: wood veneers are frequently used in wall cladding, as they are a very practical solution to provide the warmth and natural beauty of wood without having to change the material of which a wall is made
On the floor: as in wall cladding, wood veneers are used to cover the slats that make up the floor of a room, creating the false illusion that this room has a wooden floor without changing the original floor.
In carpentry: wood veneers can be used to decorate a myriad of objects, whether or not they are made of wood, such as doors, flashing, sculptures, instruments …
In the art of inlaid: this artisan technique consists of making a concrete decorative design by covering floors, walls, furniture or other objects with pieces cut from different materials, in this case wood veneer.
Why is veneer so expensive?
Prices of  real wood veneer
The costs for real wood veneer vary depending on the carrier material: Chipboard is cheaper, fiberboard is of higher quality and therefore more expensive. 
In addition, the type of wood and the thickness of the veneer are decisive. The thicker, the higher the price.
For less than 1 millimeter, you usually pay a single-digit amount per square meter. Furniture with real wood veneer starts in the middle three-digit price range.
The price of wood veneer depends on two main criteria which are the essence of the wood and its quality, which is determined according to the homogeneity of the veneer sheet from "exceptional" (almost no knots or patterns) to "Classic".
The price of a wooden veneer sheet can only be compared in relation to the price per m². 
Very often, this price is not representative for the individual wishing to dress a small surface, who will rather turn to the veneer sheet with the dimensions closest to the surface to be covered.
Types of Wood Veneer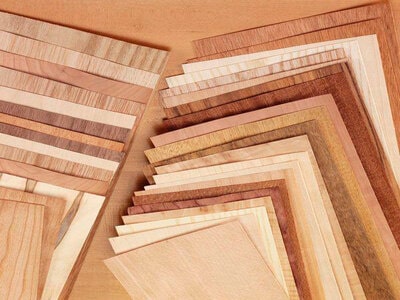 Typical types of wood for furniture with veneer are, for example, maple, oak or mahogany. 
The veneers are very thin and are firmly attached to the carrier plates as this does not contain solid wood that works. 
The wooden sheets can be placed on the carrier plate in such a way that a continuous grain is created. This is why veneer furniture often looks like it has been made from one piece. 
Check this dedicated list I created with the best types of wood veneer in the world!
Regardless of the type of wood used in the veneer, furniture with veneered surfaces is significantly lighter than solid wood furniture.
The main types of wood veneer are the following:
Standard: those that are taken from the standard or normal log or log.
Rarities: those that are extracted from special parts of the tree or from trees with singularities, presenting unique veins and colors.
According to their color they can be:
Light veneer: which comes from light woods such as birch, ash, maple, sycamore, etc.
Dark veneer: which comes from dark woods such as etimoe, walnut, wenge, zebrano, etc.
Check here the best type of wood veneer that you can find, in this article I wrote!
What is the dimension of the wood veneer sheet?
The dimensions of the veneer sheet are conditioned by the diameter of the log or width of the log, while the unrolling plate has no other limitation than the height since its width is undefined, so it is cut to manageable sizes for its handling and transport (from 90 to 120 mm).
The usual width of the wood veneer sheets is between 15 and 40 cm and the length of 2 to 3 m, used in many elements of carpentry and furniture. In special cases, such as some tropical wood logs, the width can reach 2 m.
The usual thickness of the decorative sheets can vary from 0.2 to 0.9 mm (5 to 9 tenths), the average or usual thickness being 0.6 – 0.7 mm.
What are the characteristics of wood veneers?
There are nearly 200 species of wood on the market from which wood veneers are made. To make it easy to select the most suitable veneer for a decoration, the veneer species are generally classified into categories.
In general, it is first classified according to the color of the wood:
light species  : alder, bamboo, birch, maple, ash, beech, olive, poplar, etc. ;
brown essences  : red alder, caramel bamboo, cedar, chestnut, yew, iroko, etc. ;
red species  : cherry, merbau, okoumé, rosewood, plane tree, pear tree, etc. 
dark essences  : smoked oak, ebony, ipe, walnut, wenge, etc.
It is also possible to choose the appearance of its texture:
classic  : the wood is fairly homogeneous in color and does not show many knots in its structure;
magnifying glass  : it is the appearance of a wood tortured by knots, roots or brushes on which there are numerous drawings made up of the different densities of the wood during the growth of the tree. We then speak of elm burl veneer, cherry burl, etc.
Advantages of wood veneer
Very sustainable use of wood: Since the wood sheets are cut very thinly, a small piece of wood can be used native wood species a large area of ​​furniture fronts can be covered. The remainder of the timber harvest can be used almost entirely for the carrier materials for veneer.
Top for ceiling cladding, cupboard walls and more: non-flammable variants are available.
The carrier plate normally ensures that furniture covered with real wood veneer is dimensionally stable.
Veneer impresses with its natural and at the same time elegant look and feel. Protection made of lacquer, wax or oil also contributes to this.
Disadvantages of wood veneer
You have to be careful when cleaning: It is best to only use a dry, soft cloth. Veneer does not tolerate cleaning agents. Microfiber cloths are taboo on painted surfaces.
Light scratches can easily be mended, but deeper ones would be fatal. Since the top layer of veneer sheets is very thin, regrinding is only possible to a limited extent.
It changes color over time from sunlight, but it can also look natural.
How do you recognize real wood veneer?
The lettering on the furniture does not always provide information as to whether it is real wood veneer or a plastic coating that looks deceptively real. "Veneer – just like solid wood – can be identified by touching it. "Just like wood, real wood veneer is always pleasantly warm, whereas solid wood is rather cold."
You can also visually recognize real wood veneer – if the same piece of furniture is available several times in the store or several pieces of furniture from the same series or production. 
Every piece of furniture covered with real wood veneer has a unique grain and color, while chests of drawers, tables coated with foil usually look identical. If in doubt, it is best to ask in the store.
Does your wooden drawers got stuck? If yes, here is an easy fix to make your wooden drawers slide like new!
Which room in the house to choose for the wood veneer sheet?
Noble material, the wood veneer sheet is only used for application on the interior walls of the house. And for good reason, it needs to be installed in a room with a temperature between 10 and 30 ° C with a low humidity (40 to 60%). 
This is why it is not recommended to install it in humid areas. The veneer sheets form decorative panels to put on the walls of a living room, a master bedroom, an entrance or a hallway.
The veneer sheets can be designed from different wood species, – oak, beech, birch, ash – depending on the desired color and style of the room. Their thickness varies according to the customer's request and the dimensions of the walls, to create more or less relief in the space.
By virtue of the value and elegance that characterize it, veneer has become one of the main materials used in the world of furniture and the production of excellent quality furniture. 
As for the home, it is possible to integrate veneered furniture in any room of the house:

Where to use wood veneer furniture
1. Dining Room: Tables or Chairs
2. Living Room: Sideboards and Buffet
3. Bedroom: Wardrobes or Bed Frames
4. Kitchen: Cabinet Doors, Drawers, Chests of Drawers
5. Bathroom: Shelves and Sink Tops