Varnish vs Lacquer: Which One Is Right For You? (Pros & Cons)
Lacquer and Varnish have different characteristics and properties that do not make them suitable in all cases and it is better to know the comparison varnish vs lacquer before making a mistake.
Although there is a difference between lacquer and varnish , many times we do not know how to differentiate them when applying it to a wooden piece of furniture, a door or another object.
The difference between a varnish and wood lacquer, remains very visual because varnish is colorless, while the lacquer masks the surface with a color. Both can be applied without problem on all types of woods. They are intended to protect the wood surface from the usual external elements.
In this article, we were going to compare lacquer vs varnish and we will explain you in detail the differences between them and help you decide what type of product to use for a finish.
What is Varnish?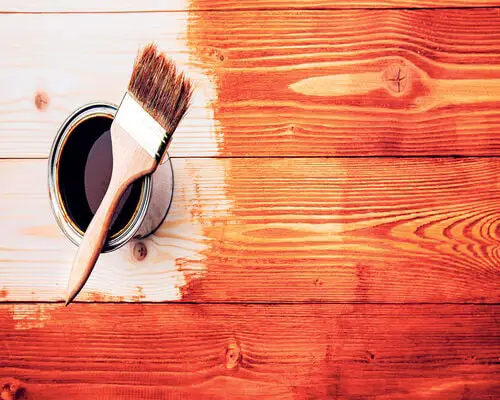 Varnish is a hard, transparent coating that works like a protective film around the top of your wood. When used, the varnish safeguards the surface of the wood and gives it a shine. It protects the wood well due to the high content of solids it contains. An additional advantage of varnish is that it offers defense against ultraviolet (UV) rays.
The varnish is a clear finish that acts as a protective film around the tip of your wood. This finish will bring out the natural grain of your wood without changing the color. The varnish is not only acceptable for shielding water and shocks, but also from UV rays.
Varnish consisting of a resin, a drying oil and a thinner or solvent. Since varnishes have very little color, they can also be applied over a wood stain to enhance the luster of the wood.
Varnish is a liquid that is made up of several natural substances that have good resistance. Among these can be mentioned the branches, leaves and/or root liquid. Therefore, it is used as a natural coating.
Varnish is a liquid made up of resins, oils and thinners, which can sometimes be in the form of a solvent. Once the varnish dries, it hardens into a thick, translucent coating.
It should be noted that varnish is the one used as protection for exterior wood , since it is the most durable because it can last 1-2 years withstanding weather conditions . It can be found in different presentations such as marine varnish , common varnish and water-based varnish.
Types of Varnish
There are three types of varnish:
Marine Varnish: It is highly resistant to the outdoors, especially for humid and saline environments. The marine varnish has a transparent finish of high gloss, hardness and flexibility, it prevents damage caused by fungi and insects, as well as from the weather and sunlight.
Polyurethane varnish: It has excellent flexibility, helping the wood in its contraction processes. The polyurethane varnish is waterproof, antifungal, and is highly resistant to aging, sunlight and humidity.
Water-based Varnish: It is a polyurethane varnish whose solvent is water, this makes it dry faster and odorless, making it ideal for protecting walls, beams, railings inside. For the exterior, tinted varnishes are recommended, since they are the ones that provide protection against UV rays.
But what is Varnish ? If you want to find more about varnish here is an in-depth article with all you need to know!
What is Lacquer?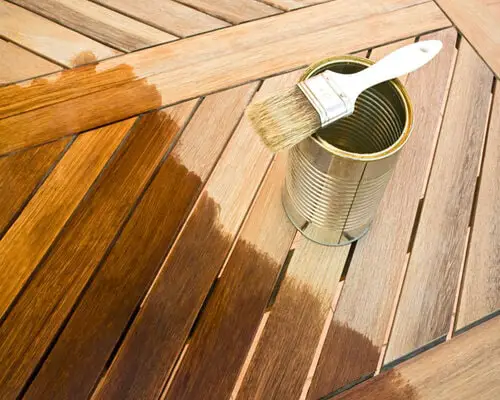 Lacquer is a product of natural origin , which is obtained from the secretions of an insect mixed with alcohol that can be applied to the surface of wood. This finish is a solvent-based hard finish which gives the wood a protective, amber-colored coating , and also helps protect certain surfaces from scratches or marks.
Lacquer has strong opaque colors and it ensures that the structure of the wood is no longer visible. The lacquer is like a film-forming layer over the wood. Usually lacquer is satin gloss or high gloss. Many people find this very beautiful about lacquer.
Lacquer is a solvent-based synthetic coating, so it gives your wood a glossy look. Most lacquers include shellac and alcohol, which bond together to form a durable protective film around the wood. The lacquer may also contain colors, which alter the color of the wood.
Lacquer is also a fast-drying, solvent-based surface that is applied to wood surfaces. Imparts a high gloss to the wood surface due to the shellac it contains. Lacquer is a mixture of shellac and alcohol and may also contain other synthetic substances.
When applied to wood, the alcohol dries, leaving a shiny surface. Lacquer shows some level of resistance to damage, but it can stain and scratch over time.
It can be found in different variations such as matt lacquer (it has no shine), glossy lacquer and sealing lacquer (lacquer to seal wood). It is worth mentioning that in some places it is called shellac , but it refers to the same wood lacquer. 
An important point is that the lacquer should only be used for interior furniture since if it is used for exteriors, the furniture could deteriorate quickly, we are talking about 1-2 months.
Lacquer gives wood a shiny , smooth and durable finish, but like paint it hides its original grain. Although it can be used on any type of wood, MDF (wood fiber chipboard) boards are the most suitable for obtaining a smooth and homogeneous finish.
The lacquer is first specially designed for wood, it is a product capable of hanging on this natural support. It offers the advantage of protecting the material or coloring it. The use of lacquer allows you to benefit from a resistant coating. So you can wash the support more easily and without risk of damaging it. 
Type of Lacquer
There are three types of lacquer:
Glossy Sealing lacquer: this is thick and has a caramel color. It serves to seal and is applied with a gun, mote or roller. After applying it, it is sanded since it is generally used as a base.
Brilliant lacquer: it is applied with a spray gun or speck. It is used to give a brilliant final finish.
Matt lacquer: its appearance is opaque and gives a matte finish. It is applied with a cotton ball.
Did you want to remove lacquer from wood and struggle to do so? I have for you an easy step by step tutorial to show you how!
Varnish vs Lacquer: Comparison Table
What's the difference between lacquer and varnish?
These are the most common finishes for wooden furniture, and the difference between varnish and lacquer is not always obvious, especially to those who are not experts in the field.
Components : the main difference is its chemical composition, since while the varnish is made up of oils or resinous substances in a solvent, the lacquer is in principle a natural product.
Finish : In the case of lacquer, it is brighter and maintains the natural color of the surface on which it is applied. The varnish is less shiny, and can be obtained in different shades.
Resistance : the varnish is much more resistant to water and high temperatures, while the lacquer is not recommended for elements that are outdoors, although it gives greater durability to interior surfaces.
1. The first difference is its chemical composition, while varnish is made up of oils or resinous substances in a solvent, lacquer is originally a natural product.
2. Another difference, more evident is the finish, the lacquer is brighter and is not normally used to add color, although it can provide a certain tonality. The varnish is less shiny, although it can be found with this characteristic, and it is often found in different shades.
3. The color that the varnish presents is transparent and when applied, it highlights the color of the object. The lacquer has a reddish color and dyes must be applied to achieve the desired tone.
4. Varnish can be thinned using turpentine but for the lacquer you should use paint thinner. If you do the opposite, you spoil the lacquer.
5. For wooden surfaces that will be subject to heavy use, such as cabinets or doors, it is best to use a lacquer. However if your wood is exposed to the sun(UV rays) and water, you should choose varnish at the end rather than a lacquer. The varnish is normally used for outdoor furniture , to withstand rain and sun while lacquer is recommended for interior furniture.
6. The drying time for the varnish is up to 8 hours, but diluted with thinner it can take up to 5 hours to dry. On the other hand, the lacquer dries very fast in about 20 minutes.
7. The varnish can be used to cover objects that have already been painted , to protect them and maintain them over time. Lacquer is normally used for wood.
8. Another difference between lacquer and varnish is the application procedure. Lacquer is applied as a spray, but it must be done in a well-ventilated area because the fumes are noxious. The varnish is recommended to work with a brush while the lacquer is more recommended to be used with a spray gun and compressor.
9. Lacquer is thinner than varnish. Lacquer can protect against water which is much higher in the case of varnish, small scratches, alkalis and acids. However, it does not protect against UV rays. You can get a lacquer for some sort of matte or gloss. Lacquer is not recommended for exteriors use while varnish is.
Varnish vs Lacquer: Scratches Protection
A layer of lacquer can protect the wood from small scratches. How long the barrier lasts is also a question of the product used. If you drop heavy or sharp objects on a lacquer floor, this protective layer is not hard enough either. There will be dents, holes or cracks.
A varnish wooden surface is even more sensitive in this regard. Since a varnish only protects the wood from the inside, it offers little protection against mechanical stress like scratches. 
However, this is often not necessary when using varnish. Because varnishes are mainly used outdoors as protection against weathering, solar radiation and mold.
Do you want to waterproof outdoor wood and don't know how to do it? This is the best tutorial to learn how to waterproof wood for outdoor!
Varnish vs Lacquer: Durability
The use of the sealing lacquer in a piece of furniture exposed to the outside can last approximately between a month and a half and a maximum of two months.
On the other hand, the varnish will last between a year and a half to two years approximately depending on the climatic conditions of your country.
If someone applies sealing lacquer to a piece of furniture that is going to have partial or complete exposure to the outside and wishes to protect it with this substance, but the time of care or protection of the furniture will be reduced considerably.
Varnish vs. Lacquer: Pros and Cons
Varnish Pros and Cons
Lacquer Pros and Cons
Varnish vs Lacquer: Uses
Varnish Uses
The varnish is used to protect and maintain the natural appearance of the wood surface, to protect the treated surface from mechanical damage, exposure to moisture and sunlight, rotting and destruction processes.
Varnishes are quite versatile, and are widely used on facades, structures, frames, and internal parts.
Before using it, the surface must be cleaned and a forest preservative and anti-fire must be applied abundantly. Then, with a brush or blowtorch, in the direction of the betas of the manner, cover with a first coat that is as little diluted as possible. 
You can apply two or more coats depending on your preference to increase the level of protection.
When to use varnish
Varnish are generally transparent, so they enhance the organic grain of the wood without altering the permanent color of the wood. It is often used over colored or painted wood to maintain its appearance.
Varnish can protect your wood from water and can fortify it so it can withstand shocks and storms. Varnish can be used outdoor(in wood fences) because it provides UV protection
In case you are restoring some antique furniture that will be more decorative than functional, you can use varnish because of your protective finish.
Lacquer Uses
The use of lacquer allows you to benefit from a resistant coating. So you can wash the wood surface more easily and without risk of damaging it. Thus, it increases the life of the wood and can be applied to wood indoors.
Before applying this product, it must be diluted in solvent and the surface prepared. Sandpaper the grain of the wood with fine sandpaper and then clean with a damp cloth, so that there are no residues of dust or grease. Then apply the lacquer.
Lacquer is a substance used to cover wooden furniture, giving it shine and protection.
When to Use Lacquer
The paint contains shellac, a fantastic choice for surfaces that will suffer a lot of damage, such as doors, dressers and other furniture and tables. You want to use paint because it holds things like clogs, bumps, bumps and acid much better.
The lacquer prevents the water rings from drinking shavings into the wood and discoloring in the event of a spill. But the lacquer doesn't offer UV protection, so it's not perfect for outdoors.
If you want to change the color of your woods or even the opacity of the sealing layers, you can find polyurethane lacquers with colored pigments.
Varnish vs Lacquer: Water Resistance
Both varnishes and lacquers give you some protection against water damage and wear. However, varnishes such as marine varnish and polyurethane, provide you with the best waterproof resistance and humidity.
The open-pored and deeply penetrating varnishes have a different weather behavior compared to lacquers. These will not crack or peel off. This makes the more frequent and regular renovation work easier to carry out. 
In the case of a lacquer, this must be examined for its load-bearing capacity. With a varnish, the surface must be lightly smeared so that the renovation coat can follow directly.
Varnish can secure your wood, and it can fortify your wood so it can withstand water and moisture. The varnish also offers UV protection, making it a superb product for outdoor use, such as in your own fences or around the home.
Do you know the best waterproof woods in the world? If not, this is the article for you!
Conclusion
Varnish and lacquer are two extremely vital surfaces that we use in woodworking projects. It is necessary to understand how these two types of wooden surfaces differ and how to use them.
Each one has its positive and negative points, and you need to know them to get the best out of each type of finish. Now, you should know where to use varnish and lacquer to use the best possible surfaces for wood surface areas in your woodworking tasks.
When in doubt about varnish vs lacquer, it is important that you think about the use of each type and the advantages and disadvantages. Thus, you will know which product, varnish or lacquer , will be ideal for the surface you want to finish.
Frequently Asked Questions