What is a Wood Dowel? Simple Explanation (Uses & Types)
Wooden dowels, those little cylindrical pieces of wood that a lot of people don't know about. They are however very useful, allow you to assemble the wooden elements in a solid and discreet way. We explain you what is wood dowel!
What is a Wood Dowel?
A wooden dowel (pin, dowel) is a fastener used in the manufacture of furniture. It has a cylindrical shape with longitudinal grooves that provide effective contraction of furniture elements. Available in various diameters and lengths, they can be used to assemble a standard table, cabinet or bed. 
There are many types of dowels on the market today that can be used in various projects and adapted to different needs. Wood dowels are made of high quality beech wood treated against cracking and drying.
Advantages:
ease of use;
exact geometry and dimensions of the product;
sufficiently high reliability of the connection.
Wooden dowels are a key component in furniture making to connect different elements together. The term dowel, which is more widely used today e.g. also for expansion dowels or plastic dowels actually comes from wooden dowels, although wooden dowels also differ from dowels in terms of function. Wooden dowels themselves create a connection between building elements, while other types of dowels are used to connect a specific element with a screw. 
It is also noted that the surface of a dowel can be smooth or fluted, and that the edges are often beveled or chamfered to facilitate fixing and gluing. 
The role of a wooden dowel is therefore to link two pieces of wood also. The operation is then called assembly by dowels or doweling. You might be wondering why not use screws and opt for dowels instead.
A wooden dowel is one of the essential components when it comes to connecting different elements in a piece of furniture. A wooden dowel is a practical connector between two wooden elements.
The dowel is completely covered and usually not visible from the outside. In terms of function, a wooden dowel differs fundamentally from a dowel for screws:
While the former already represents the connection between two pieces of wood, the screw dowel is only a means to an end to later grasp the screw that represents the actual connection.
If you want to cut melamine without chipping you need to see this amazing article!
What is a wood dowel used for?
Wood dowels are used to hang weight-bearing furniture. Its function is to secure a screw, which is screwed inside, giving it support on the surface. This is achieved thanks to the expansion of its rough surface, which acts as a grip.
Wooden dowels are mostly used for miter joints of individual elements, e.g. to build a body, and for butt joints as well as frame corner and T-joints. An example are the corner connections of drawers or the connection of horizontal with vertical boards on a shelf. 
Wooden dowels are used to connect components made of solid wood as well as composite wood (e.g. glued wood panels or multiplex panels). 
Round dowels with glue are increasingly being used connecting in chipboard and fibreboard. Due to the larger surfaces and higher strength, lamellar dowels are more likely to be used for this purpose.
Dowels are used as toy axles, structural assistance for cabinet making, and assistance for mini wedding cakes. That doesn't seem to be accurate, but experts say that since dowels are thicker than screws or nails and therefore aren't as prone to cracking.
In addition to these common functions, wood dowels are used for:
create strong wood joins
assemblies of wooden parts
reinforce an existing assembly
In what sizes and shapes are wood dowels available?
Wooden dowels are available in different sizes. The most common models, found in DIY stores, have diameters of 6, 8, 10 and 12 mm for lengths of 30 to 40 mm. There are also one-meter-long trunnions dedicated to special assemblies, in particular of large parts.
Wooden dowel is a cylindrical shaped piece of wood that can replace screws to connect two pieces of wood like furniture. There are different diameters and lengths on the market, as well as different types of wood. Ash and beech are widely used for the manufacture of wooden dowels because of their strength and durability. 
If you broken a wooden dowel don't worry because I have for you the best step by step instruction how to remove broken wooden dowels!
Type of Wood Dowels
There are different types of dowels, whose use and properties we would like to present here:
Corrugated round dowels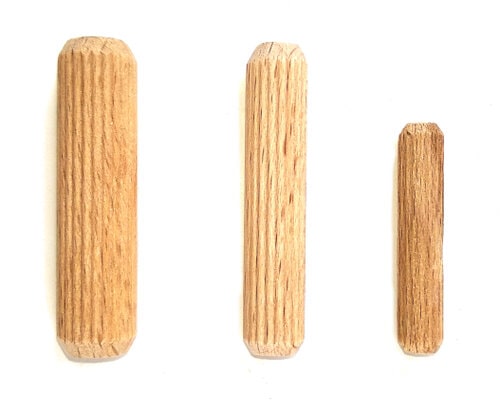 Ribbed round dowels are the best-known dowels and are often included with ready-made furniture and offered in hardware stores. Ribbed round dowels are the right choice for most connections that are not made on visible edges. 
The ribbed round dowel is used to connect two elements in pre-drilled, precisely fitting holes in the two elements to be connected. 
It creates a connection between the two components through the friction between the dowel and the component . If necessary, the strength of the connection can be increased by additional gluing. 
The ribbing(straight or rotating) has the advantage that glue can spread more evenly over the entire surface of the dowel by not being scraped off when inserted into the drill hole but flowing through the corrugation. 
The slightly chamfered ends of round dowels (also called chamfered ends), which are already present in prefabricated dowels (ie already cut to the right length), allow for better insertion into the drill hole.
Basically, the ribbed round dowels are offered both as finished dowels in already cut lengths or as dowel rods for cutting off the correct length. In the case of dowel rods, the ends must of course be beveled later if desired.
The ribbed round dowels are either cut to size (as shown in the picture) or offered as rods for you to cut to length yourself. 
If you buy a ready-made piece of furniture, the dowels are already ready and cut to the correct length. The usual sizes are mainly the Ø 8 mm dowel, but the Ø 6 mm and the Ø 10 mm wooden dowel are also popular models.
Smooth round dowels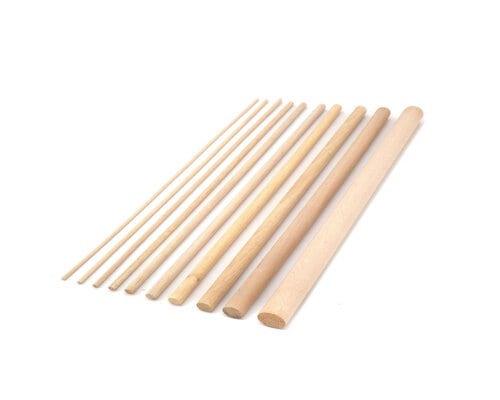 In addition to corrugated wooden dowels, smooth wooden dowels are also very common. Smooth wooden dowels are mainly used when the dowel connection will be visible on a visible edge in the finished piece of furniture. 
Smooth dowels look a little nicer here, since the corrugations of the corrugated dowels do not result in a completely smooth surface. The disadvantage of smooth round dowels compared to ribbed round dowels is their poorer ability to absorb glue.
Smooth wooden dowels can be purchased commercially in various lengths and diameters. In addition, longer dowel rods are available for individual cutting to length.
Laminated or biscuit dowels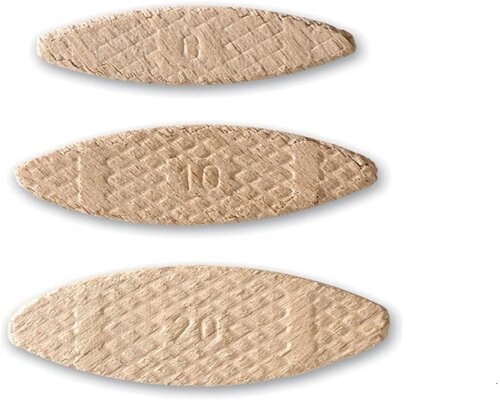 Flat dowels are lenticular wooden plates, mostly made of beech wood or wood fibers, and perform the same function as round dowels. Flat dowels are also called lamellar dowels because they have small lamellae pressed into the surface, which ensure better absorption of wood glue. This type of dowels can be used for both butt and miter joints. 
The big advantage is the much larger area compared to round dowels, which ensures a more robust connection that can usually withstand slightly higher loads.
However, this in turn also has a decisive disadvantage for the do-it-yourselfer: the narrow grooves for the lamella dowels cannot be milled in without the appropriate milling machine.
The disadvantage is that you need a milling machine to use the flat dowels, with which you can cut the in the workpieces into which the dowel is then sunk.
What is a wood dowel made from ?
Manufactured from hard wood (generally beech) because of the dense fiber of this wood, the commercial dowels are fluted to ensure better fit of the parts and to increase the effectiveness of the bonding. 
The most commonly used diameters are 6, 8 and 10 mm, sometimes 12. The larger diameters are rather reserved for the frame, and are then cut directly on the site as they go.
As a rule, dowels are made from hardwood:
Birch: light, strong and durable. Good resistance to impact and bending loads.
Maple: quite hard and difficult to process, but at the same time they are characterized by good mechanical stability.
Oak: also difficult to manufacture (hence the high price), but characterized by a long service life.
Want to know what wood is the best, which wood has the best proprieties and where is best used? Check this comparison between Maple and Walnut!
Assembly by wooden dowels has several advantages, including the aesthetic aspect. The dowels make it possible to create an invisible link for a perfect aesthetic result. Unlike the screws which remain visible from their heads and the plastic covers which are not really aesthetic.
One might think that the aesthetic aspect is not of great importance, but when we see the unsightly rendering on our furniture, we realize the usefulness of wooden dowels. The assembly by dowels also allows a solid and durable fixing.
This is thanks to the resistance of the construction materials (ash or beech) and the fact that the dowel fits into the two parts to be joined.
Another great advantage of this method is that it does not require special techniques or specific tools. All you need is a drill bit, white glue and a clamp or other clamping device to attach the dowels.
When are wooden dowels used?
Actually, wooden dowels are not holders for screws, but small pegs for butt joints. Many people probably know the small wooden pins from the Ikea kits.
For example when they hold drawers together with screw connections. Wooden dowels are suitable as an invisible and stable connection between two panels or for a T-connection.
The dowels hold the components together in both solid wood and composite materials such as MDF or OSB . If, for example, two wooden boards are to be connected at a 90° angle, the small round dowels are the method of choice. But the dowels are also used for miter cuts, i.e. connections with 45° each.
Here is another wood comparison between Oak and Mahogany! You will find everything you need to know about this type of woods!
How is wooden dowel made?
Traditionally, in order to create a wooden dowel, a thing called a dowel plate can be used primarily to ensure that it is the correct size that is desired, but also to shave off the extra wood to make it easier.
Need to take a slice of wood, down to be slightly larger than desirable, then pass it through a hole on a peg plate, which also smooths the peg.
To mass-produce the dowel, more sophisticated machines are used.
It is also quite simple to make wooden dowels, to do this, all you need is a metal bar that you will drill to the diameter of the desired dowel.
Then we will insert a rectangular piece of wood with a section slightly greater than the diameter of the hole. Then we will hammer it with a wooden mallet to give it a round shape.
Even if this technique is quite long (cutting pieces of wood and size), it allows you to choose your wood species and the diameter of the wooden dowel.
What dowels to use?
Before you start assembling or repairing your furniture, it is important to determine which dowels you need. This mainly concerns the thickness of the dowels. The thicker the wood, the thicker the dowel should be. 
To choose the right dowels, and therefore the right length and diameter, you must take into account the thickness of the parts to be assembled. You risk weakening the wood of the parts to be assembled if you use a dowel that is too big, whereas a dowel that is too small would not be strong enough to maintain the link. 
Below is a brief overview of the required dowels per wood thickness:
| Wood thickness (mm) | Dowel thickness (mm) |
| --- | --- |
| 0-18 mm | 6 mm |
| 18-22 mm | 8 mm |
| 22-30 mm | 10 mm |
In principle, the rule is, the thicker the wood, the thicker the required dowel. This way you can be sure that you are making a strong and reliable construction.
First of all, you have to find out which wooden dowel is the right one for your project. The length of the fastener should be at least equal to the thickness of the workpiece. 
Choose the diameter based on the thickness of the board. For thicker boards, the diameter of the wooden dowel should be about half the size of the wood. For thinner boards, a dowel diameter of about one third of the wood is recommended.
What diameter is required for round dowels made of wood?
The right choice of the wooden dowel, both in terms of its diameter and its length, is crucial to ensuring that it will hold up well later and can withstand the loads that act on it. There are rules of thumb that are easy to remember:
This should correspond to around half the thickness of the wood to be processed:
Diameter: wood thickness x 0.5 = dowel diameter 
However, this value should be reduced to around a third for very thin fiberboard or chipboard (less than 12 mm).
So if you want to put a dowel in a 20 mm thick wooden board, it should have a diameter of 10 mm. With 16 mm, a Ø 8 mm dowel is sufficient, etc. With 12 mm chipboard, however, it is advisable to use a Ø 4 mm dowel.
What length is required for round dowels made of wood?
For thicker wood, it is recommended that the dowel length be at least the thickness of the wood (i.e. at least 20 mm in length for a 20 mm piece of wood).
Length: Wood thickness = dowel length (minimum size)
With thin wood (less than 12 mm) it is advisable to increase this value to at least double it.
Note: Too small a diameter often causes the wooden dowel to burst the wooden elements in which it is set.
Do you find it difficult to read a tape measure? This is an easy step by step tutorial how to read a tape measure!
Conclusion
Wooden dowels are affordable and practical. They will quickly become your allies when tinkering once you learn what are and how to use them.
In this article I have show you what is a wood dowel, types of wood dowels, how they are made. I hope this complete guide will be of use for you!