Mahogany vs Oak (Which is the Best | Pros & Cons)
We start a series of articles based on the comparisons of woods and today we have Mahogany vs Oak. In woodworking mahogany and oak are one of the most used woods to build desks, cabinets and other household items.
Mahogany and oak are traditional hardwoods used in the United States in the manufacture of furniture. We will take a closer look at mahogany vs oak properties and see which fits best to an woodworking project and also what sets mahogany and oak apart from one another.
Mahogany vs Oak
Mahogany vs Oak: Color
Mahogany wood is available in different color gradations from reddish brown to light brown. The grain of mahogany wood can be veined, flamed, spotted or simply striped, depending on the region of origin. 
Mahogany wood should be treated with transparent wood preservatives to preserve its red-brown color and its noble shine. If mahogany wood is used outside without an appropriate surface treatment, it turns gray very quickly.
Oak wood has a gray-yellow to yellow-brown core that differs in color from the surrounding sapwood. Only the heartwood is suitable for processing, as the sapwood is not durable. 
The annual rings are clearly recognizable and give it a uniform grain, which is characterized by very fine or wide rays. If the wood is cut diagonally to the trunk, tongue-shaped "fladers" are created in the grain.
The color difference between mahogany and oak is irrelevant because despite the fact that mahogany is reddish to brown, oak can be stained in the same color as mahogany. So the main difference we should focus on is the aesthetic and grain patterns.
The mahogany grain is very close and straight. If you value a uniform and consistent look, go for mahogany. Oak features bold, eye-catching patterns that are complex and varied. 
Choose oak wood for a busy look. Oak grain lines are typically black. The mahogany grain lines are brown and less prominent, so you may have to look closely to see them.
How to Distinguish between Mahogany and Oak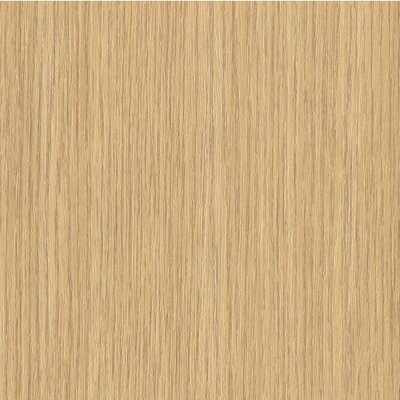 Oak can often be confused with pine and maple wood. However, oak wood is harder, heavier and more resistant. Hitting wood makes it possible to differentiate one wood from another, as oak has a denser and more solid sound.
One way to identify whether a piece of furniture, for example, is actually made of oak is to try to carry the product. If you can easily lift or carry it, it is probably not made of oak it could be pine, which is a lighter wood.
Color is also another way to differentiate these woods. Mahogany has a more darker brown color, while oak tends to have a more reddish hue.  mahogany also fits better in traditional and rustic styles.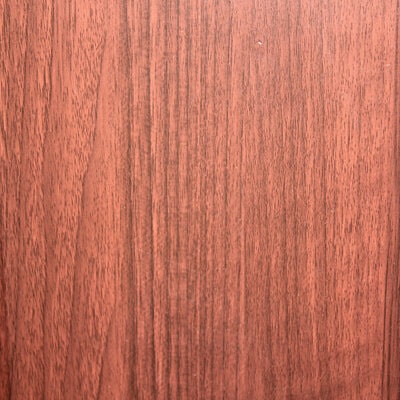 The mahogany it is recognizable with its shade ranging from pink to dark red. It is used in cabinet making, but also in violin making, in particular to make guitars (necks and bodies).
Mahogany can be pinkish-brown to reddish-brown in color. This depends a lot on the conditions under which the plant grew. The wood tends to darken over time and has its own shine that keeps its beauty intact for decades!
Want to know more about other different types of woods? This article will show you 65 different types of woods and their pro and cons!
Mahogany vs Oak : Hardness
Mahogany wood is one of the harder hardwoods of deciduous trees and is highly resistant to fungi and insects. It is therefore ideal for garden furniture and outdoor floor coverings . 
Good processing properties and low shrinkage are characteristic properties of mahogany wood. It warps very little and evenly. In the timber trade, mahogany wood is one of the most sought-after and best types of wood worldwide due to its technical properties and decorative appearance .
Workability is also excellent: in fact, although mahogany has a decidedly high consistency and hardness, its linear and regular fibers make it extremely available for cutting, planing and inlay operations.
Oak wood has characteristics that are highly appreciated by the timber industry. It stands out for its good resistance to humidity and its good mechanical characteristics, making it a kind of wood widely used in construction. 
Oak is a medium-weight type of wood, is very strong and does not warp, but it cracks quickly. It contains tannic acid, so metals such as nails can rust and discolor the wood. 
Steaming makes oak soft and pliable. The surface of oak wood absorbs the treatment with wood preservatives well and can be stained , glazed, varnished and smoked. Outside, it can easily be used untreated.
Do you know the hardest woods in the worlds? I have created a list with the hardest woods in the worlds. Come and take a look !
Mahogany vs Oak: Durability
Mahogany is very durable has a good resistance to rot, humidity, insects and fungi. This makes it a highly durable wood, even when used outdoors. Due to its high density and durability, it is recommended for use in areas with high humidity.
On the other hand oak wood it's sturdy and known for it's durability. Both mahogany and oak are weatherproof and very resistant to external influences. Oak is extremely durable both underwater and in the ground. 
Mahogany when dry does not shrink and therefore doesn't crack while the oak wood it is difficult to cut but can be bend easily.
For the production of joinery, oak is more suitable. The most revered characteristic of oak wood is its frequent heart-shaped rays, which gives oak products a sophistication and a beautiful appearance.
Oak wood is quite heavy and hard. However, at the same time, it is a very malleable and easy-to-work material.
 It has long durability, high resistance to mold and mildew and unique beauty. All these characteristics make oak a very appreciated wood in carpentry.
Having trouble removing mold from wood. Don't worry because I have the best step by step guide to learn you the best tips and tricks!
Mahogany vs Oak: Price
Depending on dimensions and thickness, prices of oak varies between 1200 $ and 1800 $ per m³ (cubic meter), while real mahogany normally costs around 4,000 $ per m³ (cubic meter) in the timber trade. 
Occasionally it is available a little cheaper, but usually you have to expect at least 3500 $. This means that mahogany costs almost four times as much as oak, which is widely used.
Do you know how much wood is in a cord of wood? Or how much does it cost a cord of wood? I have this article which will give you all the necessary information's!
Mahogany vs Oak: Uses
Mahogany woods are widely used and appreciated in the production of furniture for the ease with which they are worked, for their stability and duration, in addition to their shiny reddish-brown appearance, after polishing. 
And also in the production of musical instruments for their characteristic timbre and sound resonance, which tend to the medium-low range, notably guitars and guitars, but also in some percussive drums.
Mahogany Uses
Manufacture of quality interior furniture . This is the main use of mahogany wood and the reason why it is so well known.
Outdoor furniture.
Interior and exterior carpentry. Doors, friezes, moldings, baseboards, coatings, walls.
Decorative plates.
Manufacture of musical instruments. It is in high demand for electric guitars that require a solid body.
Artistic objects, carvings and / or sculptures.
Turning.
Boats.
Oak Uses
Without a doubt oak is the most versatile woods that exists . We could finish before saying what are not the uses of oak wood. Some of these uses stand out:
Wine barrels or cooperage. Depending on the type of oak used, different characteristics are obtained.
Quality furniture. Both indoor and outdoor.
Floors or parquets.
Decorative plates and boards.
Carpentry: baseboards, moldings, doors, windows, fences.
Turning.
Wooden beams.
Manufacture of ships.
Construction.
Mahogany vs Oak: Water Resistance
Mahogany wood is harder than Oak making it more stable and harder than other wood species. Its properties of hardness and longevity, without grooves without pockets, also make it resistant to water and scratches. Because of this, mahogany hardwood floors are very durable and last a lifetime.
By their very nature, mahogany wood is particularly resistant to the effects of the weather. If left untreated, it will develop a silvery-white patina over time. To ensure that the natural color of the wood is retained for many years, you should treat it with a wood oil. 
Oils penetrate deep into the wood and at the same time have a water-repellent effect.
Oak wood is a type of wood that is humidity resistance. This is so because it is hard and heavy and resists water very well. This was the main reason why it was used for a long time to make ships.
For this matter oak is not a heavy wood so it is stable and it behaves very well in humid environments
Here is an easy step by step guide how you can dry wood like a pro!
Mahogany vs Oak : Comparison Table
Parameters
Mahogany
Oak
Appearance
The color of the mahogany wood range from reddish to dark brown.
Oak has a pale red sapwood, with the possibility of gray tones and pale red to brown heartwood.
Durability
Resistance to rot, humidity, insects and fungi. 
This makes it a highly durable wood, even when used outdoors.
Oak wood is very resistant with very good resistance to humidity.
Workability
It is easily workable (cutting, finishing, assembly), but it has a poor aptitude for curvature and in the case of planing it reacts with the lifting of the grain due to its particular crossed fibers.
Oak wood has a good propensity for processing, allowing planing, milling, drilling, cutting, finishing and cutting without too much effort.
Density
It has an approximate density of 570-600 kg / m³. 
Therefore, we are facing a semi-light wood.
Semi-heavy wood with an approximate density of 710 kg / m3 at 12% humidity.
Suitability for finishing
Good. Mahogany ensure excellent finishes and can be polished, despite being porous.
Good. Oak woods can usually be stained, matted, glazed and painted without any problems using any means.
Drying
Mahogany is practically immune to cracks and deformation during drying.
Good drying but artificial drying must be performed slowly and at a low temperatures because oak tends to crack.
Suitability for assembly
Good. Mahogany is easily assembled with screws and glue but tends to split when assembled with nails.
Good with screws, glue and also nails.
Mahogany vs Oak : Maintenance
Mahogany
Mahogany wood comes from the cashew tree, which produces cashew nuts. To polish this type of wood, it should be rubbed with a cloth dampened with a mixture of hot water and vinegar. Then wipe off with a chamois leather cloth.
If you encounter stubborn dirt, it is better to use professional cleaning agents that will definitely leave your mahogany wood undamaged. Use a mild wood soap lye or a high-quality hardwood balm that exactly matches your wood and its surface.
Cleaning your mahogany furniture can be done in this way:
First remove the dust by wiping the mahogany with a clean cloth so that the dust is removed from the wood 
Make a mixture of 2 substances which are water and white vinegar in equal parts and moisten a cloth so that it does not drip on the wood.
Pass it through your mahogany furniture always in the direction of the grain and never against it. To clean the mixture you just have to wipe a clean cloth.
After this process you can use a polishing spray or wax and use a clean cloth. We recommend avoiding waxes that contain lemon , as most of these also contain kerosene and tend to damage their surface.
Cleaning mahogany wood is laborious in order not to damage it, expensive and requires regular and long-lasting maintenance. 
Oak
In the case of oak wood, surfaces should be wiped dry regularly. The best way to do this is to use a dry, non-fluffy cloth. The easiest to care for is lacquered oak furniture. Unfortunately, the varnish also loses the natural look of the wood a little.
A special oak wood oil is used for oiling, which penetrates deep into the wood and protects it. Avoid exposing oak furniture to direct sunlight. The heat can damage the surface of the furniture, spoil waxes and varnishes, as well as eat away its color and shine, among other harmful effects.
 This is why it is so important not to leave hot containers directly on the wood.
To clean your oak furniture you can use a well wrung cloth moistened with water and vinegar. You can clean the excess with a cloth with a specific cream for oak furniture .
We recommend that you use a toothbrush dampened with hot water and black soap. To clean pine, teak, walnut, cherry or raw oak furniture, a stiff brush dipped in bleach is effective. 
If you want to remove stains or simply change the appearance of your furniture; the first thing you should do is clean the wood. Then you must analyze your furniture until you discover what finishes it has to be able to remove them and start from scratch. 
I have an easy step by step guide how you can remove scratches from hardwoods floors!
Mahogany wood Pros
Based on the characteristics and uses we have already seen, mahogany wood has:
Excellent ability for finishing.
High mechanical performance.
Good workability.
Suitable for outdoors.
High cost .
Not ecological, demand often exceeds availability.
Mahogany wood Cons
Relative expensive
Surface needs to be treated
Tropical wood, therefore poor environmental balance
Oak wood Pros
Long durability
Robust
Attractive surface
Weatherproof
Domestic wood, therefore good environmental balance
Oak wood Cons
Tears easily
Can cause metals to oxidize
Conclusion
The two types of wood come from different regions of the world. The oak is native to North America and Europe while the mahogany wood is native in Central and South America. Both types of wood are popular as construction timber and as a material for furniture, especially because of their beautiful grains and colors.
When it comes to mahogany vs oak, either wood is an excellent choice in furniture construction such as desks , sideboards , side tables and cabinets. Oak wood is more suitable for outdoor while the mahogany for indoor.
The differences between them are negligible when considering durability, application, and longevity. The typical concern is primarily aesthetics and cost. Oak is less expensive than mahogany.