How to Remove Polyurethane from Wood [Easy Way]
Polyurethane paints and varnishes are widely used in the furniture industry. When the polyurethane was applied to the wrong place you will need to know how to remove polyurethane from wood.
So let's start and see how to remove polyurethane from wood!
Things you will need to remove polyurethane from wood
Chemical paint stripper
Soy-based paint stripper
Mineralized alcohols
Face mask
Safety glasses
Thick rubber gloves
Work clothes
Plastic scraper
Fine-grained steel wool
Brush
Waxed paper
How to Remove Polyurethane from Wood Step by Step
Step 1. Choose the appropriate paint stripper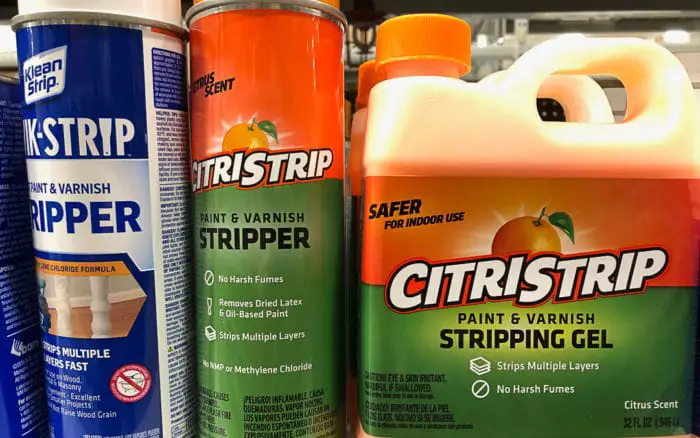 Before choosing which chemical stripper to use, consider the work area you have available. In fact, you should use it in a ventilated room, which is not too cold or too hot, remembering to turn on a fan and wear safety devices.
If you work in conditions of poor ventilation, choose a water-based product. It will take longer to remove the polyurethane from wood, but it is unlikely to harm you or the environment.
CAUTION!
Use a chemical based stripper that contains methylene chloride only IF you have a good ventilated area and also make sure to WEAR A MASK AND RUBBER GLOVES!!!!
If, on the other hand, you know you can work on your project in a well-ventilated area and with a mask on your mouth, choose a chemical paint stripper that contains methylene chloride. 
I advise you to use this type of chemical stripper only IF you know exactly how to protect yourself from the dangers of this substance using a face mask (KN95) and a pairs of rubber gloves !!
This product is a known carcinogen, but it is also very effective in removing polyurethane from wood.
If you are concerned that the surface may contain lead paint, it is better to use paint strippers rather than sand it or use heat guns. In fact, if heated, lead is even more toxic.
The most frequently used brands are Citri-Strip Paint and Varnish Stripping Gel, Dumond Peel Away 1 Heavy-Duty Paint Remover, Smart Strip Advanced Paint Remover
If you are concerned about the effects of the paint stripper on the environment, you can buy an ecological or soy-based one, but in this case consider that you will have to use a larger amount, because these solvents are less volatile.
For polyurethane coated laminated articles you can also use mineralized alcohols. It is an oil product considered safe for rolled products and you can buy it in varieties with little odor or odorless.
Step 2. Prepare the Room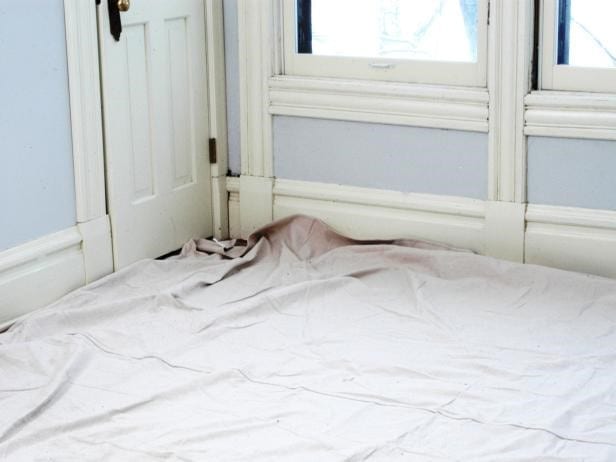 Move the furniture in the garage or outdoors. If you are working at home, open all doors and windows, but avoid working in direct sunlight.
Put a towel under the cabinet to avoid burning the grass or leaving stains.
Wear long pants and a long-sleeved shirt. Purchase and use thick rubber gloves to prevent the paint stripper from coming into contact with the skin.
If you use a chemical paint stripper containing methylene chloride or mineralized alcohols, buy a breathing mask and safety glasses. Check the label and advice given about ventilation and precautions.
Buy plastic scrapers to scrape polyurethane from the furniture surface. You will also need very fine steel wool, or # 0000 grain.
Step 3. Remove the Polyurethane from Wood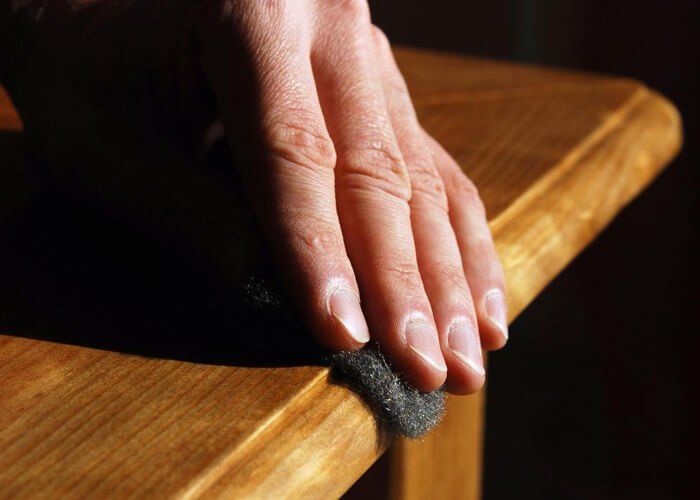 Apply the paint stripper to the wood surface of the element using a brush or spray. Make sure to treat only one area where you know you can then remove the polyurethane in about 15 minutes. Works in 1×1 meter areas.
Wait 15 minutes or the time that is indicated on the package. If you have evaporation problems, apply the paint stripper and then cover it with a waxed paper state.
Slide the blade of the scraper along the surface of the object, following the grain of the wood. Put the detached polyurethane on a rag or in a plastic container. Continue this until you have removed a full layer of polyurethane from your wood surface.
If there is any residue of polyurethane or paint you want to remove, apply another layer of paint stripper. Between one application and another, do not sand the surface. Continue this until the complete elimination.
Use fine steel wool to remove the polyurethane from the cracks in the wood. Apply the paint stripper, wait and then use the steel wool to remove the paint. Before trying steel wool, however, it is advisable to remove as much polyurethane as possible from the surface with the scraper.
If you want to avoid fires, soak dirty rags and steel wool in water. Then take the contaminated water to a landfill for hazardous materials along with the paint stripper residue. Do not throw rags and chemicals directly into the dustbin or sewage drains.
When all the paint has been removed, sand the wood piece and it will be ready to be painted again.
Want to know how to sand wood? Check this in depth guide about sandblasting wood I have written, where you will find all the steps and tricks to get the job done quick and easy!
How do you remove polyurethane from wood without sanding?
Polyurethane paint is highly resistant to external influences, so it is difficult to remove, especially from wood. To do this, you need to use special strippers. 
Depending on the surface, you need to choose a suitable look. Stripper Paste is most often suitable for removing polyurethane from wood, as it penetrates deeply into multi-layer coatings, destroying them and then washing off easily.
It is necessary to pay attention to the stripper composition:
lack of phenol in the composition;
low level of toxicity;
the required level of alkalinity, approximately 3%.
When working with such a stripper, contact with rubber and plastic should not be allowed, since, for the most part, they are unstable to paste.
To clean the polyurethane from wood without sanding, apply two thin coats to the surface with a brush or spray. 
Then the substance is left for a while and washed off. In most cases, polyurethane paints are removed the first time. 
Sometimes reapplication is required, especially for old wood, which should be repeated until the desired result is achieved.
When working, it is very important to avoid direct contact with the substance, working in protective clothing, as it can cause damage to the skin and mucous membranes.
Here is a step by step article on how to remove paint from wood. This article I wrote contains all the information you need about stripping paint from wood.
Can you sand polyurethane off wood?
Yes, you can sand polyurethane off wood following the next steps:
Use a rougher grit sandpaper or use fine steel wool.
Use more a trial and error approach
If you have old wood with thick polyurethane it is recommended to start with a 36 sand grit paper.
Use the rough sandpaper to remove most of the polyurethane
Start to sand the wood surface
To smooth the wood surface use the fine sandpaper
The fine sandpaper (you can use a 24 grit paper) will smooth it out and take off the last of the polyurethane off wood.
Do you want to refinish your furniture? Check this amazing article which describe a step by step approach on how to refinish your furniture!
How to remove polyurethane paint?
For the polyurethane paint you can proceed with different types of chemical paint removers, which are now also sold water-based for those who have to use them in poorly ventilated rooms.
There are also new-concept ecological paint removers , which allow you to remove the polyurethane paint using a soy base.
However, much larger quantities must be used, since products of this type typically end up being less volatile than their chemical counterparts and in any case absolutely not ecological.
To proceed with the removal of the polyurethane paint from wood it is necessary to wear both goggles and gloves.
Working very small areas (maximum 1 meter by 1 meter) you will have to use the product directly on the paint and proceed as quickly as possible. 
Removal must necessarily be completed within 15 minutes of using the product.
We will then work with a plastic scraper to scrape the polyurethane. It will also help with steel wool: we will have to choose it with a very fine grain, or # 0000.
If residues remain, you can proceed with a further application of the paint stripper, and then go back to work with the scraper.
The sanding must necessarily be done only after the polyurethane paint removal operations are finished.
Having trouble removing Candle Wax from your favorite Furniture? Check this easy step by step guide how you can remove candle wax from furniture with little effort!
How do you dissolve polyurethane from wood?
You can dissolve polyurethane from wood using a special gel – stripper:
Brush with a generous layer of product (2/3 mm thick).
The time needed to dissolve the paint layer depends on the nature of the paint to be removed:
– 5 minutes to dissolve a flatting or a solvent-based enamel.
– 15 minutes to remove an acrylic or nitro paint.
– 12 hours to lift the 2-component polyurethane varnish for parquet.
Remove the layer of paint that has come off the support using a spatula, a scraper or a brush. The product removes all types of paint and then, if necessary, repeat the operation to obtain a perfectly clean surface up to the rough.
Wash and clean the painted surface with nitro thinner or running water using a rag or sponge. If you use water to wash the surface, let it dry for 24 hours and check that the stripped wood is perfectly clean and dry before starting the painting treatment.
Cleaning of tools used: with water immediately after use.
Good removers are widely used products that easily cope with paints and varnishes on oil, pentaphthalic, alkyd, nitrocellulose and even epoxy or polyurethane bases. 
They can even be used on such usually "hopeless" surfaces as wood covered with several layers of varnish or metal painted with a dozen coats of paint.
Before starting the following procedure make sure that your wood surface is clean. Read this easy article I wrote to clean your wooden floor in no time!
How to Remove Polyurethane from Wood Floors
Furniture treated with polyurethane or the floor is protected from damage. To remove the polyurethane layer from wood floors you need a stripper, this must be done in a well-ventilated area.
Use a water-based product, such as the "safest stripper," if you are working in a poorly ventilated area. It can take a lot of effort and time, but it will do less harm to you and the environment.
If you have any concern that your surface may contain lead paint, it is better to use a stripper than sprinkle with sand or use a heat gun. Lead is more toxic when heated.
Commonly used brands are Formby, Paulie, and Jasko cleaners.
Use white spirit on polyurethane-coated laminate flooring. This oil product has been found to be safe for use with laminate. You can purchase it with a slight odor or no smell at all.
Step 1. Prepare the chemical stripper
You should use chemical stripper because there are one of the most efficient way.
Review your space first before choosing a chemical stripper. Use a stripper in a room where it is not very hot and not very cold. 
Because chemical strippers produce fumes you should use a fan and protective equipment all the time. Use water based strippers to reduce the amount of fumes.
One of the disadvantages of the water based strippers is that it take longer time to remove polyurethane from the wood floor.
Before you start to work be sure to remove all the furniture, rugs and any other things which can be damaged in the process.
Step 2. Take the precaution measure
Polyurethane stripper is a toxic substance so it is important to take the necessary precaution measure like:
Open all the windows
Use a fan for more ventilation
Were protective equipment like: rubber gloves, goggles and also a vapor respirator.
Protect your skin by wearing long pants and a long-sleeved shirt
Step 3. Start Stripping Polyurethane off the Wood Floors
In order to apply the chemical stripper on the whole wooden surface use a paint brush.
Leave the water based stripper to do it's job for about 10 minutes. You will notice that the stripper will react with the polyurethane and it will start to soften the coat and lift it up off the wood floor.
Use a metal scraper to easily remove the polyurethane off the floor surface.
It might need a second attempt of the whole process if the polyurethane does not scrape easily.
Step 4. Sanding the Wood Floors
After you have successfully removed most of the polyurethane off the floor surface, start to sand the floor. This will revert the wood floor back to it's original texture and color.
Conclusion
Removing polyurethane from wood is a trial and error DIY procedure which can take time.
Make sure you follow the procedure and stripping techniques step by step. This will help you complete the task safely and give your wood a brand new clean look.
Can paint thinner remove polyurethane from wood?
Paint thinner are not able to remove polyurethane from wood. You can use a mix of paint thinner with paint stripper which will allow to soften the polyurethane and then it can be easily wipe off the wood. Then you need to sand the wood surface to obtain a clear texture.
Does vinegar remove polyurethane from wood?
Yes, vinegar will remove polyurethane because it has a PH level of 2.4 which will act as an acid. The acid in the vinegar will vinegar, even when highly diluted, softens the polyurethane and will start to pit the finish from the wood surfaces. The polyurethane then ca be successfully be removed from the wood.