How to Remove Caulk from Wood [Quick Guide]
Caulk is a very practical sealant. However, if it gets to unwanted spots, caulk can sometimes be very difficult to remove. Learn here how to remove silicone caulk from wood, and not damage the wood.
Removing silicone caulk from wood involves the following things:
the residue-free removal
the use of mild detergents
prevent cleaning agents from penetrating the wood
avoid scratching the wood
If you want to remove caulk from wood follow the next steps :
Scrape the still soft silicone caulk off the wood surface with the spatula or a putty knife. 
Then pour either undiluted detergent, baby oil or vinegar mix onto the areas where silicone caulk residues can still be seen.
 Let the cleaning agent take effect for a short time. 
Then you can simply wipe away the caulk residue from wood with a damp cloth and clean the wood surface.
Now let's see a detailed step by step guide how to remove caulk from wood!
How to Remove Silicone Caulk from Wood Step by Step
For the following advice, please decide for yourself whether the caulk to be removed is hard, old or still fresh. 
We would like to start with the step by step guide for removing already hardened caulk. If your silicone caulk is still fresh and not yet hard, you can skip section 2 below and see section 3 below for tips on removing fresh caulk from wood.
Materials needed to remove silicone caulk:
Silicone remover (baby oil, body lotion)
Freeze spray or ice cubes
Putty knife
Stove scraper, spatula or razor blade
Acetone
Detergent
Rubber gloves
Step 1. Perform a visual inspection
Caution is also required when mechanically removing the caulk using a joint scraper, putty knife or razor blade. 
This can lead to laypeople damaging the underlying seals if used incorrectly.
When it comes to wood, the main thing is not to leave any scratches or marks. Wood is very delicate. Using the wrong detergents can also cause devastating damage. You should be particularly careful here. 
So it is indicated to perform a visual inspection to see if everything is in order.
Step 2. Remove caulk using a spatula or putty knife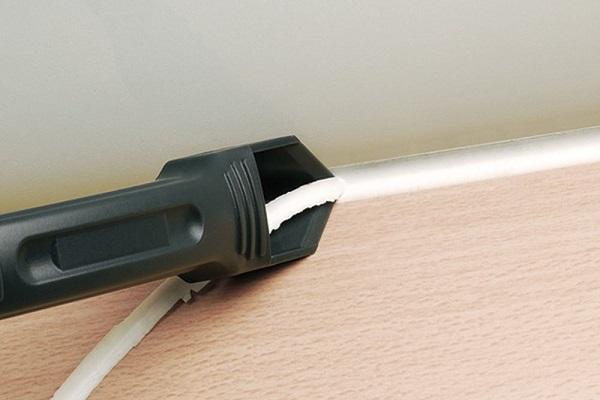 First, try removing as much silicone as possible with a spatula or a putty knife. The less silicone caulk is left, the easier it is to remove it with home remedies.
So just slide this tool under the silicone at an acute angle and try to push the mass onto the spatula. 
Step 3. Soften the caulk using heat
If the silicone caulk is getting old, it can become very hard, brittle and cracked. You can either soften the caulk with heat, such as a hair dryer, or harden it with ice cubes or ice spray. 
Ice cubes such as ice spray can also be helpful when removing silicone caulk. This may sound unbelievable, but it actually works, because brittle silicone is far easier to fight. 
For this reason, it makes sense to give the silicone caulk a cold shock. By treating with ice spray or an ice cube, the silicone caulk becomes brittle and can then be easily removed from the surface with a razor blade. 
However, always ensure during this step that you do not scratch the surface with a spatula or razor blade. Take your time and be careful.
Both methods will help you to better remove the stubborn caulk with a spatula, cutter knife or razor blade. 
Surely there will still be residues of the caulk on the tiles or in the window frame. But don't worry, you can get rid of them with home remedies.
Having trouble removing dried glue from wood? Then this article I wrote it is a simple step by step guide which will do the trick!
Step 4. Remove the remaining Caulk from Wood using Household Products
Caulk Removal using Vinegar Mix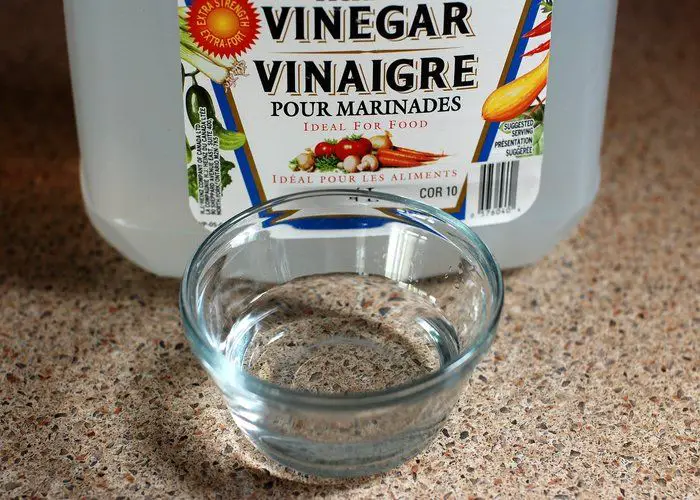 Mix vinegar essence with water in a ratio of 1: 2. Spread the mixture on the caulk in the joint and let it work for five to ten minutes. Then you can wipe the vinegar essence together with the caulk from the wood surface.
Caulk Removal using Dirt Eraser
If the caulk residues are on a smooth surface, a dirt eraser is suitable for removal. 
However, the practical household helper requires a little patience, because if you push too hard with the dirt eraser, it will start to crumble.
 So the caulk removal with the dirt eraser should be done a little longer, but more gently.
Caulk Removal using Baby Oil
You can also remove silicone caulk with baby oil , but it has to get under the silicone layer to be able to detach it from the surface. 
Above all, body lotions such as baby oils have proven themselves time and again and make the removal of hardened caulk much easier. 
So just put some baby oil or body lotion on the caulk stain and massage it in lightly.
Knead the baby oil on the edges of the silicone caulk for several minutes until you notice that they are slowly softening. 
Now you should be able to remove the caulk with a spatula. 
But be careful: do not use baby oil on wood or other absorbent surfaces, otherwise it can leave stains.
Caulk Removal using Body Lotion
Similar to baby oil, the body lotion softens the harden caulk and makes it easier for you to remove it. 
Your advantage: You don't need a baby in the house for this method and b) You don't have to go to the drugstore to buy baby oil. 
Admittedly, the former is to be understood as a little bit of fun. One thing should now be clear: a body lotion or other oily cream does the same and helps in the fight against old, hard caulk.
Caulk Removal using Detergent
Hard caulk is much more stubborn and can drive some to despair. Our favorite among household products is detergent, because unlike baby oil or body lotion, for example, it doesn't stain and the work is much cleaner. 
At the window, for example, it can happen with a wooden frame that the wood absorbs the oil and looks oily afterwards.
Step 5. Remove Caulk with professional Silicone Remover
Has none of the home remedies worked, are you still annoyed with old caulk joints or are you worried about damaging the sensitive wooden surface when removing caulk from wood? 
Then you can pay a visit to the hardware store you trust and stock up with silicone caulk remover. 
Professional silicone caulk removers are available as liquids or as a spray. As a rule, they are applied to the caulk and do their job after a short exposure time.
Want to remove paint from wood? Check this easy step by step guide I wrote on how to remove paint from wood without a sweat!
How to Remove Fresh Caulk from Wood?
Occasionally, it can happen that something goes wrong when applying sealing silicone. If you are fast, you can remove the caulk from wood while it is still fresh using the following methods:
TIP!
First of all, if there is a large amount of fresh caulk, you should remove the sealant as fast as possible from the surface.
Method 1
If it is a larger amount, wipe off the grout first. It works best with kitchen paper, an old cloth or a solid piece of cardboard or plastic something that you no longer need and do not have to clean afterwards.
Method 2
If caulk goes off on surfaces, it pays to be quick: First, you should carefully remove the excess, fresh caulk with a spatula or razor blade. 
Be careful not to scratch the surface! You can tackle the greasy residue with a generous amount of detergent, this makes the caulk mass less sticky and can be wiped off more easily. Do not use water for this!
Method 3
Vinegar essence is suitable for thin layers of silicone caulk. Mix one tablespoon of vinegar and two tablespoons of water. 
Then apply the mixture to the silicone caulk with a sponge or rag. After five to ten minutes of exposure, you can try wiping the silicone.
 However, make sure that the acetic acid does not come into contact with the seals themselves!
Method 4
Simply remove fresh silicone that sticks to the skin with a rag – then you should wash your hands with plenty of washing-up liquid and warm water.
Remove larger damp caulk residues in the wood with a dry cloth . Then comb your wood thoroughly to remove even small residues.
You can then treat affected areas with a little coconut oil, rub them again with a rag and then wash your hair.
Want to refinish your furniture? Check this amazing tips and tricks to give your old furniture a brand new look!
How to Remove Old Silicone Caulk from Wood?
The old caulk has already reached its hardness and is therefore difficult to remove from wood. In order to save yourself the time-consuming scraping of the caulk, you can also rely on tried-and-tested home remedies here. 
 In this case, you can try different home remedies to avoid scratching the caulk . Many DIYers use body lotions or baby oil to successfully tackle the old and hard caulk.
 So you just put one of the two variants on the caulk and massage the oil or body lotion into the hardened caulk mass. 
The oily substance then removes the caulk from the wood so that it can be removed with a spatula.
Did you want to remove candle wax stain from your wooden furniture? Check this easy solution how to remove candle wax from wood with little effort!
What can dissolve caulk?
Surface
Caulk removal techniques
Skin and hair
It is best to use a generous amount of baby oil.Alternatively, you can use a cream lotion for your skin.Soak the silicone residue generously with baby oil so that the oil dissolves the silicone.
Then use a hand wash soap or mild shampoo to wash off the oil and silicone.Your hair will likely need several washes until it is completely free of silicone.
Unpainted wood and glass
You can use acetone or nail polish remover with a damp cloth to fight the silicone.
Do not use on painted window and door frames, as the acetone would damage the paint layer on these surfaces!
Ornamental glass or wooden surfaces
Use washing-up liquid, acetone or vinegar together with a rough sponge.It should be a plastic sponge and not a steel wool model ,otherwise the glass surface could scratch.You should not use acetone on painted wooden surfaces.
How to get rid of Caulk from the wooden floor!
With caulk on your wooden floor, you proceed differently than with resin. Remove it as soon as possible – this applies to all substrates. If it has not yet dried, it is easier to wipe off.
Use a glass scraper, razor blade or cutter knife to remove any silicone residue that has become hard from the wooden floor. Be careful not to leave scratches on the surface of your floor.
You will hardly be able to remove all caulk from the wooden floor. Now dirt erasers, washing-up liquids or oily products can help.
With the dirt eraser you can carefully remove the remaining silicone caulk. Moisten it slightly before use. 
Do you have trouble with the mold. This post will help you find the most easy home methods to remove mold from your wooden pieces!
Then use it like a conventional eraser. Detergent also helps: Put some undiluted detergent on the silicone residue and let it work for a few minutes. Then wipe the silicone.
You can get rid of silicone caulk with fatty substances such as oil or cream. You have to be careful with parquet, because depending on the surface, the grease gets into the wood and leaves stains. With a parquet floor, try the other options first.
If nothing helps, use chemical silicone remover in the last resort. First check in an inconspicuous area whether the silicone remover leaves stains on your floor. If not, apply the remover and process it according to the manufacturer's instructions.
Does WD40 remove silicone?
WD40 is one of the universal tools with which you can also tackle silicone off the wood.
If you do not want to remove the complete silicone caulk joints, WD40 is unsuitable. Because you can assume that the silicone joints in the vicinity of the silicone residues to be removed will be damaged. 
The best way to use the WD40 to remove silicone caulk is as follows:
Spray WD40 on the areas to be cleaned
Allow agent to act briefly
Wipe off any silicone residue with a damp cloth
Repeat application if necessary
If you are not sure whether the respective surface is compatible with WD40, a test is recommended.
Conclusion
Caulk can also be removed from wood with household remedies. Depending on whether it has dried out or not, the workload is higher or lower. 
The sooner you remove it, the easier it is to have it. Decide if the home remedies work or see if special silicone remover is the best way to remove silicone.
When using home remedies to remove caulk from wood, there is always some risk of damaging the surface. Therefore, work with particular care if you do not use professional caulk cleaners from retailers.
Can silicone caulk be removed with vinegar?
Removing silicone can also be successful with the help of vinegar or vinegar essence. Removal of silicone can only be initiated with this home remedy if the silicone mass has not yet hardened. The softer and fresher the silicone is here, the more effectively vinegar can act against the sealant.
Can you remove silicone caulk with acetone?
Acetone is often touted as an effective method of removing silicone caulk of the wood. To do this, simply moisten a kitchen towel with acetone and then rub over the caulk. You should always work carefully with acetone, as this substance can generate harmful vapors.
What is the best way to remove silicone caulk?
First, remove as much of the caulk as possible, for example with a putty knife or spatula. If the silicone is not yet fully hardened,vinegar is very suitable. The vinegar is diluted 1:2 with water and applied to the caulk.Detergent(undiluted),body lotions,ice cubes,baby oil or silicone removal are also suitable.