How to Waterproof Plywood [In 5 Effective Ways]
Plywood is a versatile material. It should be waterproof, especially outdoors, but also in the bathroom and kitchen. We present the most common methods how to waterproof plywood.
Why is important to waterproof plywood?
If, for furnishing needs or personal taste, we have installed plywood panels in the house, it is important to waterproof them. 
By waterproofing the plywood, you make it weatherproof, water-repellent, protect it from insects, prevents swelling of wood, protects against mold by preventing water from entering the wood.
Indeed, if your woodwork becomes waterlogged, the wood can burst under the effect of frost in winter. Protecting your exterior woods well helps to delay aging and retain their natural appearance.
Speaking of aging wood, here are the best methods how you can age your wood!
Waterproofing is almost equally important for plywood that you have indoors or in the garden. Outdoor plywood for example in the form of fences, floor coverings or windows, should be impregnated more often to ensure constant wood protection.
Therefore, if we have opted for the installation of plywood panels, especially near windows and balconies, it is important to act with an accurate waterproofing. Since in the winter period, but also in the summer, as a result of the use of air conditioners, condensation will possibly be generated which tends to stain them. 
Below are presented the best solutions how to waterproof plywood for both interior plywood panels and those mounted outdoors.
How to Waterproof Plywood
There are a few methods of making plywood waterproof. However, not all methods are suitable for all applications. Here are some methods :
Oil polish (e.g. linseed oil)
Polyurethane paint
Nano sealing
Epoxy resin
Varnish
Do you know that plywood has many uses ? Why Is It So Special?
How to Waterproof Plywood Step by Step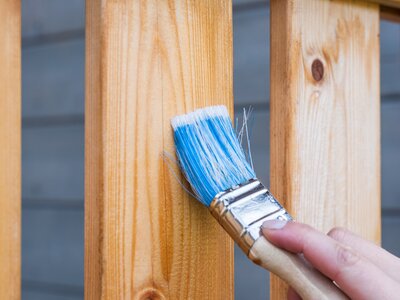 Surface preparation
Helpful TIP!
Important: It is advisable to acclimatize the plywood, how long this process will take depends on the temperature. If the material is intended for indoor use, then one day is enough for drying, outdoors at a temperature of 8 ° C and below for 3 days.
Before waterproofing plywood, its surface must be prepared. This process consists of several stages:
Drying of the plywood is in progress. The protection of the plywood is done with high quality.
This is followed by surface grinding. To do this, use a fine-grained sandpaper and sand the plywood surface.
Particular attention is paid to the ends of the plywood sheet. 
All chips and burrs are removed but the chips are quite large, you can use wood putty.
Steps to follow
Step 1. Clean up any visible stains on the plywood with coarse-grit sandpaper.
Step 2. Mix the components of the epoxy resin (the resin and the hardener). This is usually done in a 5 to 1 ratio, but always follow the directions on the package. 
Step 3. Pour the epoxy mixt into a paint tray. 
Step 4. Apply a thin, even coat to the plywood with the paint roller.
Step 5. Allow the initial coat of epoxy mix to set overnight. 
Step 6. Lay the fiberglass cloth on the plywood surface. 
Step 7. Apply another coat of the epoxy mixture directly to the cloth rag. 
Step 8. Use a squeegee to push out any excess resin that has remained under the cloth rag.
Step 9. Apply two additional coats of epoxy mix, always allowing the previous coat to set overnight.
Want to treat your wood against mold, sun rays and insects? Then this article contains all the information you need!
Alternative Methods to Waterproof Plywood
Methods to Waterproof Plywood:
1. Using Drying Oil
2. With Fiberglass Paint
3. Filling with PVA glue
4. Using Water-Based Paint
5. With Varnish
How to waterproof plywood with Drying Oil
It should be said that plywood impregnated with hot drying oil has a more effective resistance to moisture penetration and is the simplest way to waterproof a plywood board.
Waterproofing plywood with drying oil is carried out as follows:
The drying oil is heated in a water bath up to 50-60 ° C to get the best penetrating properties.
The the heated oil is carefully applied to the plywood sheet with a brush. Particular attention should be paid to the impregnation of the ends.
Next, forced drying of the plywood panel is carried out. For this, its surfaces are ironed with an iron heated to 200 ° C. 
The process can be carried out also with a hairdryer.
After drying, a new layer of drying oil is applied, and the iron or hair dryer is again put into operation.
The application of drying oil continues until it can no longer be absorbed into the plywood.
Linseed oil is hard to remove from wood. Check this step by step guide how you can easily remove linseed oil from your favorite furniture!
How to waterproof plywood with Epoxy Resin
Helpful TIP!
Important: The epoxy mix sets in about 20 minutes, so only mix enough for one application at a time.
A simple technique to protect plywood from water is laminate. A protective coating is applied to the surface, which does not allow water to pass through the sensitive wood. The process is used primarily in shipbuilding. 
You need fiberglass or carbon fabric and liquid epoxy resin, with this mixture you will get long-lasting water resistance.
Make sure you have a smooth and clean surface first, then apply a first coat of diluted epoxy resin. In this adhesive layer, insert the fabric and then apply it. The surface can be smoothly smoothed with a brush.
After drying, the epoxy resin can be sanded and of course painted. But maybe you want to apply a second layer first to be on the safe side!
How to waterproof plywood with PVA glue
Here are step-by-step instructions on how to waterproof plywood with PVA glue:
Place the plywood on a flat surface and apply a layer of PVA Glue
Wait for the initial layer to absorb well into the plywood
After the first layer is absorbed cover the plywood with another layer of PVA.
Carry on this steps until glue spots begin to appear on the wrong side of the sheet
Turned over the plywood sheet and the repeat the waterproofing process .
After the work is done, the plywood should be laid on a flat surface and allowed it to dry naturally. 
The only disadvantages of this method is the long waiting time. Plywood will have to be protected from moisture for 3-4 days.
If you want to find what is PVA Glue and why is one of the top adhesives in the woodworking industry click here!
How to waterproof plywood with sealing
Open the container of sealer or varnish and mix the contents with the paint stick until you reach a homogeneous consistency.
Pour a moderate amount of caulk into a paint tray. 
Load the paint roller by sinking it into the tray and rolling it to the angled surface. 
Use the roller to apply a thin, even coat of caulk to the plywood surface.
Allow the sealer coat to dry. 
Check the sealant's instructions, some require multiple applications to completely waterproof the plywood. 
Follow the same application process if you need additional coats.
How to waterproof plywood with Water-Based Paint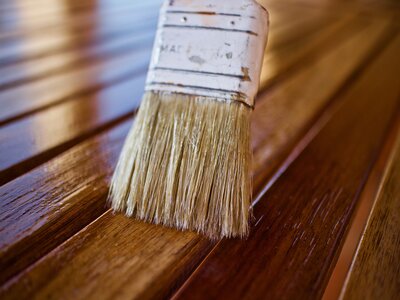 In this situation, a careful choice of paint is necessary: ​​it must have water-repellent properties and refine the plywood sheet. When using plywood in residential areas, it is best to use water-based paint. Since it is less poisonous and dries faster. 
 If the material will be processed outdoors, outdoors, then you can use enamels, which are sold in the form of finished products or concentrated. 
Steps to waterproof plywood with water-based paint :
First, the plywood should be carefully sanded with sandpaper. Preliminary sanding of plywood will provide more reliable protection from water.
Then, using a brush or roller, coat the surface with acrylic primer. 
Allow the primer to dry for two to three hours. 
Fill in all the microcracks and irregularities in the plywood surface by making a putty.
Excess putty is removed by re-grinding the surface
Sand it over with a primer and allow the plywood sheet (fiberboard, chipboard) to dry completely
Then start painting the plywood with the selected paint. 
Discover the best ways to remove paint from wood and restore your furniture looks!
Waterproof plywood with Varnish
Covering plywood, fiberboard, chipboard with parquet varnish is in many ways an excellent solution, but in this case it is worth remembering the price of this product. 
What is the best varnish to use? In order not to get lost in their variety, you should pay attention to the following components: varnishes are quick-drying, fairly hard, moisture-resistant and elastic. 
Polyurethane varnishes, have excellent wear resistance, durable. After you have decided on the choice of varnish, you can proceed with the actual varnishing. 
Use sandpaper for sanding. Then you need to clean it up and apply a coat of primer. After it has completely dried, we apply varnish to the surface using long strokes, you can do this with a brush or roller. After the varnish has completely dried, apply another layer.
Find out everything you need to know about varnish in this complete guide!
Waterproof plywood using Laminate
The material is covered with plates of plastic, metal or a special film. 
How to do it: resin is applied to the surface of the plywood sheet, which is preheated. The sheet is placed under a press, with which the plates are mounted on plywood. After that, the ends of the plywood sheet are treated with protective compounds.
How to waterproof outdoor plywood
If you intend to apply the plywood panels outside the house, you need to act differently. In fact, plywood panels mounted, for example, on the walls adjacent to a balcony or terrace, undergo constant exposure to the elements. Also in this case it is important to waterproof them. 
The best system, which is also very fast, is to replace the sealer with a special fiberglass-based paint. This is able to cover the porosity of the wood, and after its drying a light sanding phase is sufficient. 
Then you can proceed with the application of paints and finishing. The same goes for plywood panels installed on roofs and gutters. 
But in this case the best way is to apply bitumen-based fiberglass. In fact, it is a method that is ideal for covering flat surfaces such as these particular types of house roofs.
How to waterproof indoor plywood
On the market there are excellent specific insulating products for wood, which perform a covering function. And they are therefore able to eliminate the natural porosity of this material. At the same time they also manage to waterproof it, solving the problem of humidity and condensation upstream. 
To waterproof indoor plywood, here's how to proceed:
After sanding the indoor plywood with abrasive cloth, a coat of sealer is applied. This procedure serves to compact the wood fibers. 
Then, after drying, another very fine-grained abrasive cloth is used, before applying the aniline. 
At the end, to make the structure functional and therefore waterproof it, transparent opaque flatting is applied. 
You can also polish. 
This allows you to dodge the water accumulated on the surface. And, at the same time, to make the plywood panels washable, in case of stains of various kinds.
Fix a warped door with this easy step by step guides!
Waterproofing plywood for tiles
It is carried out in several stages. First, the insulation is applied to the surface, which is then covered with plywood boards. For this, floor coverings (roofing felt, polyethylene) are suitable. If plywood is mounted on wooden logs, then preliminary processing is also required for them. Painting or penetrating waterproofing will perfectly cope with this task.
After laying the plywood is primed with a protective material. There should be several layers for more reliable protection. For example, special mastic can act as insulation. After the substance has completely dried, you can start installing the tiles. In order to attach the ceramic to the plywood, you need a two-component polyurethane-based adhesive. In addition to a secure fit, it will also provide additional waterproofing.
Conclusion
Plywood is a versatile material that is easy to work with. However, if it is to withstand wind and weather outside, it must be waterproof.
In this article we presented the most common methods how you can waterproof plywood. Choose the methods that is easier and comfortable to execute.