What is Ipe Wood? [5 Reasons Why to Choose Ipe Wood]
Ipe wood is considered one of the best tropical woods by wood experts. This is so thanks to its characteristics and properties. But what is ipe wood? Find out here what are Ipe wood unique characteristics and the reason you should choose it.
Are you planning to build a terrace and are faced with the question of what type of wood the decking should be made of? We name 5 reasons why the tropical wood Ipe is perfect as a terrace covering.
What is Ipe Wood?
Ipe is the name for the wood of several South American tree species. The trees of the subgenus Lapacho that occur in this family provide very hard and heavy wood of high quality. Ipe has a very high resistance to wood-destroying fungi and very good technical properties. In terms of dimensional stability and the risk of splinters, Ipe Lapacho is the only wood that can approach the excellent values ​​of teak.
Ipé or "green ebony" is a wood from the Tabebuia species which originated in South and Central America. The Ipe tree can reach 35 meters in height and its trunk varies between 60 and 100 centimeters in diameter. The main supplier of Ipe wood is Brazil. 
What is the color of Ipe Wood?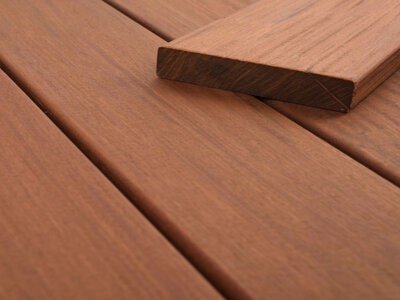 Ipe is brown in color. It is a wood species with little variation in color. Under construction, the wooden slats will therefore vary from brown to dark brown but keep an excellent harmony between them. Its heartwood is brown, tending to greenish-yellow brown, and sometimes has light or dark banded parts. 
The sapwood is yellowish gray. The structure of the wood is very regular, with a fine grain and. Ipe has a straight grain, sometimes interlocked grain.
The color of this wood ranges from yellowish brown to dark brown. It has an appearance similar to Cumarú wood , although the ipé wood is of a darker color. It has a fine to medium grain, which makes this wood provide luxury and aesthetics wherever it is found.
 In the natural process of aging of the woods over time, the Ipe takes on a light gray-brown color, creating an effect much appreciated by some, sometimes even sought after.
Characteristics Of Ipe Wood
Characteristics Of Ipe Wood
1.Color : The heartwood can have shades ranging from yellowish brown to dark brown. 
The sapwood has yellow tones.
2.Wood Fiber : Straight, often intertwined or highly intertwined.
3.Grain : Fine to medium.
4.Density : It is a very dense wood , approximately 1050 kg / m³ at 12% humidity. It is so dense that it does not float in water .
5.Hardness : Very hard wood (Brinell hardness 54 N / mm²); 14.6 (monnin) very hard wood.
Ipe has a hardness (Janka) of 3680 lbs, air dried and moisture content of 15-18%.
6.Durability : 1 (very good). Great durability and resistance to insects and fungi, except some marine borers. 
It is largely due to its high density, and also to its high concentration of tannic acid .
7.Machinability: The processing with hand and machine tools is difficult because of the great hardness. 
Pre-drilling is required for nails and screws; 
Bonding is difficult because of the high density of the wood.
8.Dimensional Stability : Stable wood. 
Over time and in contact with moisture it does not tend to curl.
Volumetric contraction coefficient: 0.68% nerve wood.
9. Mechanical Properties : Compressive strength: 890 kg / cm 2
Static bending strength: 1,750 kg / cm 2
Modulus of elasticity: 200,000 kg / cm 2
10.Workability : Generally speaking, Ipé can be difficult to work with.
Drying: is not a problem as long as it is done slowly.  If not, there is a risk of small deformations and cracks.
Sawing: can be difficult due to its density. Ipé wood causes accelerated saw wear .
Nailing and Screwing: It is necessary to pre-drill.
Gluing: can present problems due to tannins.
It accepts finishes well, although rubber deposits can occasionally affect polishing and finishing.
May cause allergic reactions and irritation to eyes and skin.
11.Impregnation : Heartwood slightly impregnable, sapwood moderately impregnable.
What is Ipe Wood used for?
Due to its excellent properties, Ipé is traditionally used as construction wood in outdoor areas (shipbuilding, bridges, wooden structures, etc.). In this respect, it is also wonderfully suitable for wooden terraces, both optically and technically. 
The decking can be installed in both roofed and exposed areas. In addition to teak, of all types of overseas wood, Ipé is best suited for pool surrounds or borders. Balconies and roof terraces can also be equipped with Ipé.
Ipe Wood is used for the manufacture of furniture , indoor and outdoor floors, stairs, beams. This wood is growing in popularity as a coating material due to its durability and insect resistance. 
Many uses of Ipé wood includes : As construction timber in exterior construction, also in port construction for load-bearing components of medium to high mechanical stress and for terrace boards, decks of jetties; for bridge construction, floating docks, thresholds, noise and privacy walls, fences, horse boxes, acid tanks and for extremely stressed floors.
Ipe wood comes from the forests of South America and is a highly appreciated essence for its high level of resistance and flexibility, which guarantee high performance in any outdoor destination. Once laid, this wood can resist for more than 25 years, practically immune to humidity, atmospheric agents, parasites, fungi and stresses.
Uses of Ipé Wood:
Cabinetmaking (luxury furniture)
Furniture
Decking
Bridges (in contact with soil or water)
Shipbuilding (plating and deck)
Stakes
Molding
Manufacture of solid wood flooring
Indoor staircase
Turned items
Tool handles
Sliced ​​veneer
Parquet
Interior and exterior carpentry: doors, stairs
Pools decks
Hydraulic works
Heavy frame
Musical instruments
Vehicle or container bottom
Advantages of Ipe Wood
It is a hard wood, which makes it resistant to superficial scratches;
Resistance to mold , fire, atmospheric agents and parasites, which makes it preferable to softer woods;
It is a 100% natural wood , and therefore ecological;
Rich in natural oils that preserve it, so it can last up to 50 years without needing to be replaced;
If regularly treated with special oils, it can last up to 75 years ;
It does not rot easily;
Natural durability and impregnability of wood 
Can also be used outdoors, on the terrace or in the garden;
Disadvantages of Ipe Wood
The Ipé is a relatively rare tree;
Difficult when sawing;
Can cause saw blades wear;
Drying time can be high;
Gluing requires care (very dense wood);
How can you tell if wood is IPE?
Mature Ipe wood has a color ranging from olive gray, dark red to medium to dark brown. On the radial cut, narrow light and dark stripes may alternate and the sapwood is red-gray. Over time, under the influence of light, the color of the wood darkens.
Tropical woods are very characteristic. They have an internal structure similar to that of hardwoods and are not very porous. The color range is darker than conifers and hardwoods.
They are woods very sensitive to the sun's rays, little impregnable, very resistant and rich in extracts, exudates and tannins, which can cause problems when applying maintenance products. In addition, they have a great hardness and density.
How durable is Ipe Wood?
It is a wood so dense and hard that it does not float in water. Thanks to its high density and high concentrations of tannic acid, ipé wood has great durability and resistance to insects and fungi.
Natural durability and impregnability of Ipe wood
Mushrooms  : class 1, very durable
Dry wood insects: durable, distinct sapwood (risk limited to sapwood)
Termites: classes D, durable
Impregnability  : class 4, not impregnable
Ipe wood is durable but there are a lot more durable woods out there! Check this list with the top hardest woods in the world!
Is ipe wood good for outdoor furniture?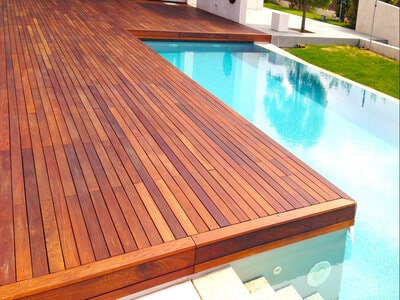 Ipe wood comes from Brazil. It is widely used and used, for example, in the construction of swimming pools and terraces because it can be attached with invisible clips without visible screws. It's not only nicer, it's also much safer. Thanks to its high quality, Ipe wood is also ideal for use in construction work or for the design of facades and furniture.
Ipe wood has a very fine grain. In addition to being used for outdoor patios or outdoor kitchens made of wood the type of wood can also be used as a parquet floor or as a staircase. 
This wood is of a high price considering that it is a tropical species. The supply of ipé wood is limited, however, the demand does not stop growing because it is considered one of the best tropical woods for exterior.
A quality feature of Ipe is that it shows practically no signs of bleeding. It is therefore particularly suitable for balconies and facade purposes. Like Cumaru, Ipe is particularly suitable for pool surrounds. 
Due to its special wood structure, Ipe can have irregularities on the surface in the form of rough spots. These alleged "plane damage" are a natural property of the wood and do not give any reason for a complaint. Mineral deposits can occur in the Ipe wood species (Tabebuia spp.). This depends on the location and the nature of the soil. 
The minerals are released during planing, so that it can lead to shiny points on the surface. Other customers praiseworthy refer to this as "Swarowsky-Ipe". The minerals have no adverse effect on the wood or the surface. 
On the contrary, the minerals only make the wood stronger. The only thing to note when planing is that the tools wear out faster. Since you only purchase semi-finished goods from us, this has no effect on you. The wood color greenish-yellow to reddish to dark brown is the interesting color spectrum of this type of wood. 
Reasons to choose wooden terrace or deck made of Ipe:
Long shelf life: Hard, harder, Ipe
The tropical Ipe wood is one of the hardest woods in the world. Also known for its high weight and durability. Compared to other types of wood, the lifespan of Ipe is immensely long. For example, Ipe decking boards last up to 30 years if properly installed. Incidentally, Ipe belongs to the highest durability class (1). As a result, the wood has a very high resistance to fungi and pests.
Do you want to get rid of mold or fungi from wood? I have written an easy tutorial to show you exactly how easy you can do it!
Wide range of colors: The optics are also impressive
Ipe is not only particularly durable and pest-resistant, it also looks great. From light brown to yellowish green to dark olive – the color spectrum of tropical wood is broad. Furthermore, the precious wood hardly tends to bleed. 
This means that the natural dyes of the wood are almost never washed out by the weather. Furthermore, the individual grain of Ipe wood creates a modern and elegant look.
Splinter-free for barefoot runners
Barefoot runners can look forward to it, because Ipe decking boards are largely splinter-free. Even in the untreated state, the wood does not splinter. This is due to the high percentage of fat in Ipe wood.
Low swelling and shrinking behavior
Ipe wood hardly swells. This means that when you install Ipe decking , only tiny expansion joints need to be left. Ipe decking boards are very slow to absorb moisture. They are therefore ideally suited for permanently moist areas such as wooden terraces, balconies or pool surrounds.
Ipe wood is easy to care for
After all, the precious wood is very easy to care for. As a result, Ipe wood does not have to be chemically post-treated or impregnated. However, treatment with special terrace oils helps to protect the wood from UV-induced graying of the surface.
Need for preservation treatment of Ipe Wood:
Against insect attacks from dry wood: this wood does not require any preservation treatment
In the event of temporary humidification  : this wood does not require any preservation treatment
In case of permanent humidification  : this wood does not require any preservation treatment
Characteristics of Ipe wood for exteriors
This tropical wood, from South America and also known as Walnut from Brazil , is surprisingly resistant to humidity, fungi, blows and all kinds of inclement weather, it is undoubtedly an investment for life. Ipe wood has an excellent behavior against fire if we compare it with other woods.
It reaches one of the highest values ​​on the Janka Scale, a scale used to measure the resistance and density of wood against blows. Also it is a very heavy wood.
Although one of the main uses of Ipe wood is the manufacture of exterior decking, it is also often used for doors and windows, stairs and decorative veneers.
How to maintain the Ipe wood?
The maintenance of the Ipe wood is very easy. You have the choice :Ipé planks can be oiled periodically to maintain and enhance its beautiful natural colors or you can let it age in which case a simple cleaning with water once a year will do the trick. 
Over time it will become a silver-gray patina in color. This very dense wood does not require sealers or treatments for durability. Because of its hardness and strength, ipe decking is one of the easiest woods to maintain.
If you want to keep its natural color, you will need to use a oil finish to go through once or twice a year. Whatever happens, whether or not you saturate your terrace, you can at any time recover its natural color with the help of a degreaser.
If no treatment is therefore useful to ensure the structural durability of your terrace, ipe requires the application of a finishing product if one wishes to ensure its aesthetic durability and retain its natural color. Exposed to bad weather, a oil finish will prevent the ipe deck boards from turning gray. 
The application of the oil finish will be renewed once or twice a year. This maintenance will ideally be done in spring and then before winter. No fear if this frequency is not respected; the application of a wood degreaser will restore your terrace to its initial color.
Application of oil on the Ipé. The stain and varnish applicators are very effective, they spread and wipe at the same time, a faster application. You can also use a brush, apply and wipe off the excess. Always follow the instructions recommended by the product manufacturer.
What is the cost of Ipe wood?
The price of ipé is moderate to high considering that it is a tropical species.  Its supply is limited, and the demand keeps growing. This growth in demand is largely due to the knowledge and diffusion of the characteristics of Lapacho wood, which is seen by many as the ideal wood for exteriors.
When the price is very high or there is difficulty in supplying it, it is usually replaced by teak wood or even iroko.
Is Ipe wood fire resistant?
Low reaction to fire . Contrary to what is usually believed, woods as hard as those of Ipé have an excellent behavior against fire, presenting great resistance. Ipe wood is well above the standards set by the authorities in terms of fire resistance.
The extraordinary properties also give it a fire resistance comparable to that of concrete.
Ipé has been tested by the National Fire Protection Agency (ASTM-E84). Ipe wood decking has received the highest classification for flame spread: up to Class A, Uniform Building Code, Class 1.
Is Ipe better than teak?
Ipè wood has almost four times the hardness of Teak and has such a density that it sinks into water. It practically weighs much more than Teak but the quality of this wood is appreciated because, like teak, it is resistant to insects and decay.
Is Ipe wood sustainable?
So far, no Ipe wood is available that comes from sustainable reforestation projects. The high demand therefore has a direct impact on the stock in the primary forests. An alternative to Ipe is the type of wood Cumaru .
Because of its high quality, Ipe has been heavily farmed in the past. The deciduous tree, called the "tree of life" by the indigenous population, has already completely disappeared from the primeval forests in many regions. 
The massive fall has caused some Latin American states to place the tree under special protection. The majority of countries deny the Lapacho tree this special protection, which is why it is still available on the European market.
Is Ipe wood toxic?
Ipe wood dust can cause severe irritation to the skin and respiratory tract in sensitive people.
Conclusions
As already mentioned, the Ipe wood is very durable and is one of the most demanding types of wood in the world. Contact with the earth or water hardly affects the wood. You can therefore rely on this type of wood particularly well. 
The important features, the elegant look and an affordable cost have led Ipe to be one of the most used wood for outdoor wood flooring.
Are you therefore planning a project that should last for more than a few years? Then Ipe Hardwood is the right choice for you!
How does the Ipé age?
Ipé, like all exotic woods, will naturally turn gray due to external aggressions (Ultra-violet and pollution). If you want to keep its natural shade, you will need to apply a saturator. To counteract the aging effect, the original color can be restored thanks to the use of specific oils, to be applied once or twice a year.
Is it necessary to treat Ipé?
Except to preserve its natural color, it is not necessary to treat it. This one is naturally rot-proof, so it is not afraid of fungi, termites and other insects.