How to Clean Wood Furniture with Vinegar [Easy Guide]
There are many ways to leave the wood furniture very clean. In this article we will explain how to clean wood furniture with vinegar, a very common product that we all have at home. It seems incredible but it works, vinegar is also a great disinfectant for wood .
White vinegar is very effective in getting rid of dirt that dulls the aesthetics of wooden furniture. It can be used to remove superficial stains or those installed in depth. 
Applied to varnished wood, it instantly dissolves grime and restores the shine of the wood. At the end of the cleaning, it is important to rinse off the vinegar so that its acidity does not affect the varnish.
In the following article we will see a series of natural remedies for cleaning wood that can be applied to any piece of furniture.
Materials needed:
Half a glass of olive oil
Half a glass of vinegar
Cotton rag
New Cloth
Steps to clean wood furniture with vinegar:
Mix half a glass of vinegar with half a glass of olive oil.
Put the mixture of oil and vinegar in a container and mix it with a fork.
Soak a cotton cloth with the well-mixed oil and vinegar mixture and start cleaning the furniture surface.
Rub the wood furniture with the cloth in gentle, circular motions, as if you were trying to polish the wood.
Let it dry for at least an hour because it is very important that the wood is completely dry for the next step to take effect.
Finally, the vinegar-oil mix is removed with a homemade cloth.
The result will be spectacular and your wood furniture will look clean and shiny.
Type of Wood
How to clean wood furniture
1. Lacquer Wood Furniture
Soak a rag in a mix of equal parts of hot water and vinegar.
Take the rag and wipe the surface of the furniture. 
In case of natural wood, follow the grain of the wood.
After the furniture has been clean, wipe immediately the surface with a soft, dry cloth.
2. Untreated Wood Furniture
Apply a mix of 500 ml lukewarm water and 50 ml white vinegar using a cotton cloth to your wooden furniture.
It is important that you wring out your cotton cloth well and only wipe the furniture with a damp cloth rather than wet.
Want to remove the old lacquer from wood? I have for you the easiest step by step tutorial!
Method 2: Clean Wood Furniture using Vinegar and Olive Oil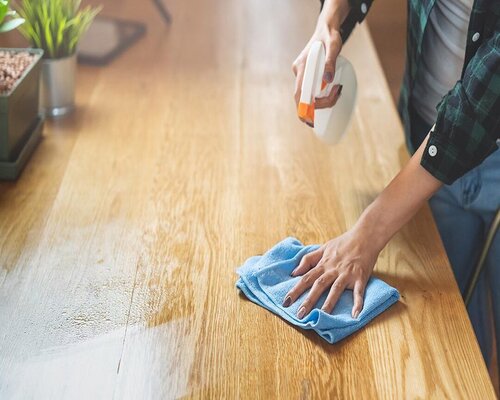 Wood is a material that immediately gives a warm and welcoming air to your home . In order for it to remain beautiful and shiny , it is important to clean it properly.
 In this article we will see how to clean furniture with natural methods:
You just have to get some vinegar and olive oil . If you want to perfume the solution, use apple vinegar instead of white vinegar.
In a bowl, pour 1/4 cup of white or apple vinegar and 3/4 cup of oil .
Mix the two ingredients with a spoon . 
If the furniture is very delicate or has a lot of cracks , add as much as ¼ cup of water .
Take a clean, lint-free cloth . Dip it in the solution, squeezing it well . 
Wipe it gently on the surface to be cleaned , with circular movements. 
Remember to follow the grain of the wood , for a professional cleaning and polishing.
Vinegar and oil are two natural and organic products , so you can safely use them whenever you need them , without the risk of damaging the wood. 
For a more cleaning power, increase the amount of oil and decrease that of vinegar.
How to Clean Old Wood Furniture with Vinegar
Old wooden furniture may be more or less worn. In this way, there are old pieces of furniture that only need a superficial cleaning as would be done with any other more current piece of furniture. However, there are others that do need specific care, especially when it comes to cleaning.
Here are the steps to clean old wood furniture with vinegar:
First, use a mixture of vinegar and olive oil in equal proportions. If the furniture is somewhat damaged by years of use, we advise you to use lemon juice in large doses. However, if the furniture is quite deteriorated, the use of this product is not highly recommended.

Soak a sponge with this mixture and clean the surface of the furniture. If they do not need a very deep cleaning, a cotton cloth moistened in the mixture will suffice to clean the surface with gentle circular movements. This solution will remove dust, grease, and other debris from the wood.
Next, pass a damp cloth with a little water to remove the remains that have remained.

Finally, let the furniture dry for 30 minutes before wiping it with a cloth soaked in glycerin or furniture polish to restore as much shine to the wood as possible.
If you need to remove oil-based stain from wood I have for you the best step by step guide!
Clean the wood furniture naturally with white vinegar
To clean the wood without resorting to dangerous chemicals you can create a mixture that will give shine, will enhance the natural grain of the wood and remove the stains:
Mix 1 part white vinegar (or of ' apple cider vinegar for a more delicate aroma) with 3 parts olive oil (alternatively you can use flaxseed oil). 
For example, you can take 1 cup and fill it for ¾ of oil (increase the doses for more shine) and add 1/4 of vinegar. 
Mix well and then dip the cloth that will be used to clean the surface. 
For optimal work it is advisable to use circular movements, following the grain of the wood.
Learn the easiest way how to remove linseed oil from wood!
Clean Varnished Wooden Furniture with Vinegar
Cleaning varnished wooden furniture has a great advantage over others without varnishing, and that is that they are more resplendent and look much more pristine. Although if the tones of the wood are very dark, the dust will also be seen much more. 
On the other hand, they are more durable than other non-varnished ones, since the varnish exerts a protective layer against dust, insects and humidity. However, despite this protection, varnished furniture requires specific care, like any other object, to allow it to have an even longer useful life and always look like new.
To clean varnished wooden furniture correctly, you just have to follow the following method:
Prepare a mixture with olive oil and vinegar in identical proportions.

With the help of a soft fabric cloth, such as cotton, clean the furniture with the cloth soaked with this preparation.

Make circular movements when you pass the cloth through the wood and do it gently.

Leave the product for about 30 minutes before rubbing with another dry cloth to make varnished natural wood furniture shiny.
Want to refinish the wooden furniture surface but don't know how to do it? This is the best guide to help you!
How to Clean A Wooden Table with Vinegar
Vinegar is very effective for cleaning wooden furniture. In addition to removing stains, it restores their natural shine. And mixed with oil it is even more effective.
To remove the residue and give it a good youthful look, take out some white vinegar and olive oil .
Steps to do:
1. In a bowl, put 1 part white vinegar for 3 parts olive oil.
2. Mix vinegar and oil to create a cleaning solution .
3. Close well and shake before each use.
4. Dip a white cloth in the mixture and rub it to the wooden table.
5. Apply to wood with a clean cloth or microfiber cloth.
6. Then wipe with a dry cloth to make the wood shine. 
There you go, your wooden table is now like new 🙂
Crayon marks are a headache for every parent, but I have found the easiest methods how to remove crayon from wood!
Frequently Asked Questions
Can vinegar clean wood furniture?
Vinegar is not only ideal for removing limescale, but also as a 1:1 mixture with oil as a wood polish. It is particularly recommended if there are water stains on the wooden surface. These are removed very well by this polish and the wood gets a new shine.
Can I use white vinegar to clean wood furniture?
Distilled white vinegar is the best cleaning vinegar because it contains no coloring. Therefore it does not discolor wood surfaces. Distilled white vinegar also has an acidity of about 5 percent, which is also the same as the acidity of many everyday all-purpose cleaners.
Is Vinegar Safe for Wooden Cabinets?
Mix one cup of white vinegar with one cup of water. This gentle cleaning solution is perfect for everyday use on wooden cabinets. It will not warp the wood or remove the finish. If you don't want to clean with vinegar, you can use a mild soap solution.
How does the vinegar and oil mixture work?
Very briefly, vinegar cleans and oil prevents abrasion and nourishes the wood furniture. Olive oil, which has color, can slightly darken the wood. If you want to keep the same tone, use sunflower, which is lighter. To avoid all color, replace the oil with liquid Vaseline, but this ingredient will not be common for you to have at home. If the furniture is very dirty, use lemon instead of vinegar. It has a deeper cleaning power.