How to Remove Stickers from Wood [10 Easy Ways]
Stickers leave marks when we try to remove them. So we all have a question, how to remove stickers from wood? 
 In this guide, we will try several methods, with step by step instructions on how to remove the stickers from wood.
 Different stickers are removed in different ways, and it is often difficult to immediately tell which method will work best.
Here are the best ways how to remove stickers from wood:
Below you will find each of these methods explained with step by step instructions!
How to Remove Stickers from Wood with Hair dryer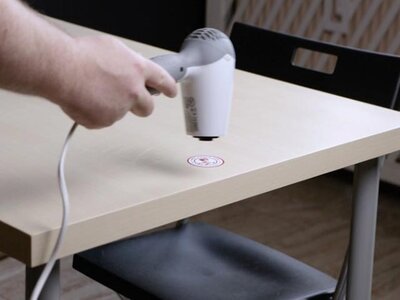 There are a number of suitable remedies to effectively remove stickers from wood , for example you can use a regular hair dryer.
To do this, you need to follow this steps:
Set the power and temperature of the hair dryer to minimum values
Warm up the sticker for 3-5 minutes so that the glue on the inside becomes soft and pliable
Now you need to pry the edge of the sticker with a thin strong object, not very sharp, but hard, and pulling it
Carefully peel it off completely
Then the wood surface can be wiped and polished with a soft cloth.
Sometimes there is dried glue stains on your favorite furniture and you need to remove it. I have written an easy step by step article on this topic!
How to Remove Stickers from Wood with Vegetable Oil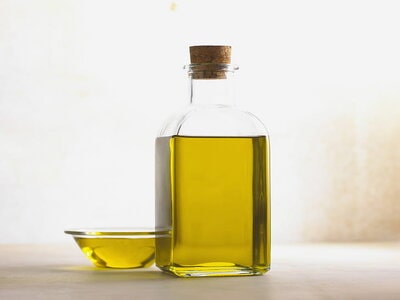 Vegetable Oil can be found in almost every kitchen, and with its help it is possible to remove stickers from wood surfaces. Olive, flaxseed or refined sunflower seeds will do.
Here's how to remove stickers from wood with vegetable oil:
Cover the sticker with a uniform oil layer.
Wait for a few minutes so that the sticker is soaked, after which it is easier to remove them.
We scrape off the softened sticker fragments with any suitable object: a knife, a plastic card or nails.
Anything left can be washed off with hot water and dishwasher gel.
How to Remove Stickers from Wood with Alcohol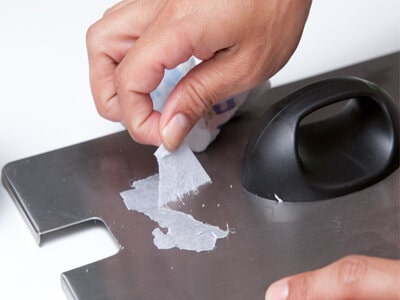 Any alcohol-containing products will do: vodka, cologne, deodorant. The higher the concentration, the better the process of removing will be.
Follow this steps:
Moisten a cloth or napkin in alcohol.
Wipe the sticker with the cloth.
We wash off the remains.
The method should be used with caution.
Not every surface is able to withstand the effects of alcohol-containing mixtures without consequences.
To avoid deformation of the treated wood, carry out a preliminary test on an inconspicuous piece of wood material.
Click here to find out the best method how to remove gorilla glue from your furniture!
How to Remove Stickers from Wood using Vinegar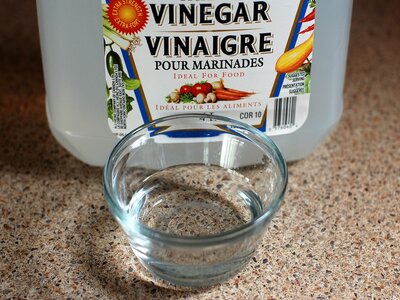 This food supplement will remove old, dried-on traces of stickers from wood. The wood surface to be treated is not damaged, as vinegar is not a corrosive cleaning liquid.
Here is how to remove stickers from wood with white vinegar:
Apply vinegar concentrate (11%) to the area to be cleaned.
We are waiting for 5 minutes for the paper and glue to soften.
We remove the softened traces of sticker with a thin object.
Wipe with a damp soapy sponge.
We look at the result, if necessary, we repeat the operation.
Candle Wax can also be removed with Vinegar and other interesing methods. Check here this step by step tutorial I wrote how you can remove candle wax from wood!
Helpful TIP!
Vinegar can be replaced with thinner or nail polish remover. In the latter case, it is best not to use acetone-based liquids. They can damage the surface to be cleaned.
How to Remove Stickers from Wood with Adhesive tape
The fifty-fifty method. It will only work in cases with fresh stickers, not old glued stickers. In addition to painting, any other quality tape will do.
Here is how to remove stickers from wood with adhesive tape:
Carefully glue the adhesive tape onto the remains of the sticker.
Hold the adhesive tape firmly with your hand.
With a quick movement, try to rip off the adhesive tape and the stickers fragments stuck to it.
Repeat the procedure until everything is clean.
Having trouble removing adhesive tape from wood? Don't worry because I have a great step by step tutorial on how to remove adhesive tape from wood!
How to Remove Stickers from Wood with Hot Water
The procedure you must follow is:
Heat water with liquid soap and apply it on the sticker with the help of a sponge or cloth . If the wood piece is small then it can be put in the container with the soap solution.
Let it act for about 15 min if the object is in the soapy water, while if you applied it with the sponge, you should repeat the procedure about 3 more times until you notice that the sticker is well moistened.
Remove the sticker: with your fingers , with the help of a blunt knife or spatula , in order to lift one of the tips of the sticker and pull it.
If the sticker left a little residue when you removed it, add 1 drop of baby oil and rub it with a dry cloth to make it disappear.
See here exactly how you can remove polyurethane from wood like a pro, with some easy instructions!
Remove Sticker Residue from Wood with Acetone
Manually remove as many stickers as possible
Soak a soft cloth with acetone
Rub the surface with the cloth until the glue disappears
If your wood is varnished, rinse the surface with water
Silicone caulk is common sealant than sometimes needs to be removed from wood. Here is a great tutorial about it!
Remove Sticker from Wood using School Eraser
If the sticker is relatively fresh and does not cover significant areas it will be more effectiveness. 
Here is to do it:
Wet the sticker stain with a damp sponge or cloth.
Wipe the sticker with a coarse cloth
Let it dry and erase everything that remains with an eraser.
The first time it may not be possible to remove the label completely, in which case we repeat the procedure.
Speaking of school items, I have an amazing easy tutorial how to remove ink stains from wooden furniture!
Remove Sticker from Wood without Damaging the Wood
The most effective method to remove stickers without breaking them is, without a doubt, heat. As you have seen throughout the article, there are different ways to remove stickers from wood, but in this case the task is difficult, since it involves peeling them off without breaking.
Don't worry because we are going to show you a very simple method. 
Step to remove sticker from wood without damaging the wood:
Apply heat to the sticker with a hair dryer at a minimum distance of 5 centimeters so as not to damage the sticker.
Keep the heat for 4-5 minutes.
Pick up one end with your fingernail to have a flap to grab onto.
Pull gently to remove the sticker.
If at any time you find it difficult to remove any part of the adhesive, reapply heat for a few minutes before continuing to remove it.
How to Remove Stickers from Untreated Wood Furniture
Furniture made from this raw material is more heat-tolerant. Also, it tolerates contact with certain types of acetone solvents and alcohol-containing substances well.
Therefore, to remove a sticker from untreated wood furniture or glue from a sticker, you can use both alcohol and vinegar, acetone and other solvents.
The easiest way to do this is with a spray bottle: pour the product into a spray bottle and treat the surface, and when the solvent absorbs a little, pick up the sticker with a knife or spatula and remove.
Did you have alcohol stains on your furniture? Follow this simple tutorial to learn how to remove alcohol stains from wood!
How to remove stickers from wooden furniture
If you have wooden furniture and therefore more delicate surfaces, it may be useful to follow a different procedure. 
Be careful though, this procedure involves the use of a heat source and not all woods can tolerate it. 
Lacquered, oak or mahogany furniture should be avoided .
You will need:
Turn on the hairdryer at medium temperature and direct the jet towards the adhesive, at a distance of about 10 cm . 
After a while the glue will begin to melt and you can remove the sticker with the help of a small spatula.
Once removed, to permanently remove any residual glue , drop a few drops of tea tree oil or eucalyptus essential oil on a cotton ball . 
Then wipe gently to leave the surface clean.
Find out here how To Remove Chalk Paint From Wood with 3 simple methods!
How to remove stickers from furniture without solvents
The first rule of removing stickers from furniture : If we can do without using chemical solvents it is good for us and for the environment.
Here's what we need:
We then proceed to moisten a cloth with water and try to rub the adhesive to remove it . Wet adhesive will crumble but will certainly leave some glue residue on the surface of the furniture.
At this point we try to eliminate them with the cleansing milk that is used to remove make-up. Milk contains suitable formulations, which remove the glue if it is not too aggressive in composition.
At the same time, the cleansing milk polishes and nourishes the wood , so it's a good way to remove adhesives from more delicate furniture.
We can proceed in the same way, so moistening a cloth and passing it on the sticker, to make it crumble.
To eliminate the halo that surely remains on the surface of the furniture, we soak a sponge with straw-colored oil . 
It is a product that we can find in hardware stores, but also in large distribution. All that remains is to pass it on the residues.
Here is the complete guide how you can remove paint from wood with ease!
How To Remove Stickers From Painted Wood?
White vinegar is a very useful method of removing stickers from painted wood. 
So why not use white vinegar to easily peel off a sticker? Indeed, vinegar can be useful and effective in removing all traces of sticker on a window, on a wall or other surface.
What you need:
1 sponge
1 bowl
White vinegar
Steps to remove stickers from painted wood:
Put the vinegar in the bowl.
Heat the vinegar in the microwave.
Dip the sponge in it.
Soak the sticker in vinegar with the sponge.
Leave on for 5 minutes.
Gently remove the sticker with your fingers.
Repeat the treatment if necessary.
Conclusion
Our advice will surely help you to remove adhesives from wood surface, even in the most difficult cases it will often be enough to add a little "elbow grease"! 
To peel off all the labels and stickers from wood and furniture, you can choose any method, while it is better to do this immediately after purchasing the item, until the sticker has deeply penetrated the structure of the material.
Following these steps you will be able to remove the sticker from wood surface with ease.