How to Fill a Hole in Wood With 5 Easy Methods
A hole in a wood can be made by accident very quickly, either by drilling in the wrong spot or doing renovation work. Don't panic, you don't have to be a professional, below we give you 5 quick and easy methods how to fill a hole in wood and a lot more information.
All the described methods of filling a hole in wood will require the use of tools that every owner should have:
Putty knife;
Hacksaw with a blade for metal;
Hammer (preferably a wooden mallet);
Wood drills or milling cutter;
Sandpaper.
No one has canceled safety precautions either, so we will definitely arm ourselves with gloves and goggles for the eyes.
Type of Wood Hole
Type of Material to Fill a Hole In Wood
1. Small Wood Holes
USE WOOD FILLER : Indeed you notice small holes or cracks or small imperfections, 
wood filler is then the ideal way to renovate your wooden surface.
2. Large Wood Holes
USE WOOD MASTIC : Fill large wooden surface. If you want to fill your wood and recover a full surface, then Wood Mastic is ideal.
How to Fill a Hole in Wood Step by Step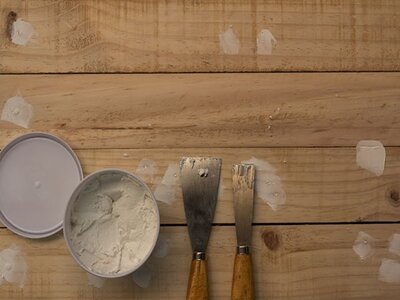 Filling a hole in the wood with wood filler is a good solution when you want to repair a structural defect. It works like a natural wood. It accepts all types of finishes whether it is varnish, wax, oil, paint or stain. The wood filler dries very quickly and without shrinkage.
This patching paste effectively repairs cracks, holes and gaps on all types of wood and by-products. The application is very easy indoors and outdoors. It is remarkably resistant to shocks without ever crumbling thanks to the great flexibility of its structure.
This wood paste behaves exactly like wood after complete drying. These pastes can easily be mixed with each other to create intermediate shades. It is possible to stain, work, shape or sand it in the same way as natural wood. It remains perfectly suited for possible use on all types of usual wood species.
This patching paste provides a hole repair that is very easy to sand. It does not clog the abrasive bands thanks to extremely fine components. And is easily used on a vertical surface without any unsightly sagging. It is recommended to select the shade of wood filler that is closest to the color of the material you want to fill.
Do you want to make wood filler and don't know how to do it? I have made an easy step by step tutorial how you can create your own wood filler at home using sawdust !
Prepare the wood hole for filling
Prepare the wood before reseal with pulpwood , is a step that should not be overlooked. Obviously, it is not possible to repair a material that is not healthy enough beforehand.
Step 1: Control humidity: it is necessary to properly control the humidity contained in the wood. The water content should especially not exceed more than 20% when treating the material. It is essential that the substrate is not too saturated with water in order to minimize shrinkage, warping, cracking or splitting of the wood.
Step 2: Eliminate rotten wood: it is advisable to carefully scrape the damaged area. It is important to strip the damaged material until it reaches sound wood. It is better to remove too much rotten wood than not enough. If the rot is not properly removed, the deterioration may start again after the repair.
Step 3: Degrease the surface: if the wood is too oily, it is advisable to clean it carefully using industrial degreaser so that it is cleaner. It greatly facilitates the penetration of the upcoming treatment. It is advisable not to neglect the rinsing in order to eliminate all traces of product, grease or dirt.
Want to cut a notch in wood? I have create an easy tutorial to help you cut a notch in wood in under 5 minutes!
Apply the wood filler to the hole
To fill a hole with wood paste , you must first prepare the wooden part. The wooden hole must be clean, dry and free from materials that could affect adhesion.
Step 4: Knead the paste: it must be kneaded carefully before any use in order to have the most homogeneous wood paste possible. It is important to work the wood filler well for at least 2 to 3 minutes. It must be applied in the hole, cavity or crack to be filled. Also it should be handled as quickly as possible because it dries quickly.
Step 5: Roll out the wood filler: it is recommended that the filler protrude slightly from the hole in wood to be filled. Then, it must be spread out using a suitable spatula so that there is no protruding bump. Take the time to wait for the filling paste to dry completely. It must be able to follow the deformations of the wood without ever crumbling.
Step 6: Eliminate the excess: When the paste has hardened completely, all that remains is to remove the excess using a fine abrasive, sandpaper, steel wool n ° 000 or # 0 steel wool . It is advisable to lightly sand the mastic in order to remove any roughness, reliefs or burrs to ensure a better surface finish.
Carving wood doesn't need to be a hard task! Follow this step by step beginner guide how you can carve wood like a pro!
How to Fill a Hole in Wood using Wood Filler
Before filling the holes
First, the wood must be bare, that is to say it must be dewaxed and stripped if necessary, and then lightly sand it.
After sanding it, dust off the wood completely. Vacuum then wipe with a rag.
See here exactly how to remove wax from wood with these beginners tips!
Application of wood filler
In store, choose the shade of wood paste that most closely matches the shade of the wood you want to fill.
Apply wood filler directly to the hole. It must be handled quickly because it dries quickly. 
Make it protrude slightly from the hole, then spread it with a spatula so that it does not make a dent.
Wait for the putty filler to dry.
Once the wood filler has completely dried and hardened, remove the excess filler with a fine sandpaper.
Make sure that the final shade (ie when it has dried) of the wood filler is close to the shade of the wood. This is because non-dry wood filler may have a slightly different shade.
How to Fill a Hole with Wood Mastic
For larger holes and cracks, it is better to use a special wood sealant. In the same way as for wood filler, choose the shade closest to the wood to be filled.
Mastic preparation: mix the mastic powder with water, usually one part water for 3 parts powder, however follow the instructions on the mastic packaging.
Fill the holes and cracks, overflow a little.
Spread and smooth.
If the holes are really important, do not hesitate to fill them in several times. 
Also, drive nails into the putty, which will ensure its fixation. 
On top of the nails, add a thin layer of putty to hide them.
Let dry.
With sandpaper, sand the excess putty so that the surface is smooth and aligned with the rest of the wood.
After filling the wood holes you need to know how to stain the wood! Check this guide here!
Method 1: How to Fill a Hole in Wood using Adhesive Mixture & Wood chips
You can use a mixture of carpentry adhesive and small wood chips as a material for filling holes in wood. This method is not suitable for repairing wide holes and leveling large surfaces, but you will have a more reliable alternative to putties during local repairs.
In contrast to the same putty, which, with many of its advantages, fills the recesses, the filler, which is made of wood glue and shavings, additionally helps to ensure strong adhesion.
Method 2: How to Fill a Hole in Wood using Toothpicks and Matches
This method is the simplest way to fill a hole in wood and for its implementation we need ordinary PVA glue, matches or wooden toothpicks.
Next, put together the required number of toothpicks so that they enter the hole as tightly as possible, then dip them in PVA glue and insert them into the hole.
Then we take a hammer and easily hammer them into the hole to the end, leave them until the glue hardens completely. We cut off the remnants sticking out of the hole with a clerical knife or a hacksaw, then we clean it with sandpaper.
Want to protect wood from all the degrading outside factors like Sun Rays, Water, Humidity and Insects Attack? Then this amazing article will help you!
Method 3: How to Fill a Hole in Wood using Sawdust and Glue
This method of filling wood is the same as the method using ready-made putty for wood, only in this case we actually make the putty ourselves, if it is not at hand and do not want to run to the store. To prepare homemade putty, you need wood glue or PVA glue, but joiner's glue is better.
Then you will need fine sawdust from the same material that you are going to seal. Ideally, such small chips can be sharpened with a file or coarse sandpaper. The finer the sawdust, the better.
Next, we mix these sawdust with glue to the consistency of thick sour cream and use a spatula to cover the hole. We wait until the glue dries and clean it with fine sandpaper.
This method is ideal for filling holes in wood in cases where aesthetic appearance is important. Sawdust from the same material paired with transparent PVA glue will hide the defect from the eyes as much as possible.
Find out here more about What is PVA glue?
Method 4: How to Fill a Hole in Wood using Wooden plugs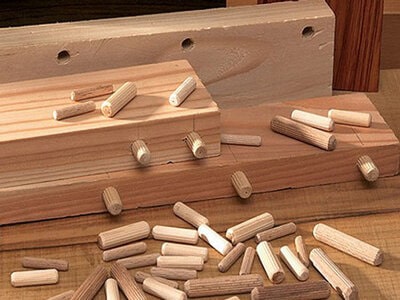 Wooden plugs are cylindrical bars that you can buy at any hardware store. They are usually used as guiding elements for end joining of boards but can also be used to fill a hole in wood.
To seal the hole with this method, it is necessary to drill it to the diameter of the wood plug, which is usually 8 mm. Then we moisten the plug with wood glue and hammer it into the hole.
Wait for the wood glue to dry so the wooden plugs are fixed in the wooden hole after which we cut off the remnants with a hacksaw.
You can cut wooden plugs with many types of saws. I have gather a list with over 32 types of saws and their uses!
Method 5: How to Fill a Hole in Wood with Epoxy Resin
Epoxy is the most reliable method for filling holes and cracks in the wood. Two-component resins, which are composed of resin and hardener, can be easily modified to an adhesive filler.
With their help, you can easily obtain a composition of the required color and viscosity, which will perfectly fill cracks, dents, chips and provide excellent and durable adhesion.
After the epoxy resin hardens, it will gain strength that will exceed the strength of wood, and due to its fluidity and excellent adhesion, it will get into all cavities, and so it will be able to restore the integrity of the structure of the wood product, and will also prevent further holes.
This method is often used when working with solid wood, where, due to the high internal stress, crack problems will be especially serious. After the epoxy is completely cured, it becomes a safe and inert plastic with a high degree of strength.
This resin can be used to repair defects on items that come into contact with food, as well as repair kitchen countertops, repair holes and cracks inside a cutting board, or even a dining table.
Epoxy resin makes it possible not only to fill the hole and hide cosmetic defects, but also to completely stabilize the wood. Often this is really the only opportunity to bring life back to workpieces, which, as it may seem, are hopelessly spoiled by through cracks.
How to Fill a Hole in Wood with wood paste
The use of this product is very simple:
The paste is presented ready to use in a tub and to apply it a spatula or knife is used.
It is important that the surface to be repaired is clean, dry and healthy .
The paste spreads well on the wood filling the gaps and cracks and, after 8 hours, it can already be sanded, varnished or painted using solvent-based or water-based products.
Its excellent quality means that it does not crack as a result of post-repair treatments. Furthermore, the tools used can be easily cleaned with water.
In addition to being used in restoration, the wood paste can be used to fill the joints between planks or pallets.
It is important to keep in mind that it is a product for indoor use, not suitable for fixing damage to furniture or wooden accessories outdoors.
Conclusion
In this article we present you 5 methods of filling a hole in wood. Whichever method you choose, before work you need to thoroughly clean the wood, as well as clean the holes from debris and dust.